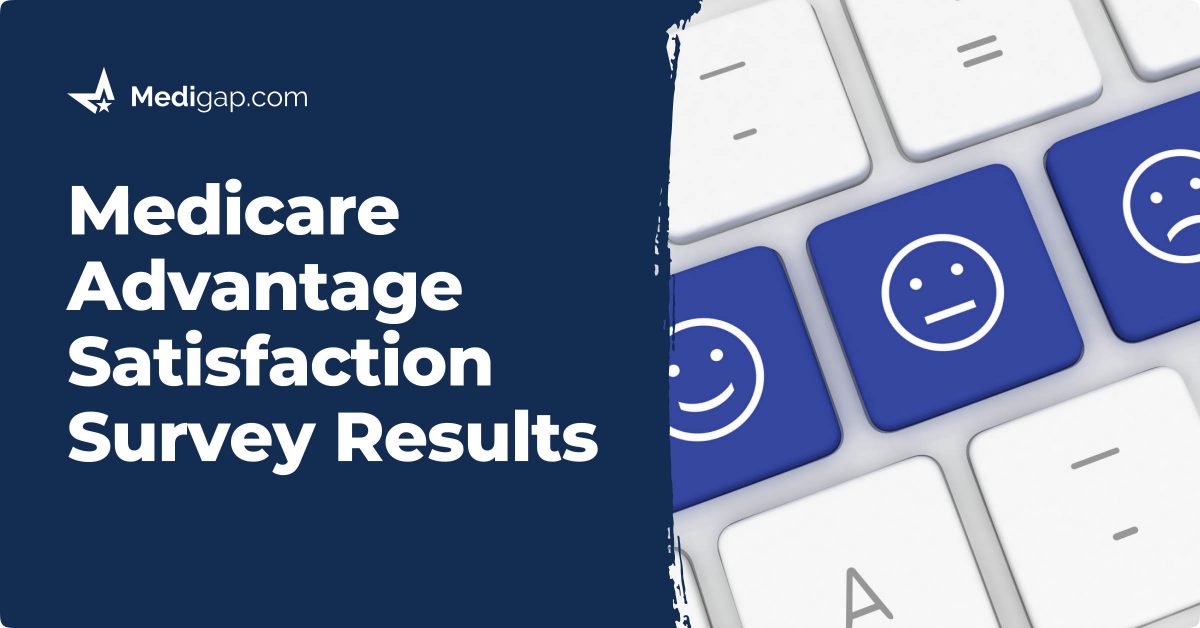 Are you a Medicare Advantage beneficiary? We recently surveyed better to understand the satisfaction rates of Medicare Advantage beneficiaries, and the results are in. Our survey covered various aspects of the healthcare experience, from overall satisfaction to assessing cost, coverage, and access. If you're curious about what other beneficiaries say about their coverage, keep reading for our complete analysis of the survey's findings!
Medicare Advantage Satisfaction Survey Results Overview
Medicare Advantage Satisfaction Surveys are essential in gauging the consumer experience with Medicare Advantage plans. The results of these respondents provide invaluable information on consumer satisfaction, enabling Medicare beneficiaries to measure their needs and what their plans are and aren't doing well for them.
Are you currently, or have you ever been enrolled in a Medicare Advantage plan?
58.60% of the respondents were either on a Medicare Advantage plan or were previously enrolled. This indicates that Medicare individuals continue to gravitate to Medicare Advantage plans.
Medicare Advantage Types
Medicare offers several different Medicare Advantage plans to cover the healthcare needs of Medicare-eligible individuals, and Medicare Advantage Surveys can help people decide which plan is right for them. These plans include Health Maintenance Organizations, Preferred Provider Organizations, Private Fee-for-Service, and Medicare Special Needs Plans explicitly tailored to those with chronic and long-term disabilities or illnesses.
Medicare Advantage plans may also provide extra benefits not available through the traditional Medicare system, such as vision or dental coverage and access to fitness programs. In addition, these plans can include your Part D prescription drug plan at no additional cost.
Before enrolling in a Medicare Advantage plan, reviewing the rules and costs associated with each type of plan is vital to ensure they meet your needs. Reviewing a Medicare Advantage Survey can be an invaluable first step in this process.
If you are currently enrolled in a Medicare Advantage plan, how satisfied are you with it?
For this part of the survey, we see that only 66.40% of the beneficiaries we surveyed were currently on Medicare Advantage plans. Of those, 34.5% were very satisfied with their plan, and 26% were somewhat satisfied. Of more than means of Medicare Advantage enrollees, just over half were satisfied with their current plan.
Reasons for Satisfaction or Dissatisfaction with a Medicare Advantage plan
Medicare Advantage Survey results revealed that Medicare beneficiaries generally report satisfaction with their Medicare Advantage plan regardless of product type. Medicare beneficiaries are happier when they have a good choice of doctors and can schedule a timely appointment at a reasonable cost.
Those dissatisfied often cite difficulty finding providers and confusion over the cost of their copays or other related expenses. Consequently, Medicare beneficiaries may be more satisfied if they understand the terms and conditions of the Medicare Advantage Plan before signing up for it.
If you left your Medicare Advantage plan, what was your reason for leaving?
Medicare beneficiaries can leave the Medicare Advantage program and return to Original Medicare. There are many reasons why an individual may elect to do so. Keep in mind that your Medicare Advantage plans are annual contracts. You can only disenroll from coverage to return to the Original Medicare if you're in a valid enrollment period.
Our Medicare Advantage Survey showed that the main reason for leaving Medicare Advantage coverage is the coverage not adequately covering the Medical needs of the beneficiary. Other surveys have indicated that lack of comprehensive dental, vision, and hearing coverage are among the top medical needs not being covered properly. Consequently, Original Medicare doesn't cover these items since they aren't considered medically necessary. This leaves a Medicare Advantage or separate dental, vision, and hearing policies as your only solution.
Why did you initially choose to enroll in a Medicare Advantage plan?
When it comes to the reasons why Medicare beneficiaries choose to enroll in a Medicare Advantage plan, the overwhelming majority were because of costs and better coverage for specific medical needs. While only 12.96% indicated they joined because of marketing and advertising campaigns about added benefits.
Medicare Advantage plans can save money and provide comprehensive coverage for specific medical needs.
Medicare Advantage plans can offer comprehensive coverage that dramatically benefits those seeking the right plan for their medical needs. According to a Medicare Advantage Survey, Medicare Advantage is more cost-effective than traditional Medicare. It can provide additional coverage such as vision, dental, hearing, and even fitness programs.
Furthermore, Medicare Advantage can be available with options like HMOs and PPOs, allowing enrollees access to multiple care networks and pharmacies at discounted rates. Medicare Advantage plans can also often provide enhanced benefits over Medicare Part A and Part B, including extra coverage for prescription drugs at no additional cost.
With Medicare Advantage offering more affordability than Medicare alone, it's an excellent choice for those looking for reliable coverage for themselves while limiting their out-of-pocket costs.
Was it difficult to find healthcare providers in-network for your Medicare Advantage Plan?
You hear many complaints when considering using a network of doctors. However, our Medicare Advantage Satisfaction Survey found that most beneficiaries enrolled in Medicare Advantage plans don't have difficulty finding doctors in the network.
The difference between using in-network and out-of-network providers on a Medicare Advantage plan
With Medicare Advantage plans comes the ability to use in-network or out-of-network providers, each presenting its own advantages. If you use an in-network provider, you will likely have lower co-payments and deductibles. Choosing an out-of-network provider can be more expensive; If you choose an HMO plan, your only out-of-network coverage is in emergency situations. In either case, it's important to consult your Medicare Advantage plan documents for details about which plan best meets your healthcare needs.
Were you satisfied with the cost-sharing options through your Medicare Advantage plan?
There was only a 10% difference in member satisfaction with the plans' cost-sharing between the respondents. Cost-sharing will vary depending on where you live and the plan you choose.
Review other options if you're unhappy with the cost-sharing of your current health insurance plan. Some of the most significant cost-sharing expenses will be durable medical equipment, inpatient hospital stays, and medications administered in an outpatient facility.
Did you end up spending more out of pocket than you anticipated after enrolling in a Medicare Advantage plan?
Similar to the last question, of the beneficiaries that answered this question, it was almost a 50/50 split on spending more than anticipated. Often, your annual costs can be low on a Medicare Advantage plan. However, that doesn't mean you're without risk. After all, we don't typically get healthy as we age.
Many times if a beneficiary spends more on a Medicare Advantage plan than they anticipate, it comes down to a few reasons.
Their insurance agent didn't describe the plan benefits adequately: Insurance agents are vital to helping you choose the right plan. A good agent can ensure the plan covers your healthcare providers, medications, and needs.
Unexpected health issues or a fall leading to hospitalization: A fall can be very hazardous to our health as we age. When we're younger, we don't think much about a fall. Still, suppose we fall at an older age. In that case, we are much more susceptible to broken bones, needing rehab, or even infections causing a more prolonged and costly recovery.
Did the annual changes to Medicare Advantage plans impact your ability to access necessary care?
Every year Medicare Advantage sponsors must send out an Annual Notice of Change document. This ANOC outlines the changes in the plan for the following year. These ANOCs are so Medicare beneficiaries can ensure their program meets their needs for the upcoming year.
Suppose the changes affect the access to need benefits and patient experience. In that case, they can review and change plans during the Annual Enrollment Period.
Changes to the ANOC can be anything from drug formulary updates to cost-sharing updates and adding or removing additional benefits such as a gym membership. You should review these changes and speak with a licensed agent to help determine if the plan is still right for your needs.
How much influence did Medicare Advantage advertising & marketing campaigns have over your decision to enroll?
We have all seen the commercials, advertisements, and initiatives for Medicare Advantage. They flood TV and radio airwaves constantly in the fall and are even around throughout the year.
Sometimes these advertisements overpromise and entice beneficiaries to call in. Our Medicare Advantage survey shows that these advertising tactics don't influence the majority of Medicare beneficiaries or have little influence.
These advertisements will show many benefits but remember these plans differ depending on where you live and your chosen program. Not all advertised benefits will be available to all Medicare beneficiaries.
Did you feel misled by coverage and benefits promised upon enrollment in your Medicare Advantage Plan?
Misleading Medicare beneficiaries is something that the Centers for Medicare & Medicaid Services takes very seriously. Our Medicare Advantage Survey showed that the majority of beneficiaries that answered this question felt misled to a degree.
Generally, when someone is misled, it's due to their agent, insurance company, or SHIP representative not explaining the plan properly.
A good insurance agent should be able to compare the plan options in your area, review the benefits and explain how everything works before completing the enrollment. Be wary of agents who are only discussing one plan or rushing to try and get to the application.
When you work directly with an insurance company representative, they can only provide information about the plans provided by that insurance carrier. This limits your options. You may enroll in a plan that's not best for your needs.
While a SHIP or Medicare representative can be helpful, it's essential to understand they aren't licensed agents. They have limited knowledge of how a Medicare Advantage plan works. Don't make the mistake of using a SHIP or Medicare representative instead of a licensed insurance agent specializing in Medicare.
Did you or are you leaving your Medicare Advantage Plan for Original Medicare?
When you leave the Medicare Advantage program, you return to the Original Medicare program and benefits. Our survey shows that most Medicare Advantage enrollees don't plan to drop their MA coverage and return to Original Medicare.
Reasons to choose Medicare Advantage over Original Medicare
Medicare beneficiaries face many important decisions when selecting Medicare coverage. One popular choice is Medicare Advantage, a type of Medicare health plan offered by private Medicare-approved companies.
According to our Medicare Advantage Survey, it has become increasingly desirable amongst beneficiaries because it offers more healthcare services than Original Medicare. These extra benefits include vision, hearing, and dental coverage, lower copays, a maximum out-of-pocket, and access to fitness centers.
These plans are generally a better value for those needing additional coverage at an affordable rate than the Original Medicare plan. Many of these plans also include Medicare prescription drug coverage, eliminating another cost that Medicare beneficiaries would incur.
Media Contact
For any media inquiries or to request a copy of the PowerPoint survey results, don't hesitate to get in touch with lindsay@excelimpact.com.