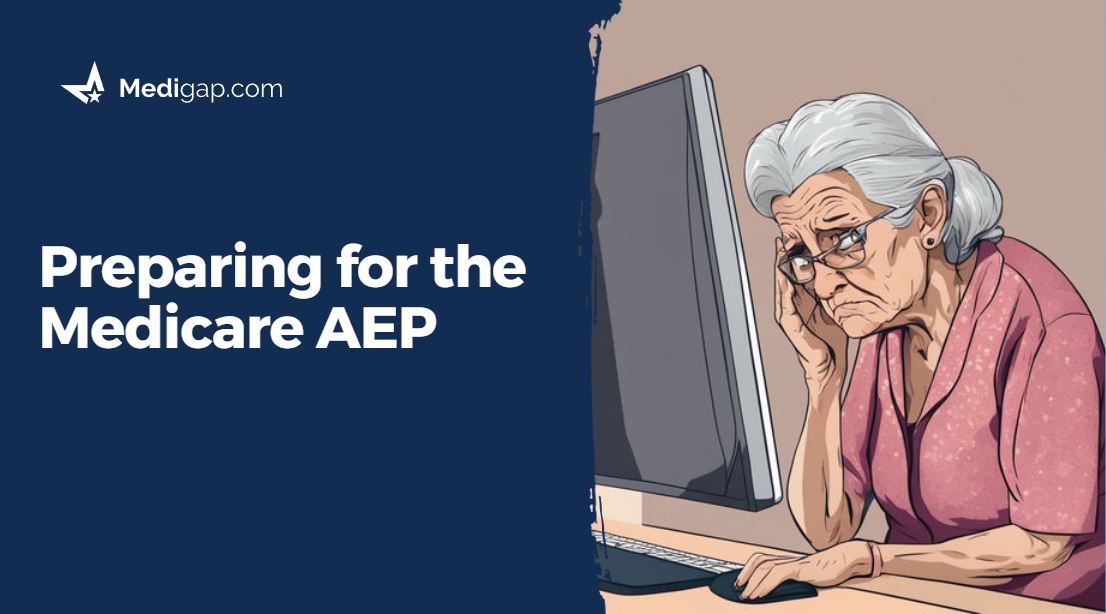 Preparing for the Medicare AEP (Annual Enrollment Period) can be a source of anxiety for many Medicare beneficiaries. Just as you've started to enjoy the summer with family and perhaps some travel, planning your Medicare coverage for 2024 might make your stomach churn.
In the ever-evolving world of Medicare, predicting what's coming next year can be challenging. However, you can take it one year at a time and make informed decisions during AEP to ensure you have the right coverage.
Understanding the Medicare AEP
The Medicare Annual Election Period, also known as the Fall Annual Enrollment Period or Fall Open Enrollment Period, runs from October 15 to December 7 each year. It's when Medicare beneficiaries can change their Medicare Advantage or Part D plans for the following calendar year. Planning ahead is crucial to make the most of this period.
Reasons for changing your plan during AEP
There are several common reasons why Medicare beneficiaries might consider changing their plans during AEP:
Plan Changes: If your current plan is making significant changes for the next year, such as alterations in coverage or benefits, it might be time to explore other options.
Premium Increases: Rising premiums can affect your budget. If your plan's premium increases, you may want to search for a more cost-effective one.
Network Changes: Ensure that your doctors and healthcare providers are still in-network. Changes in networks can impact your access to care.
Medication Coverage: If your prescription medications are essential, check whether your current plan will continue covering them in the upcoming year.
Medicare Supplement Consideration: You might consider switching to a Medicare Supplement (Medigap) plan for more comprehensive coverage.
Preparing for the 2024 Medicare AEP
To make the most of the AEP, here's a checklist to help you prepare effectively:
1. Sign up for a MyMedicare.gov account
You can register for a MyMedicare.gov account, which provides access to your personal Medicare-related information. It allows you to review claims, check eligibility, and manage your prescription drug list.
2. Discuss your current plan with healthcare providers
If you're enrolled in Original Medicare and a Medigap plan, check with your healthcare providers to ensure they'll still accept Original Medicare in the next year. If you're in a Medicare Advantage plan with changing benefits, premiums, and networks, consult your doctors to see if they're satisfied with the plan.
3. Review the Annual Notice of Change (ANOC) letter
Medicare insurance carriers send out ANOC letters for Part D drug or Medicare Advantage plans by September 30 each year. These letters detail changes to your plan for the upcoming year. Review them to stay informed about changes that may affect you.
4. Know your Medicare Annual Election Period time frames
The AEP runs from October 15 to December 7, and changes made during this period take effect on January 1 of the following year. Mark this critical timeframe on your calendar to avoid missing out.
5. Make a list of your medications
Keep an updated list of your medications, including their names, dosage, and frequency. This information is essential for evaluating different drug plans to ensure they cover your needs adequately.
If you've never enrolled in Part D before and plan to do so during AEP, be aware of potential late penalties for delaying enrollment.
6. Switching from Medicare Advantage to Medigap
If you wish to switch from a Medicare Advantage plan to a Medigap plan, use AEP to return to Original Medicare and select a new Part D drug plan. Ensure you apply for Medigap first and receive approval before disenrolling from your Medicare Advantage plan.
7. Consult a licensed insurance broker
Once you gather your doctors and prescription information, seek guidance from a licensed insurance agent specializing in Medicare. They have specialized tools that make comparing plans side by side quick and efficient. They may also have additional information on the pros and cons of the different insurers, such as the quality of customer service experiences from their clients and the quality of care.
7. Common AEP questions
Here are answers to some common questions about AEP:
Do You Have to Enroll Each Year for Medicare?: No, you only enroll in Original Medicare once. AEP is only for changing Part C (Medicare Advantage) or Part D plans.
What Is the Deadline for Medicare Enrollment?: The deadline for changing your Part C or D plan during AEP is December 7, with the new plan starting on January 1 of the following year.
Do You Have to Renew Your Medicare Supplement Every Year?: No, your Medicare Supplement is guaranteed renewable yearly and remains in force unless you cancel or fail to pay premiums.
Are There Penalties for Inaction During AEP?: No, participating in AEP is optional, and if you do nothing, your current plan will continue as is.
Preparing for Medicare AEP FAQs
What is Medicare AEP?
Medicare AEP, or the Annual Enrollment Period, is a specific time frame when Medicare beneficiaries can review, modify, or enroll in Medicare plans. It typically runs from October 15 to December 7 each year.
Why is Medicare AEP important?
Medicare AEP is crucial because it allows beneficiaries to change their healthcare coverage. It's an opportunity to ensure your Medicare plan aligns with your current needs and preferences.
Can I switch from Original Medicare to Medicare Advantage during AEP?
Yes, during Medicare AEP, you can switch from Original Medicare (Part A and Part B) to a Medicare Advantage plan, allowing you to explore different coverage options.
How do I know if I should change my Medicare plan during AEP?
Review your Annual Notice of Change letter, assess your healthcare needs, and consult your doctors. If you find changes in your plan that no longer suit you or your needs have evolved, it may be a good time to switch.
What happens if I don't make any changes during Medicare AEP?
If you take no action during AEP, your current Medicare plan will typically continue. However, reviewing your plan is recommended to ensure it meets your healthcare requirements.
Get help preparing for the Medicare AEP 2024
Preparing for your annual Medicare decisions is akin to organizing your tax records throughout the year. Good preparation makes it easier to gather what you need when the time comes. Your health is as important as your finances, so start preparing now to avoid dreading the annual election period.
If you need assistance evaluating your options and preparing for the Medicare AEP, fill out our online rate form to compare plan options. We can also connect you with a licensed insurance agent specializing in Medicare to assist with any additional questions.
Related Content