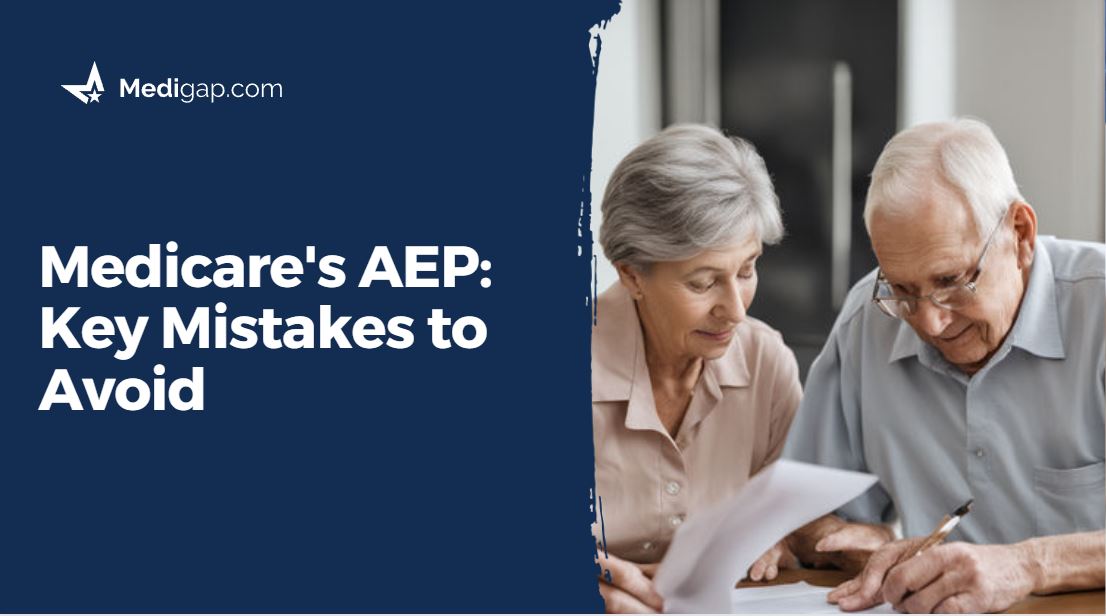 As the leaves change and the air turns crisp, it's time to prepare for a crucial season with nothing to do with the weather – the Medicare Fall Annual Enrollment Period (AEP). This period, from October 15 to December 7, allows Medicare recipients to change their healthcare coverage. However, navigating this period can be complex, and making the wrong decisions can lead to costly mistakes.
How does the Medicare Annual Enrollment period work
Understanding the mechanics of the Medicare Annual Enrollment Period (AEP) is the first step in making informed choices about your healthcare coverage. During this period, which runs from October 15 to December 7 each year, Medicare beneficiaries can reevaluate their existing coverage and make adjustments for the upcoming year. Here are some key blunders to steer clear of during the fall AEP.
AEP Mistake #1: Missing enrollment windows
The fall AEP has a specific timeframe, and missing it can have consequences. It's crucial to mark your calendar and understand that you have only from October 15 to December 7 to change your Medicare coverage for the upcoming year. Failing to do so might mean missing out on plan improvements or finding yourself locked into a plan that no longer suits your needs.
AEP Mistake #2: Neglecting plan changes
Medicare plans can change from year to year, which can significantly impact your coverage and costs. One common mistake is failing to review these changes and assuming your existing plan will remain the same. Take the time to carefully examine any updates or adjustments in your plan, ensuring they still align with your healthcare requirements.
AEP Mistake #3: Not evaluating prescription drug coverage
Prescription drug needs can change over time, and overlooking this aspect during the fall AEP can result in unexpected expenses. If you don't take prescription medications, it may seem unnecessary to consider Medicare Part D (prescription drug coverage). However, skipping it can lead to lifetime late penalties. Assess your medication needs and choose the appropriate Part D plan to avoid these penalties.
AEP Mistake #4: Ignoring your healthcare needs
Every individual's healthcare needs are unique. While seeking advice from friends and family who have been through the Medicare enrollment process is helpful, don't blindly follow their choices. Factors like the pharmacy you use, the medications you take, and the frequency of doctor visits can all influence your annual healthcare costs. Take the time to assess your specific healthcare requirements and tailor your Medicare plan accordingly.
AEP Mistake #5: Not guarding against Medicare scammers
Medicare fraud is unfortunate, and the fall AEP is a prime time for scammers to prey on unsuspecting individuals. Protect your personal information, including your Social Security number, bank account details, and Medicare ID number. Share sensitive data only with authorized individuals and trusted sources. Stay vigilant and be cautious to avoid falling victim to scams.
AEP Mistake #6: Failing to compare plan options
Even if you're satisfied with your current plan, better options may be available. Medicare plan costs and benefits can change annually. Don't settle for less when you can explore alternative plans that may better suit your needs. Shopping and comparing your options can lead to more cost-effective and comprehensive coverage.
The fall Annual Enrollment Period is critical for Medicare recipients to make informed decisions about their healthcare coverage. Avoiding these common mistakes can help you maximize the benefits and minimize the costs associated with your Medicare plan. Take the time to review your options, assess your needs, and protect your personal information to ensure a successful fall AEP.
FAQs
When is the Medicare Annual Enrollment Period (AEP)?
The AEP runs annually from October 15 to December 7. It's your window of opportunity to change your Medicare coverage for the following year.
Can I switch from Original Medicare to Medicare Advantage during the AEP?
Yes, you can. The AEP allows you to make changes, including switching from Original Medicare (Part A and Part B) to a Medicare Advantage (Part C) plan, or vice versa.
What changes can I make during the AEP?
During the AEP, you can make various changes, such as enrolling in a new plan, switching plans, adding or dropping prescription drug coverage (Medicare Part D), or altering your Medicare Advantage plan.
Will the changes I make during the AEP take effect immediately?
No, changes made during the AEP will take effect on January 1st of the following year. Planning ahead and making any necessary adjustments before this date is essential.
Do I need to participate in the AEP every year?
While making changes every year is not mandatory, reviewing your coverage annually is highly recommended. Your healthcare needs may change, and plan offerings can also change, so taking advantage of the AEP ensures that your Medicare plan remains tailored to your requirements.
Find out about plans available in your area to review during AEP
We encourage you to take action during the fall AEP. Review your Medicare plan, explore your options, and seek expert assistance if needed to make the best choices for your healthcare coverage. Your well-being and financial security are worth the effort.
Fill out our online rate form to see what plans are available in your area. We can even connect you with a licensed expert to help answer any additional questions.
Related Content