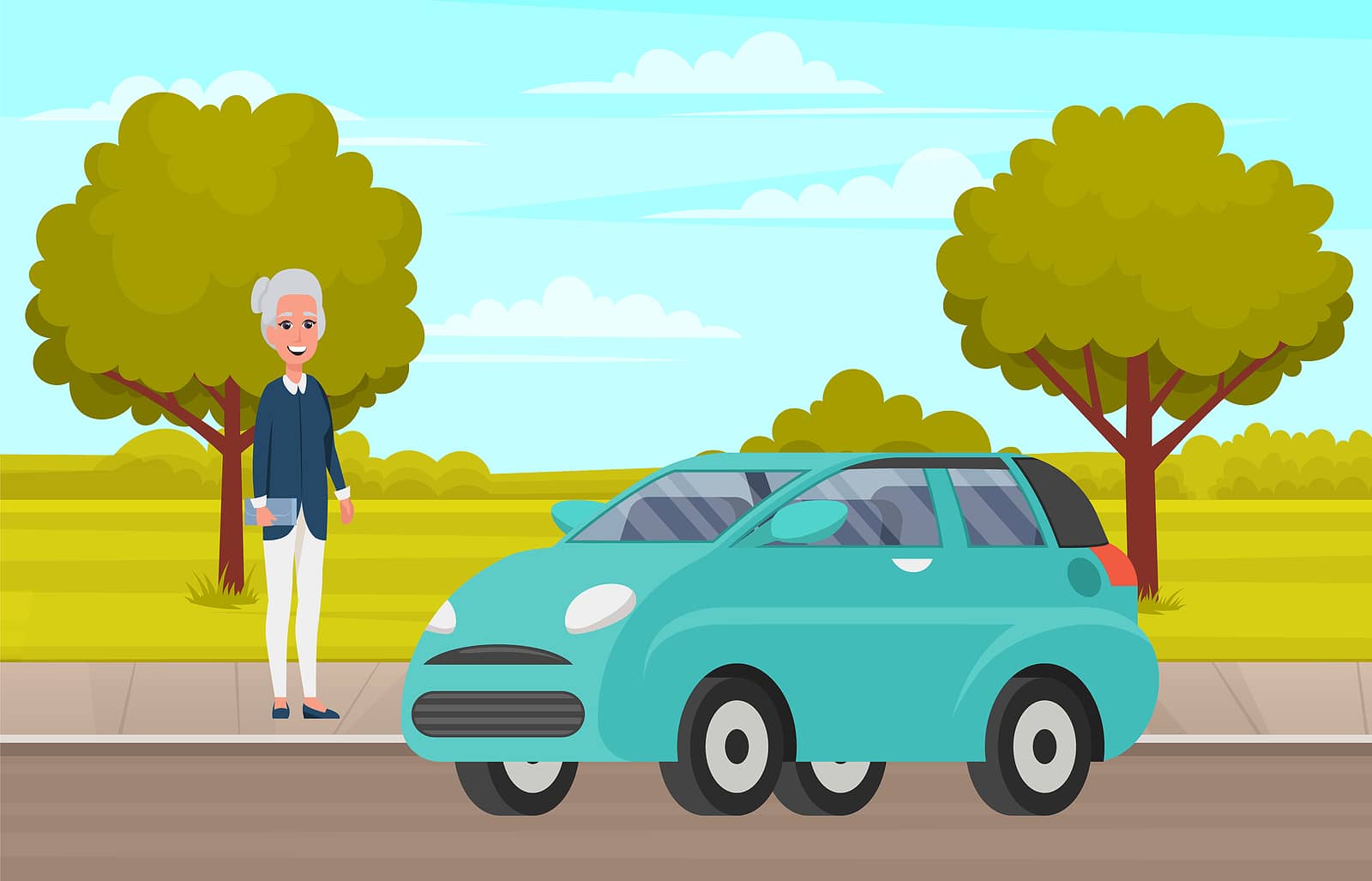 As technology and needs are ever-changing, older adults are considering giving up their vehicles and moving more to use rideshare services for their transportation needs. Some Medicare plan options are heeding the call and adding robust transportation benefits to help members get to their medical appointments.
These quickly changing situations and new technology has made getting an Uber or Lyft a quick, affordable, and easy process. This, combined with declining health or medical conditions, can accelerate or force a senior to give up the keys.
Giving up your mode of transportation isn't an easy decision as, for many seniors, your vehicle symbolizes your freedom and independence. But it can be a viable choice for a positive impact on their wellness.
Below we'll discuss how different Medicare insurance options will cover transportation. Then, we'll go over what is and isn't covered, which option offers the most transportation benefits, and answer some frequently asked questions.
Medicare coverage for transportation
Medicare may offer some transportation services for travel to and from healthcare services. However, transportation benefits are not available with all Medicare plan options. Medicare coverage for transportation is typically limited based on your chosen Medicare plan.
With Original Medicare as your only coverage, transportation is minimal. Medicare Part A and Part B will generally only cover transportation in an emergency or medically necessary services.
Transportation for a patient with ESRD to a dialysis center may be approved for Non-emergency medical transportation (NEMT) for dialysis treatments. Some Medicare Advantage plans will offer transportation benefits to assist with rides to medical appointments and even to your fitness center.
Medicare coverage for emergency transportation
Medicare Part B will cover ground ambulance services in an emergency. Below are some examples of what Medicare considers an emergency.
Severe risk to health
Medical crisis
Moving someone to another location where transport requires emergency services
Loss of consciousness
Shock
Loss of excessive amounts of blood
Medicare-covered service is needed
Moving to another location within the Medicare guidelines
Medicare transportation coverage usually uses ground transportation to deliver a beneficiary to specific locations such as the hospital or skilled nursing facility. If an air ambulance is needed, Medicare may pay for the service for an urgent response that a ground ambulance can't provide.
Medicare Part B pays for Medicare-covered Ambulance services. If emergency transportation is needed, you should expect to pay your Part B deductible and 20% of the bill with Original Medicare.
It's also possible that ambulance services could hit you with a 15% Part B excess charge on top. If you are on a Medicare Supplement, you may have little or nothing to pay out of pocket.
Medicare coverage for non-emergency transportation
Medicare may provide non-emergency ambulance transportation for certain items if they are considered medically necessary. Some examples of reasons Medicare part B may cover non-emergency transport are below.
Dialysis treatment at a dialysis facility for beneficiaries with end-stage renal disease
Unable to stand or walk
Not able to sit in a wheelchair
Required monitoring of vital services during the trip
When an ambulance company thinks Medicare won't cover the trip as an emergency, the ambulance crew will provide you with an advance beneficiary notice. This notice is a requirement to inform you that Medicare may not cover transportation services, and you'll be responsible for payment.
For low-income Medicare beneficiaries, the Medicaid services in your area may include non-emergency medical transportation for the following reasons.
Medical evaluations
Medical treatment
Picking up prescription drugs
Picking up medical equipment
Remember Medicaid is a state program, so covered services, terms, and conditions can vary depending on where you live.
Medicare Supplement coverage for transportation
Since Medicare Supplement health insurance supplements your cost-share associated with Original Medicare, it will only cover transportation costs that are approved and covered under Medicare Part A or Part B.
Medigap Insurance plans don't offer plan extras. There is no additional coverage for transportation provided.
Medicare Advantage coverage for transportation
Medicare Advantage health plans take over the benefits from Original Medicare and combine them into a simple all-in-one plan for Medicare beneficiaries. In addition, to covering everything that Medicare covers, they also provide supplemental benefits like transportation options.
It's a given that these plans will cover the same emergency transportation benefits as Medicare Part A and Part B. If you need emergency transportation coverage, expect to pay your plan's copay for ambulance services.
Still, many of these Medicare Advantage plans will cover transportation for a non-emergency situation.
The transportation benefit provided by some Medicare Advantage plans will provide rides to the doctor's office, fitness facilities, and pharmacies. D-SNP Medicare Advantage programs with the Medicaid program usually offer unlimited trips to the health care provider for doctor's appointments.
These plans will contract with different transportation companies to provide the benefit. Some even offer the papa pals benefit, which may be used to have a driver help them with shopping for and putting away the groceries.
FAQs
What is the most significant disadvantage of Medicare Advantage?
The biggest drawback to Medicare Advantage plans is the network restrictions and prior authorizations. The insurance companies hire a non-medical administrator to approve or deny services.
Does Medicare Advantage cover travel?
Some Medicare Advantage plans will provide coverage when traveling within the United States. Typically these are PPO or PFFS plans. Some PPOs have suitcase programs that allow you to find in-network providers even when you're not in the coverage area.
How does moving affect the Medicare Advantage plan?
Suppose you're enrolled in a Medicare Advantage plan and move out of the coverage area. In that case, you'll trigger a Special Enrollment Period. A SEP allows you to enroll with a new plan in your new location.
What are the advantages and disadvantages of Medicare Advantage plans?
Medicare Advantage plans have a ton of advantages. These pros include all your benefits in one easy-to-use plan, drug coverage, and plan extras such as over-the-counter benefits and transportation services. The disadvantage of a Medicare Advantage plan is the network restrictions and required authorizations.
What is a Medicare Advantage transportation benefit?
Some Medicare Advantage plans offer a transportation benefit. This benefit will provide plan members with transportation services to and from plan-approved locations. As with any Medicare Advantage plan extra, these benefits can vary depending on where you live and which plan you choose.
What is the difference between Medicare Advantage and Medicare Part D?
Medicare Part D only covers prescription drugs picked up from the pharmacy. Medicare Advantage plans include your Medicare Parts A, B, and sometimes D benefits in one simple-to-use plan.
How much is the monthly premium for Medicare Advantage?
The premium for Medicare Advantage plans can range depending on where you live and your plan. Some areas have plans with $0 premiums, while others can cost more than $100 a month. The average cost for a Medicare Advantage plan is just under $40 per month.
Does Medicare cover transportation to my primary care office?
Medicare doesn't offer transportation except for emergency or medically necessary situations. However, finding a Medicare Advantage plan to provide these services is possible. Many Medicare Advantage health plans will include transportation benefits to help you get to your doctor's office.
How do I get help for transportation if no Medicare Advantage plan in my area offers the benefit?
There are a few resources out there that can assist seniors with transportation. Even if a Medicare Advantage plan in your area offers transportation, it may not cover all your needs. You can contact the organizations below to see if they assist in your area.
Commercial options such as Uber Health
Program of All-inclusive Care for the Elderly (PACE)
Eldercare Services
To qualify for PACE, you must meet these requirements:
Be 55 or older
Be able to live safely in the community with help from PACE
Live in the service area of a PACE organization
Need a nursing home-level of care
You can also check with your doctor's office. Many healthcare providers in high-population areas are now offering Lyft as an option to help get their patients to and from scheduled medical appointments.
Transportation services have been increasing in popularity and look to become a staple for the care of Medicare beneficiaries.
Why do Medicare Advantage plans pay for non-emergency medical transportation?
Medicare Advantage plans to focus heavily on preventive healthcare and early detection. Offering transportation services helps ensure that their policyholders make their scheduled appointments. When patients make their scheduled appointments, it can translate into more accurate and efficient healthcare and treatment.
Find a Medicare Advantage plan in my area that covers transportation
The easiest way to find a Medicare Advantage plan that offers transportation services is to use the plan finder tool on Medicare.gov. This tool allows you to input your zip code to see available Medicare Advantage plans in your area.