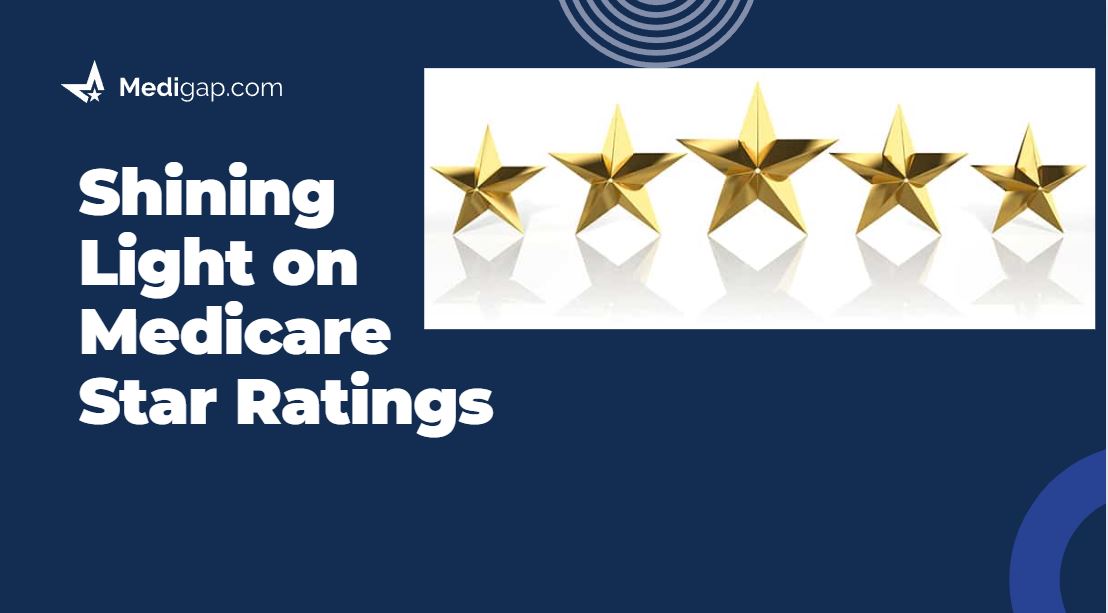 From Medicare Advantage Plans to Part D prescriptions, the choices can be overwhelming. That's where the guiding light of the Medicare star rating system steps in, offering you a compass to navigate this complex terrain. Imagine having a tool that simplifies your decision-making and ensures you choose the best plan tailored to your needs.
Understanding the significance of Medicare star ratings
Medicare Advantage and Part D prescription drug plans are subject to Medicare's star rating system. Medicare Advantage plans provide another avenue for your Original Medicare benefits. These plans can include prescription drug coverage and plan extras not included under Medicare Parts A and B.
Part D prescription drug plans are stand-alone coverage added to Original Medicare and/or Medicare Supplement plans. These Medicare options are subject to the star rating system used to determine the program's quality.
Translating the Medicare star rating system
Medicare assesses plan performance across various measurements, encompassing quality of care and customer service. This evaluation results in ratings ranging from one to five stars, where five signifies the standard of excellence, and one denotes the starting point. Plans receive ratings for each category, culminating in a star rating that rates the plan's performance. This Medicare star rating equips you with a powerful tool for comparing plan performance across the board.
Medicare engages in a yearly review of plan performance. This process leads to the release of fresh star ratings every fall. Consequently, plan ratings are subject to change from one year to the next, ensuring a current and dynamic assessment. However, it's essential to remember that while star ratings offer valuable insights, ensuring a plan's coverage and costs align with your specific needs remains important.
The criteria behind Medicare star ratings
There are several factors that CMS considers when giving star ratings. Below are the criteria Medicare uses for Medicare Advantage plans, and Part D drug coverage
Medicare Advantage plans earn their ratings across five categories:
Staying healthy: including screenings, tests, and vaccines.
Managing chronic (long-term) conditions.
Plan responsiveness and care.
Member complaints, challenges accessing services, and the decision to switch plans.
Health plan customer service.
Part D plans, on the other hand, undergo rating evaluation in four distinct categories:
Drug plan customer service.
Member complaints, challenges accessing services, and the decision to switch plans.
Member experience with the drug plan.
Drug pricing and patient safety.
Identifying excellence and addressing low-performance
As mentioned above, a 5-star rating is the top rating available; plans with a 4-star and higher rating are considered above average, while plans under a 3-star rating are considered poor-performing. If a plan has a 5-star rating, beneficiaries can enroll in that plan outside of the Annual Enrollment Period. For plans underperforming for at least three years, the beneficiaries enrolled in those plans are notified by Medicare and have a Special Enrollment Period for a one-time use outside of the AEP.
Navigating plan enrollment and the 5-star Special Enrollment Period
If a Medicare beneficiary lives within a coverage area of a 5-star plan, they qualify for the 5-star Special Enrollment Period. It allows them to enroll in the 5-star plan once a year between December 8 and November 30. The new plan will start at the beginning of the month after enrollment is complete.
Utilizing the Medicare star ratings
While the Medicare star rating is an important metric that shows the plan's overall performance, that doesn't necessarily mean that the plan is the best for your situation and needs. Your individual needs and wants must be met by the plan you choose. Reviewing your Medicare Advantage, or Part D plan regularly is wise and allows beneficiaries to ensure they have a plan that meets their needs. Star ratings help complement other decision-making factors.
FAQs
What do Medicare star ratings mean?
Medicare employs a Star Rating System to gauge the performance of both Medicare Advantage and Part D plans. The evaluation encompasses several categories, appraising the quality of care and customer service provided by the plans. These assessments result in ratings spanning a scale of one to five stars, where five signifies the pinnacle of performance and one denotes the starting point.
What are the 5-star rating categories for CMS?
For the 2023 overall star rating, a careful selection process considers 46 hospital quality measures publicly disclosed on Medicare.gov. These measures are categorized into five groups: mortality, safety of care, readmission, patient experience, and timely and effective care.
What are the four main categories of star rating measures?
The Medicare Star Rating System operates by evaluating key aspects, including:
Maintaining well-being.
Effectively managing chronic conditions.
Responsiveness and care of the plan.
Addressing member concerns, challenges with accessing services, and decisions to switch plans.
Quality of health plan customer service.
What are the benefits of being a 5-star Medicare plan?
5-Star plans excel in performance and stand out in customer service. These plans go the extra mile to ensure members have easy access to essential information, experience fewer grievances, and consistently deliver superior customer satisfaction compared to lower-rated plans within their market.
How is Medicare star rating calculated?
The star ratings attributed to Medicare Advantage plans hinge on a comprehensive evaluation of 38 quality measures distributed across five significant categories: screenings, tests, and vaccines; management of chronic conditions; member experience; handling of member complaints; and the provision of exceptional customer service.
Get help reviewing Medicare plan options
Finding the right plan for your needs doesn't have to be complicated. Use our online rate form to review your area's top plans and companies. Let us help you make the decision quick and painless.
Related Content