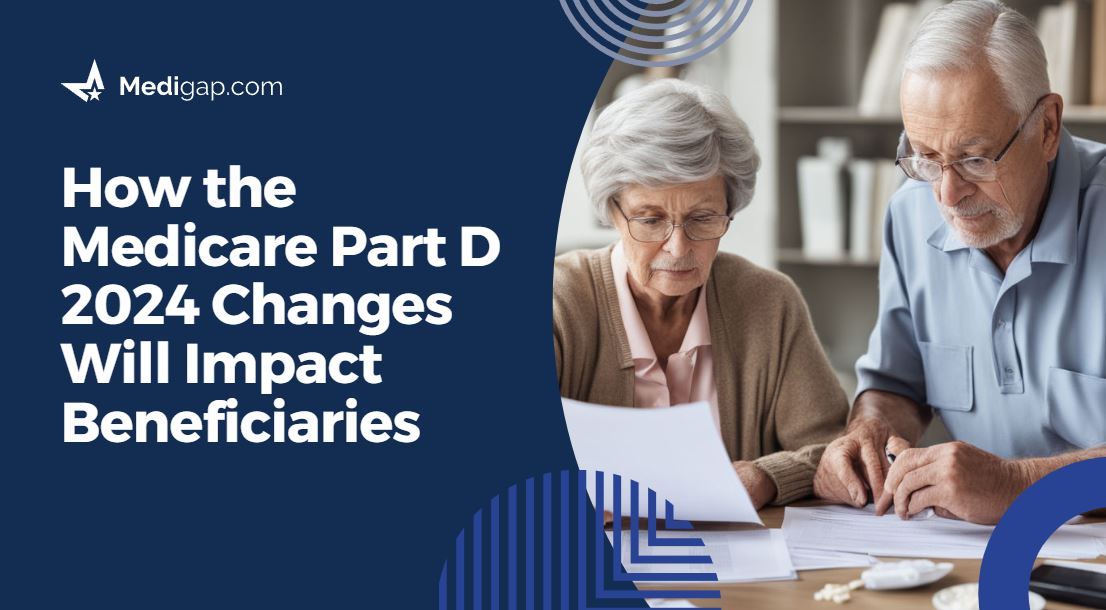 The Medicare Part D program provides beneficiaries coverage for prescription drugs filed at the pharmacy. Reviewing this coverage annually is wise as plans and details change annually. From premiums and drug costs to covered drugs and authorizations, it's wise to know about the changes to make an informed decision about your Medicare drug coverage.
Medicare Part D changes for 2024
In 2024 there will be a major change to the standard model for Medicare Part D from one of the provisions of the Inflation Reduction Act. The cost-sharing portion of the catastrophic coverage phase will be eliminated. This means that once a Medicare beneficiary completes the coverage gap (Donut Hole) phase, they'll have $0 costs for their prescription drugs for the remainder of the year. This is good news for beneficiaries that take expensive prescription drugs.
Reviewing current drug coverage
Each year, you'll receive an annual notice of change (ANOC). This notice will outline any changes in your current plan, including the new premium, copays, coinsurance, and deductible. In addition to cost changes, you'll also be notified about formulary changes affecting the drugs' coverage, authorizations, and limitations for the next year.
Comparing the current coverage to other 2024 Part D plans
When comparing the available Part D plan options, many people get hung up on the premiums. The premium is actually the least important factor to consider. It's wise to compare the annual costs of your prescriptions and the available plans by that metric.
All plans have different cost shares, and the plan with the lowest premium, may not be the best coverage for you. Likewise, don't assume that a plan with a high premium will be better for you.
Working with a licensed agent will make this process quick and easy. They can access tools that compare multiple plans with your prescriptions and pharmacies to determine plans with the lowest annual costs.
Restrictions
Plans are allowed to apply cost-saving methods to limit their costs. The cost savings methods include quantity limits, step therapy, and prior authorizations.
Quantity limit: Quantity limits limit the number of tablets or capsules that you can review within a specific time period.
Step therapy: Step therapy requires trying less expensive drugs, and stepping up to more expensive drugs if the cheaper alternatives don't work.
Prior authorization: Prior authorizations require the provider to provide information on why the drug is necessary and request that a prescription be covered for the patient.
Prescriptions savings opportunities
There are situations where the costs of prescriptions can be unaffordable, and everyone's needs are different. If this applies to you, there are assistance programs that you may qualify for. Next, we'll go over some of these programs.
Medicare low-income subsidy
The low-income subsidy (Extra Help) program is a federal program that helps cover premiums, copays, and deductibles of prescription drugs. This program is income based and has several levels of protection. You can qualify for this program even if you don't qualify for Medicaid.
State Pharmaceutical Assistance Program
You can check with your state if you don't qualify for the federal low-income subsidy program. The State Pharmaceutical Assistance Programs (SPAP) are similar to the federal Extra Help program, but the income levels to qualify could be higher. Allowing individuals with income higher than the federal limits to qualify for help potentially.
Prescription discount programs
Several prescription discount cards are free for anyone, providing discounts for individuals who sign up. Programs such as SingleCare and GoodRx, provide these free programs and resources to help lower your prescription drug costs. Remember that any prescriptions you purchase through a discount program won't go toward the drug costs to move you through the phases in your Part D plan.
Manufacturer coupons
Some drug companies provide coupons for their drugs for individuals in need. If you have a prescription that is unaffordable and these other programs won't work for your situation, contact the manufacturer, and see if they have a coupon or assistance for your prescription.
Part D 2024 FAQs
What is the Part D rule in 2024?
Starting in 2024, the IRA will introduce a method to restrict rises in premiums for Part D enrollees. The legislation constrains the rise in the foundational beneficiary premium (utilized for determining plan-related basic premium) to an annual increment of 6%.
What will the donut hole be for 2024?
The maximum limit for the Initial Coverage phase will rise to $5,031 (compared to $4,660 in 2023). Additionally, the maximum limit for the Coverage Gap, also known as the "Donut Hole," will increase to $8,000 (previously $7,400 in 2023).
What is the out-of-pocket limit for Medicare Part D in 2024?
For 2024, the catastrophic threshold gets established at $8,000. This sum comprises both the out-of-pocket expenses incurred by Part D enrollees and the value of the manufacturer price discount applied to branded drugs during the coverage gap phase.
Get help selecting a 2024 Part D plan
Finding the right drug plan for your needs is easy with the right tools. Fill out our online rate form to view plans available in your area, and even connect with a licensed insurance agent that can help you compare the options quickly and efficiently.
Related Content