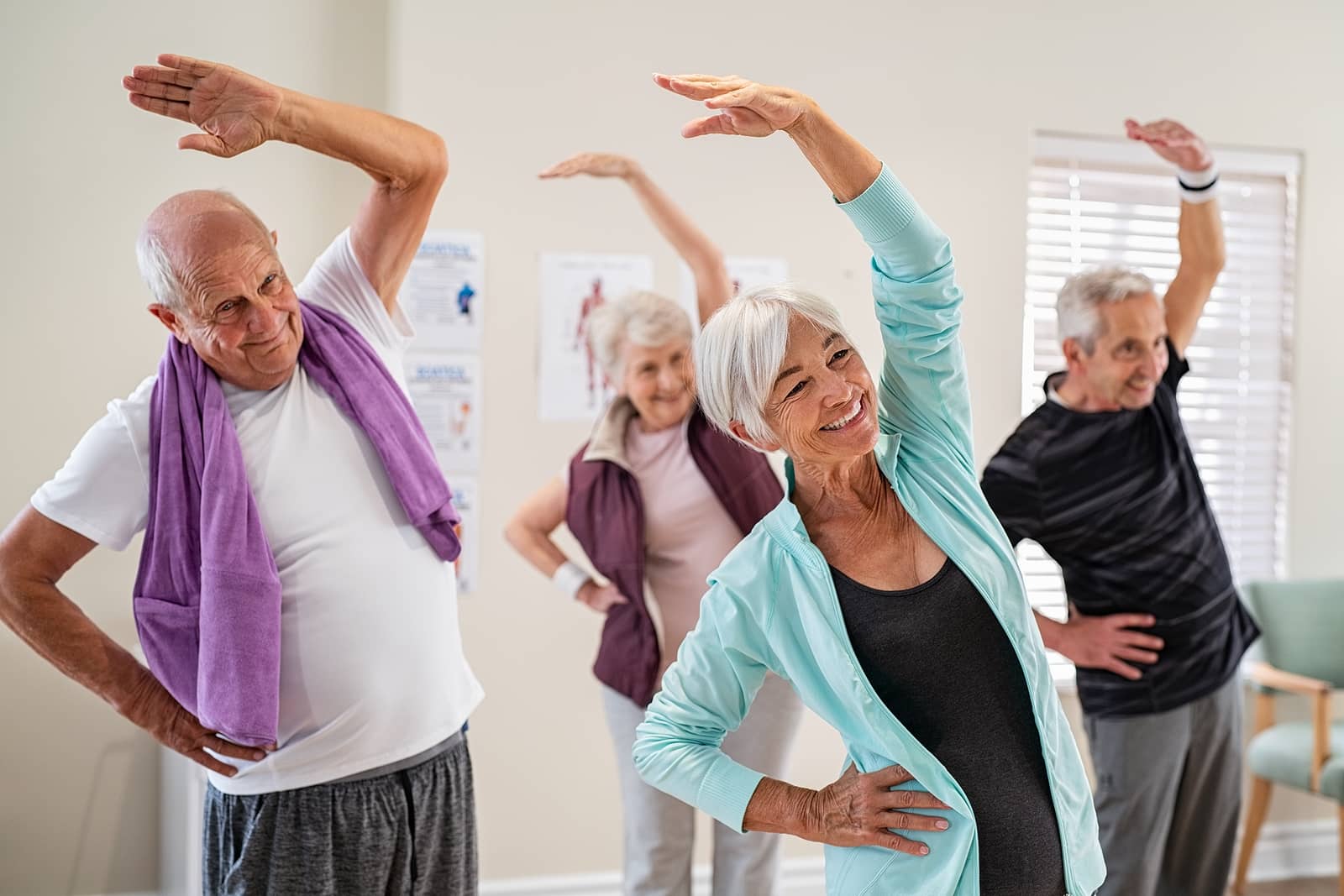 Fitness is an essential part of staying healthy. Staying fit as you age will help ensure you are healthier longer and live a vibrant life. When retiring, we transition to a paycheck to live off Social Security. Cutting costs become necessary, and gym memberships are one of the first things to go. Thankfully some options are low or no cost, which allows you to maintain your physical health. Medicare beneficiaries may access the SilverSneakers fitness benefits through their Medicare plan.
SilverSneakers Program
SilverSneakers is one of the most popular gym memberships used by Medicare beneficiaries. The program boasts access to nationwide gyms with classes specially designed for beneficiaries and access to pools and walking tracks in some locations.
Medicare and gym memberships
Medicare does not cover fitness or gym programs. Original Medicare only covers hospital services and medical services. Fitness does not fall under those categories, so a gym membership or a fitness plan would not be covered.
Medicare Supplement plans that cover SilverSneakers
Many Medicare Supplement plans include some access to gym memberships. As far as SilverSneakers go, few Medigap carriers offer SilverSneakers.
Most Medicare Supplement plans have some added gym membership you can access. Many have an additional premium for these services.
For example, Cigna offers Silver and Fit in some areas. It is approximately $25 a month, and Mutual Of Omaha has its Mutually Well fitness program.
Medicare Advantage plans that cover fitness benefits
Most Medicare Advantage plans have fitness benefits and most offer SilverSneakers.
Some Medicare Advantage carriers provide a few other fitness benefits. The fitness benefit is usually included at no additional cost on Medicare Advantage Plans.
Do Part D plans include SilverSneakers?
No. Part D prescription drug plans do not include gym memberships. You can enroll in a Medicare Advantage plan providing drug coverage for a fitness program.
What benefits do I have with SilverSneakers?
Medicare beneficiaries with SilverSneakers enjoy various benefits, including classes on location and online.
Online services
Live online classes allow members to watch and participate live with an instructor. They are available for anyone, regardless of physical limitations, with instructors that cater to all skill levels. The filters are easy to use to ensure you find the class style that fits your needs.
On-demand services include nutrition and workout videos you can access at any time. The nutrition videos can help you eat healthily. The on-demand workout videos allow you to work out from home at your schedule and speed.
All online classes and videos include balance, flexibility/mobility, strength, cardio, and more options. There is something for everyone, no matter your needs.
Gym locations and services
With more than 15,000 participating locations, finding a provider near you is easy. You can visit the locations to use facilities and take various classes to help with flexibility, strength, balance, and cardio.
Qualifying for SilverSneakers or a fitness program
Qualifying for fitness programs requires you to be Medicare eligible and enrolled in a Plan that offers the fitness benefit. If there is an additional premium, you must pay that premium to use the services. SilverSneakers does not have an additional cost.
Benefits of being and staying fit as we age
Balance is critical as we age. As our body gets weaker, the likelihood of falling increases. I can think of many instances where someone I knew was doing fine. After a fall, their health deteriorated quickly.
The older we get, the longer it takes our bodies to heal. The best way to avoid a falling injury is to do exercises to help improve and maintain our ability to balance.
Strength training is a little different from when we are younger. As we age, maintaining our strength is vital to keep our bodies strong enough to handle the tasks we complete daily. Strength training will also slow the pace that your muscles weaken.
Cardiovascular endurance will help with being healthy in many ways. The most notable will be lung health and oxygen levels. Staying cardio-healthy will increase lung capacity, increasing the amount of oxygen your body receives. Oxygen helps keep all aspects of your body healthy.
Flexibility/Mobility goes hand in hand with balance. If you can move more freely and have more elasticity of your joints and tendons, you are more likely to keep your balance.
Maintaining and increasing flexibility will also lower joint and muscle pain, making daily life more enjoyable.
Studies have shown that staying physically active also increases brain functions.
SilverSneakers vs. other fitness programs
SilverSneakers has been and continues to be the most popular while there are a few other fitness programs through different carriers. Most of the other programs do require you to pay additional fees. If you have access to a fitness program, you should take full advantage of it. This will assist in your living a longer and more full life.
SilverSneakers FAQs
Which Medicare Supplement plans include gym membership?
While not every Medicare Supplement carrier includes SilverSneakers, several companies offer different gym memberships for their Medicare Supplement enrollees. Accendo, Continental Life, Bankers, and Loyal American have different gym memberships you can choose when enrolled in a Medicare Supplement.
Are there Medigap plans that include SilverSneakers?
Several Medicare Supplement plan providers include SilverSneakers; however, the program may not be available in all areas. Humana and Anthem BCBS are the most common Medigap insurance companies that offer SilverSneakers.
What insurance plans include SilverSneakers?
The SilverSneakers program is commonly included in Medicare Advantage plans. However, some Medicare Supplement plans will include the program.
Can you use more than one gym with SilverSneakers?
You can update and change the gym you are using with SilverSneakers. You aren't stuck to one gym or location.
Getting help finding a Medicare plan with SilverSneakers
Suppose you are on a Medicare plan that includes a gym membership option. You can look at your plan's benefits summary or coverage evidence for more details. You can also call the customer service number on the back of your insurance card.
Call or fill out our online request form if you need help finding a plan with a gym membership or SilverSneakers. We will be happy to help you find a plan that meets your needs and includes a fitness benefit like SilverSneakers.