Universal Fidelity Life Insurance Company specializes in Medicare Supplements, life insurance, and group health plans. They are also a student accident insurance company. Additionally, they offer administrative services. The company headquarters is located in Duncan, Oklahoma, and was established in 1935. Seneca International Ltd. is the parent company of Universal Fidelity Life.
Below we'll review Universal Fidelity Life Medicare Supplemental insurance policies, reviews, and frequently asked questions. Then, we'll explain how to enroll in a Universal Fidelity Life Insurance Company Medigap policy.
Universal Fidelity Life Insurance Company Medicare Supplement Plans
Universal Fidelity Medigap plans make your healthcare costs more manageable by helping with the costs of Medicare Part A and B. These costs include Part A and Part B coinsurances, deductibles, copayments, and Part B excess charges.
The company offers four Medicare Supplement plans, including Plan A, Plan N, Plan G, and Plan F. Medigap Plan F is the only policy that covers the Part B deductible. Still, it's not available to beneficiaries eligible for Medicare after 2020.
Medicare Supplement insurance can even help with the cost of hospital, foreign travel emergencies, and the Skilled Nursing Facility coinsurance.
Medigap only covers the benefits Original Medicare covers. So, there isn't coverage for long-term care, hospice care, dental, vision, hearing, or prescription drugs. You can purchase coverage for these medical services separately through various health insurance companies.
Universal Fidelity Life offers Medicare Supplement insurance in all states. High-deductible Medicare Supplement policies usually have a lower premium.
The best time to enroll is during your Medigap Open Enrollment Period. During this time, you don't need to deal with underwriting. You can sign up for Medigap anytime. However, you may pay a higher monthly premium or deny coverage.
Your location is an essential part of your eligibility. This company offers Medigap plans in the states of Arizona, Mississippi, Oklahoma, and Texas.
Your primary residence must be in one of these states to become a Medigap policyholder with Universal Fidelity Life Insurance Company. If you live outside of these states, plenty of other top-rated Medigap carriers can provide you with a Medicare Supplement in your state.
Universal Fidelity Life Medicare Advantage plans and prescription drug coverage
Universal Fidelity Life Insurance Company doesn't offer Medicare Advantage or prescription drug insurance beneficiaries. However, competitive insurance companies such as Humana, Aetna, and Cigna offer Part C and Part D plans.
Medigap plans help cover the out-of-pocket costs Medicare would otherwise leave you responsible for paying. Since Part D and Medigap are separate policies, you can customize your coverage to meet your specific healthcare needs.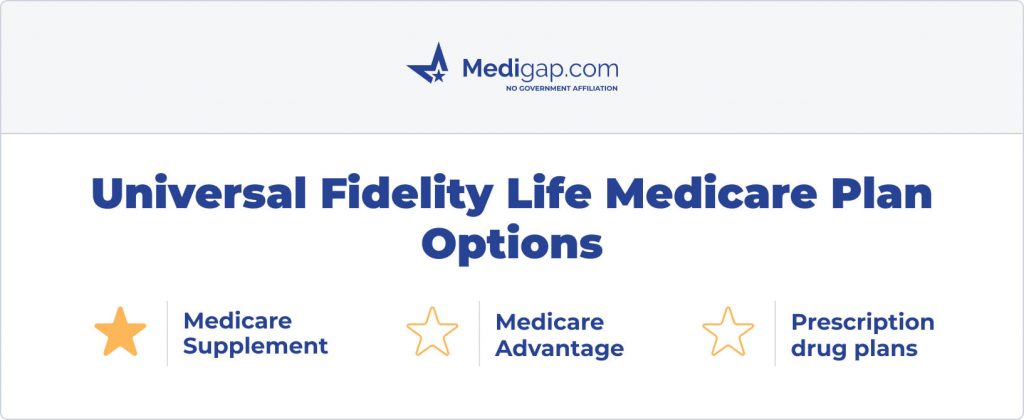 Universal Fidelity Life Medicare pros and cons
Pros
Offers the top Medicare Supplement plan letters
Affordable monthly plan premiums
Liberal underwriting
Cons
Medigap plans only offered in four states
Average premium increases
Financial strength ratings
The Better Business Bureau (BBB) gives Universal Fidelity Life Insurance Company a financial strength rating of A+ (Excellent), meaning this is a stable company. AM Best gives the company a "B" (Fair) rating. Overall, it's safe to say the company is financially secure, no matter which product you buy.
Reviews
Your Medigap plan must also approve the claim when Medicare covers a health care service. Because of the consistency, it's safe to say these plans are top quality.
The best part about working with one of our agents is that we can walk you through the entire process if you want to change companies. It doesn't matter which option you choose when you work with us because we can compare all your plan options.
FAQs
What is the highest level of coverage in a Universal Fidelity Life Insurance Company Medigap Plan?
Medicare Supplement Plan F provides beneficiaries with the highest level of coverage. Next would be Medigap Plan C. These plans are available through most supplemental Medicare insurers. Those eligible for Medicare after 2020 would be eligible for Plan G instead.
What are the benefits of Universal Fidelity Life Medicare Supplement Plans?
Universal Fidelity Life provides you with the same Medigap benefits any Medicare Supplement company will offer. But, if this company has the most competitive rate in your area, it's worth considering enrollment.
What is the annual premium for the Universal Fidelity Life Medicare Supplement Insurance plan?
Medigap premiums usually range from $50-$300 depending on where you live, your health risks, and your enrollment eligibility. Working with a licensed insurance agent is beneficial because they can compare top company rates for you over the phone.
How to sign up for Universal Fidelity Life Insurance Company Medicare plans
Enrolling in a Medicare Supplemental plan through Universal Fidelity Life is simple when you have the help of a licensed insurance agent. Whether you want to become a policyholder or ask questions about Medicare, we got you covered.
Call us at the phone number above to speak with a Medicare insurance expert licensed in your state. You can also fill out a rate comparison form to see the options available in your area. Now is the best time to start!