SBLI USA Life insurance company, inc offers a variety of products, but this content will specifically go over the supplemental Medicare options available. Before we start, you should know a few things, SBLI stands for Savings Bank Life Insurance. In some states, the insurance policy is written under S.USA Life Insurance Company and Shenandoah Life Insurance Company.
The company is a subsidiary of Prosperity Life Group. Prosperity Life Insurance is a growing New York-based company offering people financial security through insurance products. The content below will discuss everything beneficiaries need to know about available health plans, financial strength ratings, and customer reviews.
SBLI USA Life Medicare Supplement plans
SBLI USA Life Medigap plans supplement Original Medicare by helping cover coinsurances, deductibles, and copays. The company currently offers four different Medicare Supplement insurance plans, including:
Medigap Plan A
Medigap Plan C
Medigap Plan F
Medigap Plan G
The best plan or Medigap insurance carrier depends greatly on your health, the state you reside in, and your preferences for coverage. Based on your situation, we can help you determine which policy would make the most sense.
Medigap plans are beneficial because they can help cover things like the Part A deductible, Part B deductibles, or applicable coinsurances.
Most people will find that Plan G makes the most sense since the coverage is higher than most other options. The premium is lower than full coverage Plan F. Those eligible for Medicare after 2020 likely won't be eligible for Plan F or Plan C.
SBLI USA Medicare Advantage and Part D prescription drug plans
Currently, SBLI doesn't offer Part C or Part D plans. However, that may change in the future.
Outside of Medicare Supplement policies, SBLI USA Life Insurance Company, inc provides annuity products, asset accumulation products, whole life, and other life insurance products.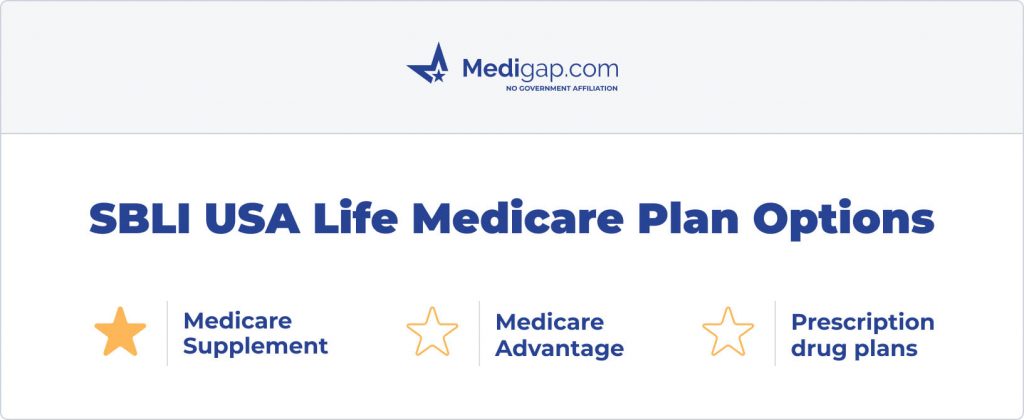 SBLI Medicare pros and cons
Pros
SBLI has some of the best rates in the industry
Conservative rate increases
Online claims filing
Cons
Strict underwriting
No offerings of Medicare Advantage or Prescription drug coverage
Financial stregth ratings
SBLI life insurance company has a financial strength rating of A- (excellent) through AM Best ratings. BBB gives the company an A+ rating. S&P Rates the company at an A- (stable).
Reviews
Some SBLI beneficiaries have said that this company allows you to file claims online and has a faster-than-usual application process. Underwriting is competitive. When one company denies you coverage, SBLI may be able to accept you.
Plus, since they're a mutual company, policyholders can receive dividends on profits.
FAQs
How long has SBLI Life Insurance been around?
SBLI Life Insurance Company has been around for about 115 years. The company has been insuring people since 1907.
Where does SBLI USA Life offer Medicare Supplement insurance?
SBLI USA Life offers Medigap in Mississippi, North Carolina, and New Jersey. However, all states offer Medicare Supplements, just sometimes through different companies.
How much does SBLI Medigap insurance cost?
Most top-rated Medigap insurance companies, give or take a few dollars, cost the same. Since the coverage and benefits are standardized, the prices are about the same. Medigap costs largely depend on your location. For example, a Medicare Supplement policy in New York will cost more than a Supplement in North Carolina. To get the most accurate quote, working with a licensed insurance agent is best.
How to enroll in SBLI USA Life Medicare Supplement insurance
Enrolling in an SBLI USA Life Medigap policy is simple and can be done over the phone. Call one of our insurance agents at the phone number above to enroll in Medigap.
Our agents can analyze your needs to help you figure out the best option. We can also clarify any confusion on Medicare enrollment periods, underwriting, etc.
Suppose you prefer to take your health insurance into your own hands. In that case, our personalized Medigap comparison form can help you get started.