Manhattan Life has been offering insurance products since 1850, making it one of the oldest insurance companies in the country. Manhattan Life is committed to remaining independent to focus on its core mission of helping policyholders achieve health, wealth, and security.
They offer Medicare Supplement coverage in addition to the ancillary products. We'll review the Manhattan Life group that has designated its senior-focused products, the Manhattan Life Lighthouse Series.
The Manhattan Life Insurance Company is the parent company for the subsidiaries Manhattan Life, Central United Life, Western United Life Assurance Company, and Family Life Insurance Company.
Manhattan Life Medicare plans
When you start investigating your Medicare options, you learn that there are a few things to consider. Supplemental Medicare plans can help cover the costs you're responsible for when using your health insurance. You can choose one option: stay on Original Medicare, a Medicare Supplement insurance policy, and a Part D Prescription drug plan.
The other option is enrolling in a Medicare Advantage plan. These plans will give you another way to receive your Medicare benefits. They roll your Medicare into an all-in-one plan.
We'll explain the Manhattan Life Supplement insurance and how Medicare Advantage plans work. Next, we'll review Medicare Part D and Manhattan Life's financial strength. After that, we'll answer frequently asked questions and explain how to get help with Supplemental Medicare plans with Manhattan Life.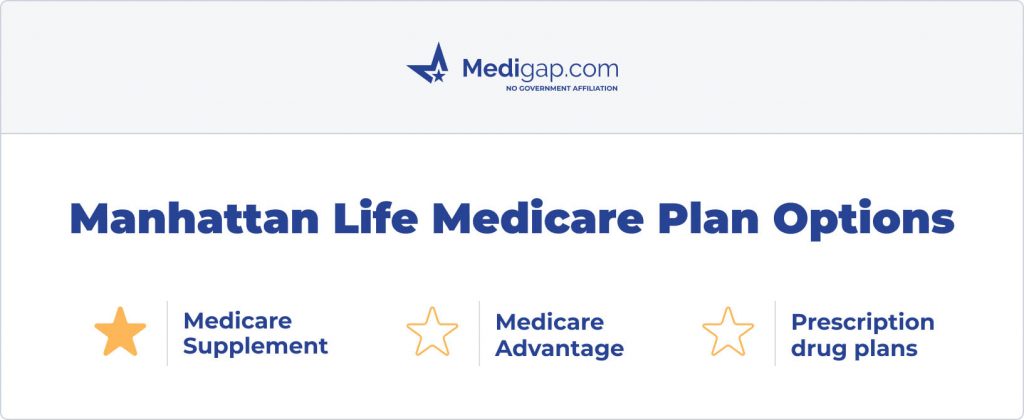 Medicare Supplement plans
For a full coverage option, Medicare Supplement insurance is the top choice. The coverage doesn't get any better. And these plans work as secondary coverage to your Original Medicare.
Medicare Supplement plans are also known as Medigap plans. They help cover your portion of the Medicare healthcare costs for services rendered under Medicare Parts A and B.
These Medigap health care plans help cover items such as the Medicare Part A deductible, Part B coinsurance, and Part B excess charges.
Because Medicare remains the primary, you can continue to use any healthcare provider nationwide that accepts Medicare.
There's no requirement to get a referral to see a specialist. This makes Medigap plans even more enticing for people enrolled in Medicare.
Medigap plans come in 10 different plan letters to select. Most Medicare beneficiaries enroll in one of the most popular plans.
Medicare Advantage plans
Manhattan Life doesn't offer Medicare Advantage plans. These are network-based plans that replace your Original Medicare.
Dental, vision, hearing
After a 12-month waiting period for high-cost services, Manhattan Life offers dental, vision, and hearing coverage in most states.
Dental coverage during the first year includes routine care; then, in the second year, dentures, bridges, and periodontal surgery have coverage.
Benefits include an eye exam, glasses, and contacts. Dental, vision, and hearing coverage is available with a $100 deductible. High-cost hearing services have a 12-month waiting period.
Part D prescription drug coverage
Medicare Part D is Medicare's coverage for prescription drugs.
Private health insurance companies administer Part D plans and Medicare Advantage.
These companies set the rules, terms, and conditions of their plans. The Centers for Medicare and Medicaid Services regulate Medicare Advantage and Part D plans.
Manhattan Life doesn't offer Part D plans. If you need standalone drug coverage, we can assist you as well.
Manhattan Life Medicare pros and cons
Pros
Soft underwriting
Provides access to the top Medigap plans
Offers various ancillary products to help seniors fill the coverage gaps
Cons
No Medicare Part D or C options
Plan offerings aren't nationwide
Financial strength ratings and reviews
Several entities are the standard for rating insurance companies' financial strength. Knowing about a company's financial strength will give a great picture of how they handle its business.
Higher financial strength ratings show how companies perform in a few areas.
More competitive rates
Faster claims processing
Conservative rate increases
Manhattan Life Insurance Company has received an AM Best rating of "B+ Good." This rating shows that the company should provide outstanding service and do well in the abovementioned items.
Manhattan Life enjoys an exceptional financial stability rating of an A+ and an A+ from the BBB.
FAQs
Is Manhattan Life Insurance Good?
Manhattan Life Insurance has an AM Best rating of B+, a good rating.
What are the top 3 most popular Medicare Supplement plans in 2022?
Plans F, G, and N are the most popular Medicare Supplement insurance plans. In addition, to these three plans, Manhattan Life does offer additional plans depending on where you live. Some of the other policies could include Plan A and Plan C
How long has Manhattan Life been in business?
Manhattan Life has been in business since 1850. That means they've been servicing clients for over 170 years.
What is the contact information for Manhattan Life?
The home office for Manhattan Life is located at 10777 Northwest Freeway, Houston, Texas, 77092
What is the difference between a Medicare Supplement Plan and a Medicare Advantage Plan?
A Medicare Supplement Plan fills the gaps left by the Original Medicare program. Medigap insurance policies are accepted by any provider that accepts Original Medicare. A Medicare Advantage Plan works like most group plans. You have a network of providers to choose from; referrals and copays are typical with an advantage plan.
How much does Manhattan Life cost?
On Average, Medigap policies cost anywhere from $80- $300 monthly. The cost is dependent on the state and insurance company. Several additional factors can affect the price of Medicare Supplement plans.
Can I enroll in a Manhattan Life Medicare Supplement without medical underwriting?
In most cases, medical underwriting is required to enroll in a Medicare Supplement. Suppose you enroll during your Open Enrollment when you first start Medicare eligibility.
In Open Enrollment, then you'll not be required to pass underwriting.
How to enroll in a Manhattan Life Medicare plan
Choosing and enrolling in your Supplemental Medicare health insurance plan is critical. The process can take time, with everything to consider and review. There is so much information out there that it can be an overload.
Our licensed insurance agents can help you review your options before making an educated decision on your Medicare coverage. Give us a call or fill out our online request form for assistance.