Old Surety caters to Medicare beneficiaries and offers plans in several states, including Arkansas, Colorado, Kansas, Missouri, Montana, North Carolina, Oklahoma, and Texas. They don't offer every plan letter; however, they offer the most popular plans, Plan F and Plan G.
Old Surety Medicare Supplement plans
They have been in the Medicare market for many years and is a name that instills trust in its policyholders. The coverage and plan options can differ from state to state, but their Medicare Supplement programs are second to none.
Old Surety Medicare Advantage plans
Old Surety doesn't offer Medicare Advantage plans. But we can help you if you want information regarding the all-in-one plans.
Old Surety Medicare prescription drug plans
Part D Prescription plans are not part of the Old Surety product line. You'll need a prescription drug plan once you start Medicare, and we can also help with that.
We have access to all Part D plans available and can help compare and enroll you into the option that best fits your needs.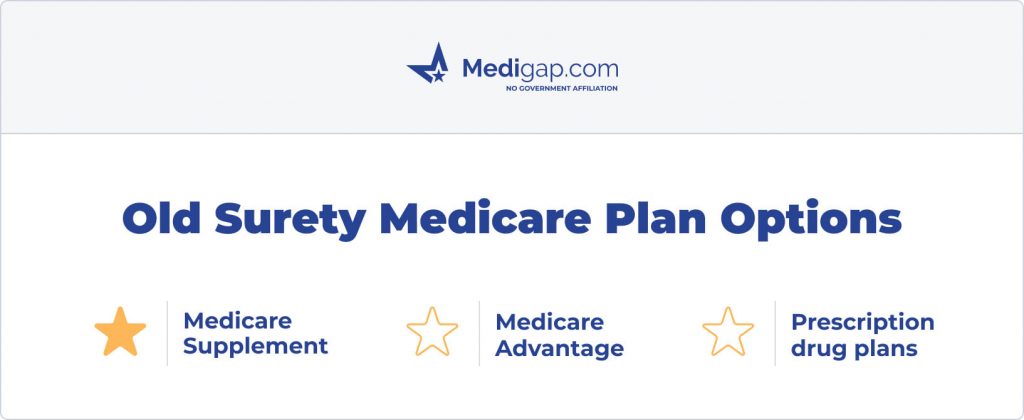 Old Surety Medicare pros and cons
Pros
Friendly customer service and staff
Light underwriting
Provides access to the top Medicare Supplement plan letters
Cons
Medicare Supplement plans are only offered in select states
Rate increases can be a little more than the top companies
Old Surety financial strength ratings
Old Surety has a long-standing track record of financial stability. Unfortunately, we can't compare them using the usual financial stability tracking companies, AM Best, Standard & Poors, or Moodys, as they're not registered with these companies.
Old Surety reviews
Finding a negative review for Old Surety and its subsidiaries was difficult. Most reviews talk about the positive customer service and friendliness of the staff.
Many reviews also say they can get a knowledgeable person on the phone when they call in for help and are testimonies of how they treat their policyholders.
FAQs
Where is Old Surety located?
Old Surety's home office is in Oklahoma City, Oklahoma.
How long has Old Surety been in business?
Old Surety was founded in 1932, and they take pride in assisting its policyholders with their Medicare needs. Their specialty is Medicare Supplements.
Does Old Surety offer Medigap insurance plans?
Yes. Old Surety offers Plans A, C, F, and G.
Is Old Surety's Medicare Plan a PPO?
No, Old Surety offers Medigap Plans. Medigap plans are sometimes confused with PPOs. Both coverage types don't limit you to in-network doctors.
How to enroll in an Old Surety Medicare plan?
We're here to help you through the Medicare enrollment process! We specialize in helping patients with Medicare, so don't hesitate to reach out if this worries or concerns you.
Our agents will walk through every step from start to finish before signing up for insurance coverage under Old Surety or any other plan you choose.
With our no-hassle process, we can be your advocate. During such critical years, you can rest assured you will always have a friend in the Medicare world with us on your side. Fill out our request form, and we can simplify the process.