Are you one of the 75,000+ seniors in Memphis right now who are trying to plan for your health care costs in advance? You're likely trying to figure out whether you can afford to stay on Medicare alone, or whether you need a supplement policy. The answer to these questions will vary from one individual to another. But one thing is for sure: if you don't get the solution figured out – and soon – you can end up paying tens or even hundreds of thousands of dollars in out-of-pocket medical costs.
Medicare in Memphis Facts and Figures
There are 76,772 senior citizens living in Memphis right now
There are 9 hospitals in the Memphis metropolitan area where senior citizens can get emergency or inpatient care
36% of Tennessee seniors have a Medicare Advantage plan
16% of Tennesseeans, on the other hand, have a Medicare Supplement (Medigap) insurance plan
That means that almost half (48%) of Tennessee seniors might not have adequate financial protection from Original Medicare coverage gaps!
It appears as though high blood pressure and arthritis are some of the most common chronic diseases in Memphis right now. A chronic disease is one that usually does not go away once you are diagnosed with it, and often becomes worse with time – especially if you don't take proper care of yourself. Arthritis and high blood pressure medications are fairly affordable when you are younger, but as you get older, you may require more expensive treatment or even surgery in order to deal with your condition. And these will only become more expensive with time and age.
| | |
| --- | --- |
| Disease | Prevalence (in Memphis) |
| Arthritis | 30% |
| High Blood Pressure | 43% |
| Coronary Heart Disease | 7% |
| Diabetes | 15% |
| Kidney Disease | 4% |
Healthcare Costs in Memphis, Tennessee
The chart below shows some estimated healthcare costs for seniors in Memphis. But this is just a snapshot of what you might expect to pay for your health care. Not only will your costs vary by need, but they will continue to increase on an annual basis for as long as you need care. Things like inflation, uncertainty about politics, and your own unique healthcare needs will continue to increase your healthcare expenses on an annual basis.
| | | |
| --- | --- | --- |
| Disease | Prevalence (in Memphis) | Estimated Costs |
| Arthritis | 30% | $304 |
| High Blood Pressure | 43% | $180 |
| Coronary Heart Disease | 7% | $9,001 |
| Diabetes | 15% | $2,208 |
| Kidney Disease | 4% | $8,015 |
Medicare Advantage Plans in Memphis, Tennessee
Are you thinking about choosing Medicare Advantage? There are some things about Medicare Advantage policies that you should know before you make a final decision. For starters, these policies come from private insurance companies; the only real government involvement in the payment of your monthly premium, and the fact that these policies must legally provide the exact same medical benefits you would get from Traditional Medicare.
Because the government pays your monthly premium, some seniors can get a plan for a very low price – sometimes as low as $0 per month. And that may include the option to add additional benefits. But most seniors will have to pay extra to add more coverage than what the federal government legally mandates.
There are certain advantages with a Tennessee Medicare Advantage policy that you might not get from any other Medicare supplement. Many insurance policies which supplement Original Medicare are limited in scope; if you want to go beyond their scope, you have to purchase extra coverage from separate entities.
This means your medical benefits will be managed by different companies, and it can get complicated to keep track of. Other supplement policies also require you to pay your own premium; the government won't pay it for you. But you could end up saving money with a Medicare Advantage plan under certain circumstances, so that may balance things out.
Medical Costs Over Time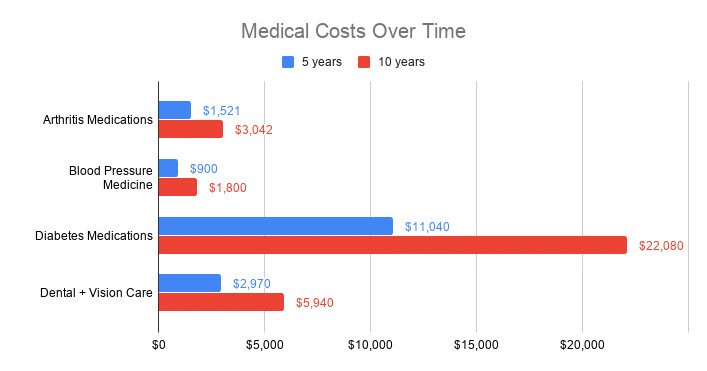 We included dental and vision care costs in the graph above because most Medicare Advantage plans give you the option to add these coverages to your policy. But keep in mind these options aren't available in all areas. Some seniors also prefer to purchase their own vision and/or dental coverage separately either because it's cheaper, or because the dental and vision doctors they're currently seeing aren't available on their Medicare Advantage network. But the plus is that you get to manage all of your medical benefits together under the same policy, which might outweigh the negatives of having to pay a little more or having to switch dentists/ optometrists.
Medicare Supplement (Medigap) Savings in Memphis, Tennessee
If Medicare Advantage sounds exciting to you, don't stop shopping around just yet. You should also give Medicare Supplement Insurance in Tennessee a quick look before you make a final decision. These insurance policies are smaller and offer fewer benefits, but what they lack in scope and complexity they make up for in simplicity and affordability. When it comes to health insurance, the less coverage you purchase, the less you will have to pay for it. Since Medicare Supplement Insurance policies only concern themselves was covering the gaps in Original Medicare coverage – not completely replacing your Medicare, the way Medicare Advantage does – your monthly premiums will be substantially smaller and potentially more affordable.
They will be the most affordable if you pick a Medigap plan which focuses on hospital costs. These plans are designated by letters: specifically plans A, D, K, and L. If you're worried about uncovered hospital costs or getting your end-of-life care taken care of financially, you will definitely want a Medigap plan which focuses on these coverage gaps. Otherwise, it could end up costing you tens of thousands of dollars or more in uncovered hospital expenses.
But hospital expenses aren't the only thing you have to worry about as you get older. Many of the things which Medicare Part B covers – such as preventative care, doctor visits, medical supplies, and outpatient procedures – will start to pile up and become increasingly more expensive. Your coinsurance and copay costs could soar through the roof, among other things. If you're worried about these costs, then you should look at Medigap plans B, C, D, F, G, M, and N for more comprehensive coverage.
Top Medigap Plans in Memphis, Tennessee
Plan F is the most comprehensive of all of these policies, but it's only available to beneficiaries who were eligible for Medicare prior to 2020. For similarly comprehensive coverage, you'll have to look at Medigap Plan G. Just remember that the more coverage you purchase, the more your monthly premium will be – but the less coverage you purchase, the more vulnerable you will be to out-of-pocket medical costs in the future.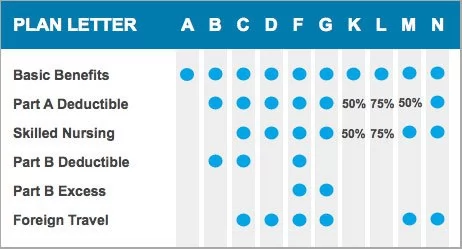 Do you want more than just your traditional Medicare benefits, and the Medicare coverage gaps filled? Would you like dental, vision, or prescription drug coverage? Unfortunately, those little incidentals aren't available directly through your Medigap insurance. For prescription drugs, you will have to enroll in Medicare Part D, the federal prescription drug assistance program for seniors.
There is currently no federal program to help seniors get a vision or dental insurance, so you'll have to find coverage on your own from a private company. We suggest looking for any provider who offers discounts for senior citizens – it'll help you get the best deal.
Average Cost of Medigap Plans in Memphis
| | | | |
| --- | --- | --- | --- |
| Medigap Plan | Minimum Monthly Premium | Maximum Monthly Premium | Average Estimated Monthly Premium (Part B Premium Included) |
| Plan A | $68 | $172 | $256 |
| Plan B | $91 | $214 | $288 |
| Plan C | $104 | $272 | $324 |
| Plan D | $95 | $263 | $315 |
| Plan F | $103 | $246 | $310 |
| Plan F (high deductible) | $29 | $92 | $196 |
| Plan G | $87 | $215 | $287 |
| Plan K | $44 | $114 | $215 |
| Plan L | $82 | $160 | $257 |
| Plan M | $86 | $152 | $255 |
| Plan N | $73 | $371 | $358 |
How to Compare Supplemental Medicare Options in Memphis, Tennessee
Whether you live in Memphis part of the year or all year, you deserve to have Peace of Mind knowing that you won't fall victim to substantial medical bills from gaps in your Medicare coverage. You'll only be able to do that with either a Medicare Advantage or Medigap insurance policy.
Understanding the difference between the two can be confusing, and choosing the wrong one can cost you a ton of money. But we have the knowledge and expertise to help point you in the right direction – all you have to do is reach out and ask. Give us a call, or complete our online form to see rates in Memphis now.