Cigna-Healthspring has the claim of the oldest running insurance company. It was formed in 1982 when Connecticut General Life merged with INA. Connecticut General was founded in 1865, and ING started in 1743 in the Netherlands. The roots of Cigna health springs Medicare make it the longest-standing insurance company still in business.
Cigna Medicare options have several subsidies they work with. Medicare Advantage plans are under its Cigna-HealthSpring brand. Medicare Supplement companies include Loyal American, American Life Insurance Company, and Cigna.
Cigna HealthSpring Medicare insurance plans
Cigna offers several Supplemental Medicare options. Their available plans include Medicare Supplement, Medicare Advantage, and Part D prescription drug plans.
With so many Medicare coverage options available to Medicare beneficiaries, they have a health plan that matches the needs of everyone.
Below we'll go over plan options. First, we'll discuss Medicare Supplements. Next, we'll cover Medicare Part C and Part D plans.
Finally, we will talk about Cigna's financial strength, answer some frequently asked questions, and show you how to get help choosing the right plan.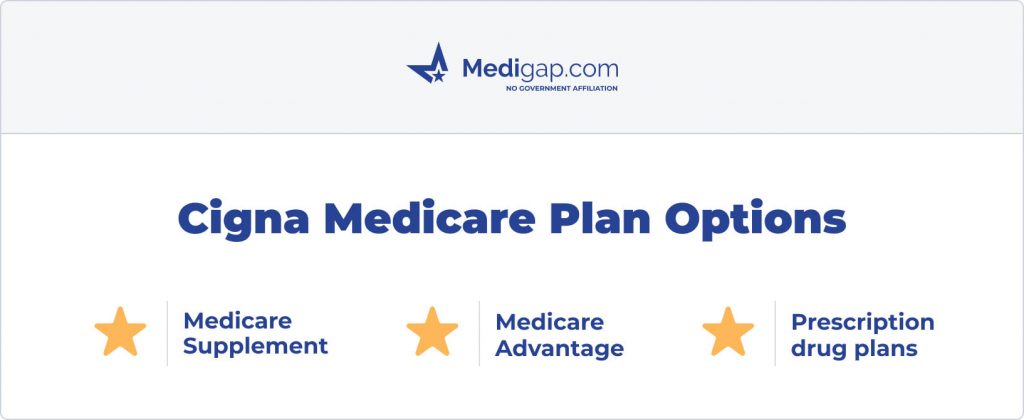 Cigna Healthspring Medicare Supplement plans
Cigna Health and Life Insurance Company provide Medicare Supplement plans through several subsidiary companies. These style plans fill the gaps in Original Medicare, which is why they are often called Medigap Plans.
Most beneficiaries enrolling in a Medicare Supplement will choose to enroll in one of the top three plan options. Plans N, G, and F have been the top three plans in the nation for quite a while.
Medicare's copays, coinsurance, and deductibles are some of the costs paid by your Medicare Supplement insurance plans.
One of the most popular features is the freedom to pick your health care providers from any doctor nationwide that accepts Medicare. Because your network is Medicare, you'll never have to worry about referrals.
No matter where you live or which insurance carrier you choose, you can expect these plans will have the same coverage.
Except for three states, these plans are standardized nationwide. Wisconsin, Minnesota, and Massachusetts have their own Medicare Supplement options.
These plans provide minimal out-of-pocket costs and a fixed monthly premium that make for easy budgeting for those on a fixed income.
Remember that these plans only fill in the gaps between Medicare Part A and Part B. You'll need to enroll in a stand-alone Medicare Part D plan for drug coverage.
Cigna Healthspring Medicare Advantage plans
Medicare Advantage is another way to receive your Medicare benefits. Cigna-Healthspring administers Cigna Medicare Advantage plans.
These plans combine Medicare Part A, Part B, and Part D benefits in an all-in-one plan. Medicare Part C plans also include additional wellness benefits that Medicare doesn't typically cover.
Some of the additional benefits include dental, vision, and hearing coverage. Cigna Medicare OTC benefits allow enrollees to order and receive over-the-counter items like aspirin and toothpaste.
Not all coverage is the same, so check the summary of benefits to see the plan extras in the plan before enrolling.
Cigna-HealthSpring offers PPO, HMO, PFFS, HMO-POS, and SNP Medicare Advantage plans. HMO and PPO plans make up the majority of their plan offerings. SNP plans are designed for beneficiaries with Medicare and Medicaid, chronic conditions, or living in an institutional setting.
Some of their most popular plans are the Cigna HealthSprings True Choice Medicare PPO, the Cigna HealthSprings Preferred HMO, and the
Cigna has its MyCigna Medicare Advantage portal to help enrollees navigate their health care. They have also partnered with their providers to give them access to their online portal to increase efficiency and care for their patients.
They also have their Cigna Preferred Medicare HMO providers to create a better patient relationship with their members.
As of January 1st, 2022, Cigna is no longer operating the Texas Cigna Star Plus program. Cigna has transferred the Texas Medicare business to Molina Healthcare.
Cigna Medicare Part D
Like their Medicare Advantage plan, Cigna offers their Part D plan options through their Cigna-HealthSprings company. Their most popular prescription drug coverages are their Cigna Essential Rx and Cigna HealthSpring Rx plans.
Making the right choice for your prescription coverage is tied to your prescriptions. Ensure you choose the correct plan for your needs by having a licensed professional review your prescriptions with the plan's formulary.
Cigna affiliated companies
Cigna Medicare pros and cons
Pros
Affordable Medigap premiums
Up to a 20% household discount in some states
Highly rated company
Many $0 Medicare Advantage options nationwide
Cons
No monthly direct bill option for Medicare Supplement
Strict underwriting
Cigna financial strength ratings
A.M. Best, Standard & Poor's, and Moody's are the agencies that rate Medicare insurance companies by their financial strength.
AM Best provides Cigna with an "A" excellent rating.
Moodys provides an "A2" good rating.
Standard & Poors gives them an "A" very strong.
Reviews
The parent companies that merged in the 1980s to form Cigna have over 300 years of insurance experience in the health insurance industry. Knowing how the healthcare system works and excellent customer service make Cigna a great choice for Medicare beneficiaries.
They have a great financial strength rating that contributes to keeping the rates low and competitive.
Cigna HealthSprings providers
Cigna is taking provider relations to another level. Providers participating in Cigna HealthSprings Medicare Advantage plans have access to their portal.
They can check their patients' eligibility, benefits, claims, payments, fee schedules, etc. When your providers have this kind of access, it can substantially increase the speed of referrals and improve the quality of care.
Cigna Medicare Supplement provider portal
Cigna has a great online portal for its patients. Once you are a Cigna member, you can create a profile on MyCigna and access all of your benefits and plan information.
On the MyCigna portal, you can find care and costs, view claims, manage spending accounts, and keep your account information current. You can also find in-network healthcare providers online.
FAQs
Is Cigna the same as Medicare?
Cigna and Medicare are not the same things. Medicare is the government insurance for beneficiaries 65 and older or under 65 with certain health concerns. Cigna offers supplemental Medicare options, such as Medicare Advantage and Medicare Supplement plans.
Is Cigna better than Medicare?
They are two different things. Cigna has some plans with your Medicare benefits and some that supplement Original Medicare.
Is Cigna HealthSpring a Medicare plan?
Yes! Cigna HealthScring is Cigna's Medicare Advantage company. These plans include all your Medicare Part A, Part B, and many cases, Part D in one plan. Usually, these and PPO and HMO Cigna options.
Is Cigna HMO or PPO?
Both! Cigna offers HMO and PPO Medicare Advantage options.
Is Cigna HealthSpring the same as Cigna Medicare?
Yes! Cigna HealthSpring is part of Cigna's Medicare companies.
Is Medicare primary or Cigna?
Depends. If you choose a Cigna Medicare Supplement, your Medicare will be the primary coverage. If you enroll in a Medicare Advantage, it administers your Medicare benefits. In this case, you don't use your Medicare card when receiving services. You use your Cigna Medicare Advantage card.
Do Cigna and Medicare work together?
Yes! Cigna's plans are designed to work with Medicare.
How do I contact Cigna?
You can contact Cigna by phone or online at cigna.com
What is the difference between Cigna and Medicare?
Medicare is the government health insurance coverage. Cigna Plans either work together to cover your portion of the costs or administer your Medicare benefits instead of Medicare.
Who pays for Cigna Medicare?
If you enroll in a Cigna Medicare Supplement, you will pay a monthly premium. If you enroll in a Cigna Medicare Advantage option, Medicare pays the plan to administer your benefits, and you could have a small premium. Medicare Advantage plans have zero-premium options in many areas.
Is Cigna HealthSpring Medicare?
No! Cigna-HealthSprings is a Medicare plan provider. Their plans take over your Medicare benefits and administer them for you.
How to enroll in a Cigna Healthspring Medicare plan
Choosing the right Medicare plan can be a daunting task. We would be happy to help. Simply fill out our online request form, or give us a call.
Our licensed insurance brokers specialize in Medicare and are standing by to assist. We can answer questions, educate you on your options, ensure your drugs are covered, check your eligibility, and more.
Once we help you find your perfect plan, we can assist you with enrollment.