SilverScript is the Part D drug program offered through Aetna. Low premiums and extensive drug coverage make this a favorite option in the senior market. Over seven million people consider themselves part of the Aetna SilverScript family because their plans are value-driven, comprehensive, and convenient.
SilverScript Medicare Part D plans
Aetna offers 3 PDP plans and more than 65,000 pharmacies in the United States. SilverScript is accepted at many local pharmacies and large retail chains like Walmart, CVS, and Walgreens.
Preferred Pharmacies tend to have lower copayments and coinsurance; SilverScript has over 23,000 pharmacies they consider Preferred. CVS, Publix, Walmart, and Kroger are a few preferred pharmacies.
As an additional service to their members, they offer the convenience of 90-day supplies delivered to your residence through their mail-order pharmacy services which utilize Caremark.
SmartSaver PDP
The Smart RX PDP has the lowest national average premium for a Prescription Drug Plan at approximately $5.92 per month. They offer $0 deductibles and $2 copays for tier 1 drugs. Select insulins will be no more than $10 at preferred pharmacies
Choice PDP
The monthly premium is $33.60. Potentially, the premium could be as low as $0 if you qualify for Extra Help.
The Choice PDP option offers a $505 deductible and $2 copays for Tier 1 medications. Covered insulins will be no more than $35 for a month's supply
Plus PDP
The monthly premium for the Plus PDP is 47.58, and it includes more covered drugs than the two less expensive plans. In addition, this option provides savings on insulin, and a 30-day supply has a max copay of $35.
The Plus PDP offers a $0 deductible on all Tiers and a $0 copay on Tier 1 and Tier 2 medications. The SilverScript Plus PDP provides additional coverage in the donut hole for Tier 1 and 2 drugs.
Caremark
SilverScript offers an exclusive online portal through Caremark where you can review your prescription drug coverage and check the status of orders and medication costs. Caremark allows members to receive a 90-day supply of medications delivered to their door.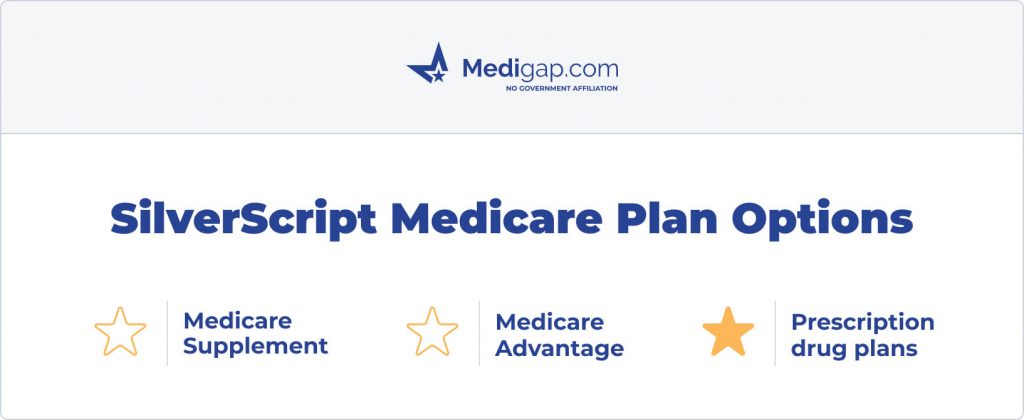 SilverScript Medicare pros and cons
Pros
Industry leader
Low premium options
Large formulary
Cons
Their plan with gap coverage has a high premium
Financial strength ratings
SilverScript is part of the Aetna family of Medicare products. AM Best issued SilverScript a Financial Strength Rating (FSR) of A (Excellent).
According to AM Best, Aetna's growth in the Medicare Advantage and Medicaid market has placed the company in a growth position.
Standard and Poor Global recently affirmed the "BBB" rating assigned to Aetna and revised the outlook to positive from stable.
| | |
| --- | --- |
| A.M. Best Rating | A |
| Standard & Poor's Rating | n/a |
| Moody's Rating | n/a |
Reviews
SilverScript was issued a Medicare Star Rating of 4 stars, a fantastic score that confirms their dedication to quality customer service.
Choosing a SilverScript PDP
To choose the best plan, you'll want to evaluate your needs. Consider the medications you take and how often you take those prescriptions. Determine the amount you will pay in deductibles and out-of-pocket expenses like copays.
Rx Formulary
Always review the formulary before enrolling to calculate your overall costs. SilverScript classifies prescriptions into five tiers, and lower tiers have lower prices.
SilverScript will send a notice if there is a drug formulary revision. Once you break down these numbers and outline the most important things, choosing the best plan for your situation will be easy.
FAQs
Does SilverScript cover the shingles vaccine?
Silverscript covers the shingles vaccine at no cost. Before 2023, the shingles vaccine was covered as a tier three by prescription drug plans.
Is Aetna SilverScript a good plan?
The Smart Rx plan suits many people and offers very low copays for the most common prescriptions. While this option won't be a good fit for everyone, it can be great if you only take Tier 1 generics. The Choice or Plus options are better if you take more expensive medications.
What is the SilverScript Medicare Part D deductible?
Each SilverScript drug plan has different costs.
The SilverScript Plus has a $0 deductible.
The SilverScript Choice has a $505 deductible
The SilverScript SmartSaver has a $505 deductible but doesn't apply to Tier 1 medications.
How to enroll in a SilverScript Medicare Part D plan
To compare SilverScript Medicare Part D plans that are available in your area, give us a call. Or, complete our online rate form to have an agent contact you regarding your options.