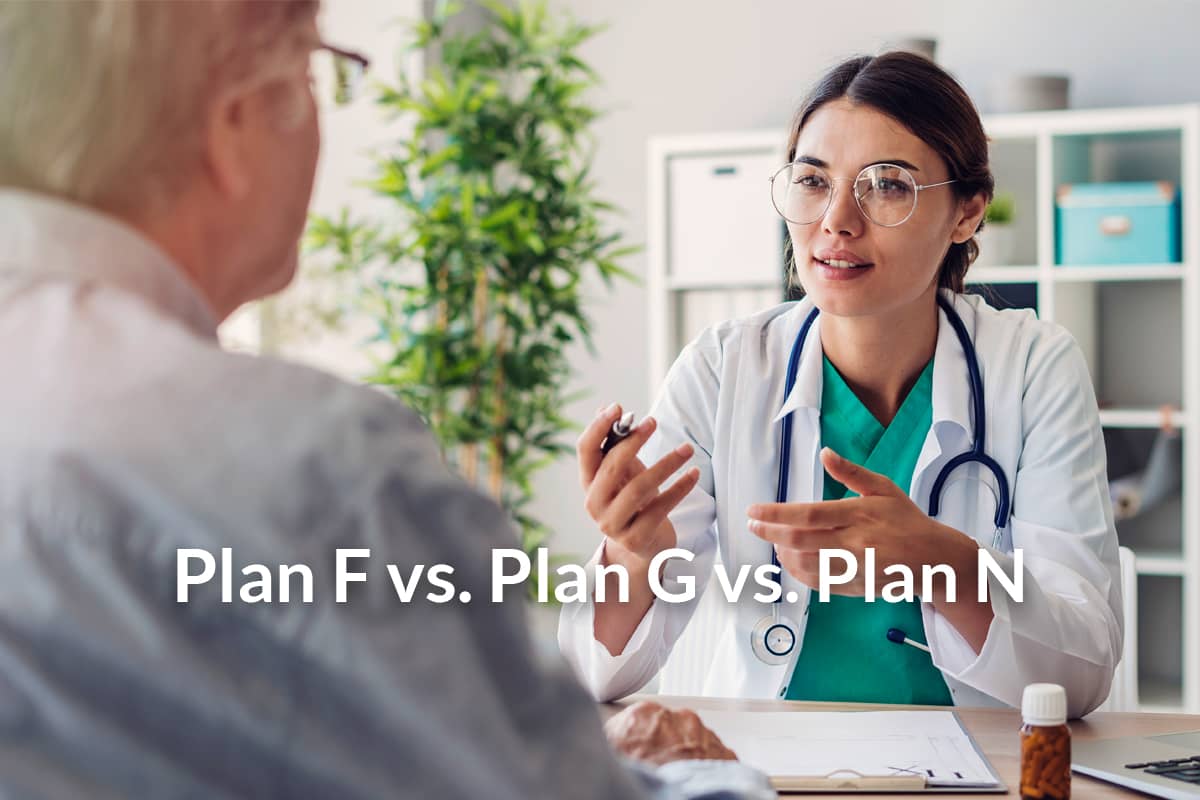 Comparing Medigap Plan F vs. Plan G vs. Plan N is common for most Medicare recipients. The debate of paying higher premiums for lower out-of-pocket costs vs. paying lower premiums for higher out-of-pocket costs is a matter of preference. Your preference could determine the plan that is most suitable for you.
Let's compare Plan F vs. Plan G vs. Plan N side by side. We examine the differences in coverage, cost, and eligibility. Which plan will be best for you? How can you change plans?
What is the coverage difference between Plan F vs. Plan G vs. Plan N?
Plan F is the most comprehensive coverage option for beneficiaries. Those that buy Plan F won't worry about deductibles or coinsurances. Everything Medicare covers, Plan F members pay nothing. But with great coverage comes a hefty premium.
Plan G is second place for comprehensive coverage. Once you meet the Part B deductible, coverage is identical to Plan F. In exchange for paying this deductible, Plan G offers a slightly lower premium than Plan F.
Plan N has lower coverage than Plan F and Plan G. When you sign up for Plan N you can expect to cover your Part B deductible, Part B excess charges, and you'll have copayments. The Plan N copayments are up to $20 when you visit the primary doctor and $50 when you visit the ER, but you don't get admitted to the hospital. Since there are more out-of-pocket costs with Plan N, the premium tends to be lower than Plan G or Plan F.
What is the cost difference between Plan F vs. Plan G vs. Plan N?
The cost of a Medicare Supplement depends on where you live, your age, and other factors. Smokers usually pay more for insurance than non-smokers. For an accurate quote, consult a Medicare Insurance agent.
The most expensive Medigap plan, Plan F, costs between $150-$300 a month
Secondly, Plan G costs around $110-$275 each month
Lastly, Plan N can cost between $80-$250 monthly
These are premium costs; deductibles, coinsurances, and copayments aren't included in this monthly estimate amount. The more you pay in premium the less you pay out of pocket.
What is the difference between eligibility: Plan F vs. Plan G vs. Plan N?
You must have Medicare Part B to enroll in a Medigap plan. In some cases, you may need to pass medical underwriting to be approved for a Medigap policy.
To be eligible for Plan F you must have become eligible for Medicare before January 1, 2020. Anyone Medicare eligible after 2020 can't sign up for Plan F.
Everyone is eligible for Plan G or Plan N during the Open Enrollment Period. If you need to go through underwriting, working with an agent allows you to apply for the company most likely to approve your application.
Which option is best: Plan F vs. Plan G vs. Plan N?
First, you'll want to consider which plans you're eligible for enrolling in. Next, consider what is important to you.
Do you want lower premiums? Are you comfortable with copayments? If you don't mind copayments and monthly costs remaining low are of utmost importance to you, a Plan N could suit your needs.
Do you want to know that you have 100% coverage during an emergency? Plan F or Plan G can offer you fewer out-of-pocket costs in exchange for higher premiums. The best option is a matter of preference. All three of these options are great, but which one will give you peace of mind?
Can I change my Medigap policy?
You can change your Medigap policy anytime, there are no Annual Enrollment Periods like with a Medicare Advantage plan. You may need to go through medical underwriting outside of the Open Enrollment Period or a Special Enrollment Period.
Depending on your state's Medigap rules, you may be able to switch plans easier than you think. With the help of an insurance agent, you can learn more about changing your policy.
FAQs
Is Plan F better than Plan G?
Plan F offers more comprehensive coverage than Plan G, so it is better in that sense. However, Plan F also carries a more expensive premium than Plan G, so you'll have to weigh that into the equation on if it's truly better overall for you.
Why was Medicare Plan F discontinued?
Medicare Plan F has a premium but no deductible and was costly to the U.S. government, which discontinued the plan for anyone not eligible for Medicare by the first day of 2020. This was to save money and ensure doctors stayed well paid for services rendered.
Does Medicare Plan G cover prescriptions?
No, it does not. You must look into a Part D prescription drug plan to get your prescriptions covered. Also, Medicare Advantage (aka Part C) sometimes covers prescriptions but not automatically — you'd need to discuss that with the company providing coverage.
How do I choose between Plan F vs. Plan G vs. Plan N
If you want to pay more now to know you pay less later, Plan F or Plan G could be your most sensible option. Those that want to pay lower premiums in exchange for more out-of-pocket costs could be comfortable with a Plan N.
But if you're struggling to choose your best policy, work with a Medicare expert. Our insurance agents can ask you a few questions to help you determine the most suitable option for you.
Give us a call or go to our online rate form to get the best plans and prices for your area.
Related Content: