Founded in Hartford, Connecticut, in 1853, Aetna is one of the oldest insurance companies offering Medicare plans. Aetna is now a subsidiary of CVS Health Corporation.
The company has a barrage of subsidies, and some of its unique products include ActiveHealth Management, Beswift, Cofinity, Meritain Health, and Payflex. In addition, they have many companies that offer Medicare Products and services.
Aetna Medicare plans
Aetna offers supplement medicare plans through several companies that have different Medicare products. They offer Medicare Supplement (Medigap), Medicare Advantage (MA), Prescription Drug (PDP), and ancillary products, all for the Medicare Market.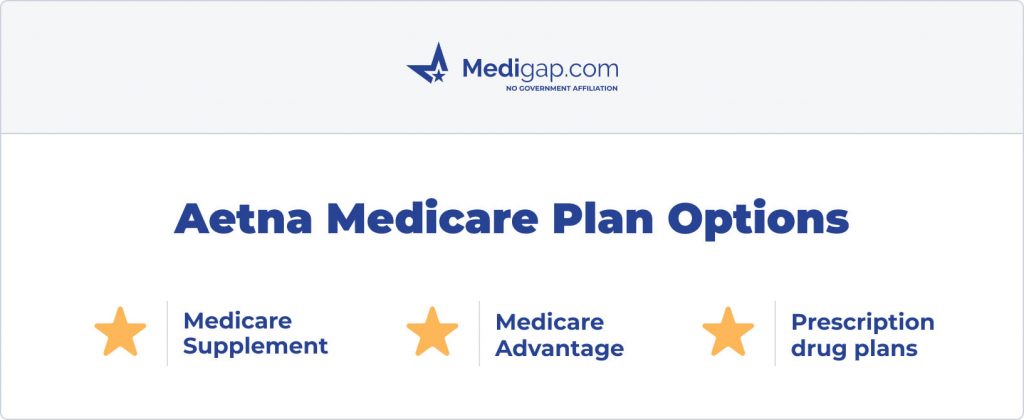 Aetna companies
Aetna Health and Life Insurance company
Aetna Medicare Supplement plans
They offer Medicare Supplement (Medigap) plans throughout the United States. The brands they provide Medicare Supplement products include Aetna Health and Life Insurance Company, Accendo, Continental Life, American Continental Insurance Company, and Aetna Health Insurance Company.
Medigap plans are a type of coinsurance to pair with Original Medicare rather than completely replace it.
Aetna Medicare Advantage plans
Another way to receive your Medicare benefits is a Medicare Advantage plan. Part C plans roll your Medicare Part A, Part B, and Part D benefits into an all-in-one plan.
MA plans also include additional benefits that Medicare doesn't cover, like dental, vision, and hearing coverage.
In addition, most programs come with benefits that allow you to purchase over-the-counter items such as aspirin, bandages, toothpaste, and more.
Aetna Medicare Advantage plans come in several options:
Aetna Medicare Advantage PPO
Aetna Medicare Advantage HMO
Aetna Medicare Advantage HMO-POS
Aetna Medicare Advantage PFFS
Aetna Medicare Advantage SNP
Part D prescription drug plans
Prescription drug plans are available throughout the United States through Aetna's Silver Script company.
To make sure you choose the right plan for you, check your prescriptions against the plan formulary (list of covered drugs). Using preferred pharmacies could provide significant savings on your prescription co-pays.
Aetna Medicare pros and cons
Pros
Backed by CVS
Products available nationwide
Competitive Medicare Supplement rates
Wide MAPD selection
Lowest cost Part D plans through SilverScript
Cons
Tough underwriting
Customer Services is serviced offshore
Financial strength ratings
Financial ratings for Medicare Supplement providers are presented by A.M. Best, Standard & Poor's, and Moody's. A.M. Best gives Aetna a rating of A excellent. Standard & Poor's gives Aetna an A+ rating.
In many cases, high provider ratings correspond with low rates and low rate increases. It marks their ability to pay claims promptly.
| | |
| --- | --- |
| A.M. Best Rating | A |
| Standard & Poor's Rating | A+ |
| Moody's Rating | Baa2 |
Aetna review
Aetna brands have some of the most competitive Medigap plans for Medicare beneficiaries. Customer service is a significant focus, and they seem to do right by their members. They give a 12-month rate lock to new enrollees.
Their Accendo brand in most states has one of the more significant household discounts in most states. The company is a top-tier carrier for Aetna's Medigap plans, with lower introductory rates and stable rate increases.
On the Medicare Advantage side, they basts large networks of doctors, and most of the plans include dental, vision, and hearing. Most of their Medicare Advantage plans have 4 to 4.5-star ratings.
| | |
| --- | --- |
| Medicare Supplement Plans | YES |
| Medicare Advantage Plans | YES |
| Medicare Part D Drug Plans | YES |
FAQs
What is the highest-rated Medicare supplemental insurance?
Plan F is one of the highest-priced plans but leaves customers very happy. This is because it leaves Medicare beneficiaries with full coverage and no co-pays other than the monthly premium for Plan F.
Which Medicare supplement plan has the highest level of coverage?
Plan F offers the most complete Medigap policies a recipient can purchase. Because of this, it is most often the highest-priced supplement plan.
Does Aetna senior supplemental Plan G cover Medicare deductible?
An Aetna Plan G plan will not cover your Medicare Part B deductible. But once that is paid by you, it will cover any other medical-related expenses.
What are the benefits of Aetna Plan G?
The major benefit of Aetna Plan G is its lower price than Plan F. Aetna's Plan G makes you cover your Part B deductible, but it covers everything after that.
What is the difference between Aetna Plan F and Plan G?
Both Plan F and Plan G are considered comprehensive, supplemental Medicare coverage. The only difference is Plan F pays your Part B deductible while Plan G does not.
What does Aetna Plan G cover?
Plan G is full gap coverage. Between Plan G and Original Medicare, you're fully protected after you pay your Part B deductible.
What Medicare Supplements does Aetna offer?
Aetna offers Plan A, Plan B, Plan C, D, F, G, and also Plan N. Plans D, F and G also come from Aetna. Not all plans are available in all areas. There are high deductible F and G plans available in some areas.
What are the advantages of Aetna supplemental Medicare plans?
The major advantage of an Aetna supplemental Medicare plan is that it provides comprehensive coverage in spots where Original Medicare doesn't extend benefits.
Does Aetna offer plans for people on Medicaid and Medicare?
Dual Special Needs Plans are available to qualifying beneficiaries through Aetna. Aetna Medicare-Medicaid coordinated plans designed to assist Medicare beneficiaries with Medicaid assistance.
These plans also give additional benefits not covered under Original Medicare and have more robust benefits than typical MA plans.
Where can I pick up my prescriptions on an Aetna plan?
CVS is the parent company of Aetna, and CVS is a preferred pharmacy with Medicare Advantage and SilverScript Medicare Part D plans.
For a complete list of preferred and non-preferred pharmacies, contact the number on the back of your insurance care, or call us to assist.
How to enroll in an Aetna Medicare plan
Aetna Medicare plans — including Medicare Advantage, Medicare Supplemental insurance plans, and Part D — can bring great peace of mind to Medicare recipients. Aetna and other carriers can extend your health care coverage to be comprehensive, so you're not stuck with large out-of-pocket costs.
That's where our team of licensed insurance agents can make the difference for you when sifting through the long list of Medicare Advantage, Supplemental, and Part D plans. Their knowledge and time are free to you as you make this important decision.
So contact us today by phone. Or take some time to fill out our easy online rate form to receive the best rates in your area!