There are usually only two specific times during the year when a person can change their Medicare plan. A Special Enrollment Period is available when qualifying events or other circumstances apply.
You can change your Medicare insurance during a Special Enrollment Period (SEP). You may join a plan for the first time, switch policies, or drop a policy.
You may be eligible for a Special Enrollment Period and not even know it.
Medicare Special Enrollment Periods Breakdown
A Special Enrollment Period allows you to switch your policy or sign up for Medicare outside of the regular Medicare enrollment periods.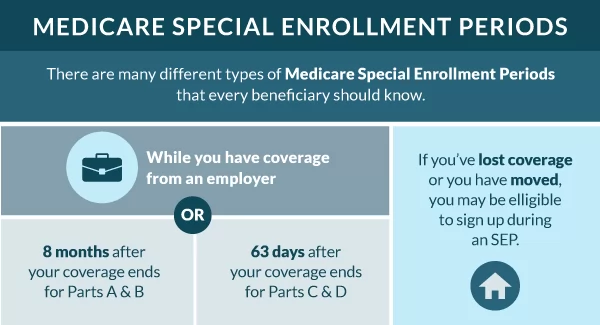 How Long Do Special Enrollment Periods Last?
The Special Enrollment Period for qualifying life events lasts for two months. But the Special Enrollment Period for working past 65 is eight months.
What's the Special Enrollment Period for Part B?
If you have coverage through your or a spouse's employer, the Medicare Part B SEP allows you to delay taking Part B without a penalty. You'll have eight months to enroll in part B when your employer coverage ends.
To be eligible for the Part B Special Enrollment Period, you must have had credible employer group coverage when you first became eligible for Medicare, or you're eligible for Medicare due to a disability.
If more than eight months have passed since your employer group coverage cancellation, you'll no longer be eligible for this Special Enrollment Period.
What is the Medicare Advantage "Trial Period" Special Enrollment Period?
If you enroll in a Medicare Advantage plan when you first sign up for Medicare, you have a 12-month trial period. The part C trial period allows you to change from Medicare Advantage to a Medicare Supplement using a SEP.
This SEP is so important here because it gives you a Guaranteed Issue right into a Medicare Supplement policy. Meaning that you won't go through medical underwriting in your Medigap is guaranteed to be approved no matter your health issues.
The trial period also allows you to switch back to Original Medicare.
Is there a SEP for Medicare Part D Plans?
During your 12-month trial right of a Medicare Advantage plan, if you choose to leave Part C, you'll have the opportunity to enroll in a Part D plan.
Will I Qualify for a Special Election Period When Moving?
When you move to a new county or state, your current plan may be unavailable to you. Eligibility varies depending on your situation.
When moving, you have two months to enroll in a new plan, either from when you move or when you notify Medicare of the move.
What if I Move and I have Medigap Insurance?
When you move to another state with Medicare Supplement, you won't have to change your coverage if the plan is available in your new residence. You'll still want to notify Medicare and your supplement company that you moved so they can update their information.
Your premium may change depending on where you move, even though your coverage stays the same since Medigap plans are standardized.
Now, if you're moving to Massachusetts, Minnesota, or Wisconsin, you'll notice they have state-specific plans instead of the traditional letter plans available everywhere else.
Never drop your current Medicare Supplement policy until your new policy receives approval. When moving and having Medigap insurance, comparing plans in your new area could still be beneficial because another top company may have more competitive premiums in your new location.
Is there a SEP for Incarceration?
You have two months from prison to use your Medicare SEP to enroll in a plan.
Immediately upon release, you'll want to be in contact with Medicare and get the ball rolling on your coverage so you don't miss out on this time of eligibility.
Can I Change Plans if I have the Chance to Get Other Coverage?
A good instance when changing plans for a better policy makes sense would be if you have a Medicare Advantage plan, but a five-star Medicare Advantage plan is available in your area.
If you return to work and employer coverage becomes available, you may choose to leave Medicare and enroll in your employer plan. However, in many cases, Medicare makes more sense.
How Do I Know if I Qualified for a SEP?
Those unsure about eligibility should talk to a licensed insurance agent. Working with an agent helps you to understand the options available in your area that you're eligible for enrolling.
If you recently moved and haven't notified Medicare or your Medicare plan about the move, you must do so immediately. This is also so you can ask about specific dates of enrollment eligibility.
If you're losing or changing coverage, you may be eligible for a SEP. Those with Medicaid, extra help, or other assistance may have additional SEPs that allow more frequent plan changes.
Those with chronic health issues can enroll in a Medicare Advantage Special Needs Plan anytime during the year. Qualifying for this type of plan is a SEP on its own.
Contact a Medicare expert to guide you if you want to change your coverage. You may be eligible for a Medicare special circumstance.
FAQs
What happens if I miss the Special Election Period?
Most importantly, you can't reap those benefits if you miss the Special Enrollment Period. Outside of the Part B SEP, most Special Enrollment Periods are only two months long. Paying attention to the dates and making plan changes quickly is essential.
Will I qualify for a Special Enrollment Period When Losing Coverage?
Losing coverage will qualify you for a Special Enrollment Period. Whether you lose employer health coverage, credible prescription drug coverage, or your plan leaves your network. A SEP will be available to you.
What happens with Part C or Part D if I move?
With Part C or Part D, you can change your plan if you move to a new state or region outside your plan's service area. You can decide if you want a switch back to Original Medicare or enroll in a similar plan.
You may even enroll in a Medigap policy, especially if Medicare Advantage plans aren't competitive in your new residence.
How to Enroll in a Medicare Plan During Your Special Enrollment Period
Enrolling in a Medicare plan during your Special Enrollment Period is easy and can be done by phone or online. To find out if you qualify, give us a call, and we'll help you through the trenches of Medicare. Call us now to compare options in your area over the phone, or use our online compare rates tool.