ACE's Medicare Supplement plans for 2023 are now available! These plans offer fantastic coverage at an affordable price, and we're excited to share them with you. Whether you're looking for basic or comprehensive coverage, we have a plan that will fit your needs. Keep reading to learn more about the new ACE Medicare Supplement plans for 2023.
ACE Medicare plans
Medigap plans offer a wide range of benefits to help keep you covered for all your medical needs.
ACE Medicare Supplement, specifically, is designed to supplement Original Medicare by helping cover the costs that Original Medicare does not, such as copayments, coinsurance, or deductibles.
Their Medigap plans offer great value with affordable pricing, and low out-of-pocket expenses make them one of the most trusted providers regarding Medicare Supplement plans.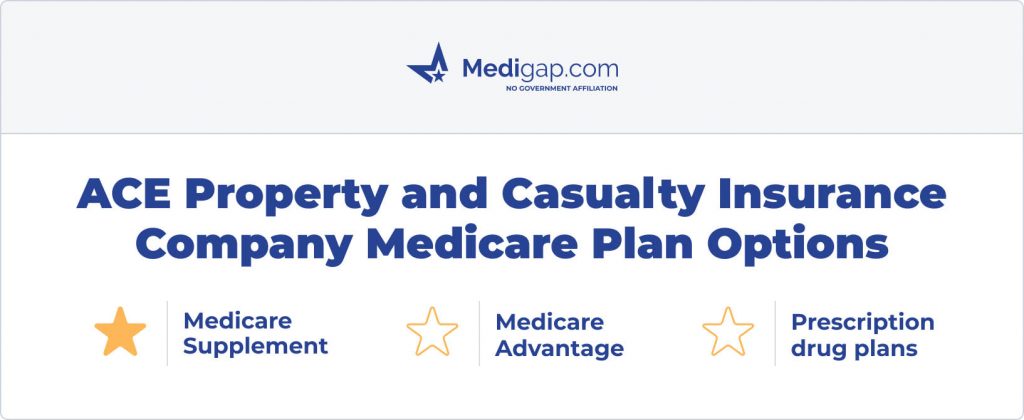 ACE Medicare Supplement plans
Medicare Supplement Plans through ACE Property and Casualty offers an unbeatable combination of affordability and convenience, giving the peace of mind that comes with access to quality health coverage.
ACE Medigap plans are among the market's most comprehensive coverage, providing coverage for hospitalization, medical services, and vision and preventive care.
Their customer service team is highly knowledgeable about their plans and can answer any questions or concerns.
So if you're looking for budget-friendly top-tier healthcare coverage, ACE Medicare Supplement Plans are worth considering!
Medicare Advantage plans
Medicare Advantage plans offer a unique combination of benefits to help you get the care you need while saving money simultaneously.
Each plan covers services like doctor visits, preventive screenings, and hospital care while covering additional features like vision and dental care, hearing aids, and fitness programs.
Plus, many plans provide valuable extras like over-the-counter items and flex cards.
Medicare Part D prescription drug plans
Medicare Part D prescription drug plans provide Medicare beneficiaries with access to prescription medication coverage.
Private insurance companies contracted with the Centers for Medicare & Medicaid Services offer Medicare Advantage and Part D plans.
ACE Property and Casualty Insurance doesn't offer Medicare Advantage or Medicare Part D plans.
ACE Medicare Supplement pros and cons
Pros
Low Rates
Great Financial Strength Ratings
Only Medicare Supplement company with an A++ rating from AM Best
Offers Plan F, Plan G, and Plan N
Household discount
Cons
New to Medicare
$25 application fee
ACE financial strength ratings
When evaluating any business, it pays to acquaint yourself with ACE Financial Strength Ratings.
These ratings can indicate how the company can keep rates competitive, quickly pay claims, and provide lower rate increases.
| | |
| --- | --- |
| A.M. Best Rating | A++ |
| Standard & Poors Rating | AA |
| Moodys Rating | Aa3 |
ACE Property and Casualty Insurance Company is the only Medicare Supplement insurer with an AM Best A++ rating.
ACE Reviews
ACE Property and Casualty is a subsidiary of Chubb Company with over $200 billion in assets, making them an extremely stable option.
Depending on the state ACE Medicare Supplement plans may use issue age, attained age, or community-rated pricing methods.
They're among the most competitive in most of the states where ACE Medigap plans are offered. Their premiums are in the top three lowest in most states.
FAQs
What is the ACE Medicare Supplement Rating?
ACE Medicare Supplements have the highest possible rating from AM Best of A++. This indicates financial strength and stability. Typically with high ratings come lower premiums and rate increases.
How many states offer an ACE Medicare Supplement?
ACE Medicare plans are available in 31 states. And in those states, they're among the most competitive rates. Some of the states they're most popular in are Texas and North Carolina.
Which Medicare Supplement plans are offered by ACE Property and Casualty?
ACE Medigap plans include the top Medicare Supplements in . The following plans are available through ACE. Remember, offerings can vary depending on the state.
Do ACE Medigap plans have a discount if more than one person lives in the home?
Yes! ACE Medicare plans provide a household discount for members of the same household. The household discount provided is 7%.
When did ACE Property and Casualty start providing Medicare Supplements?
ACE Property and Casualty began offering Medigap plans in August of 2022 in 17 states. They are relatively new to the Medigap world.
Still, their ratings indicate that they are stable and should be able to maintain low premiums. Some of the first states they provided plans were Arizona, Tennessee, and South Carolina.
Get help enrolling in an ACE Medicare Supplement plan
ACE Medicare plans have great options that could work well for you, depending on your specific needs. They boast some impressive financial strength ratings.
So if you're looking for a reputable provider in your area, definitely give them a closer look.
If you need assistance or have questions, give us a call or fill out our online rate form. You can review plan options in your area and connect with a licensed insurance agent specializing in Medicare.
---
Related Content
---