The Capitol Life Insurance Company started in Colorado in 1905, and Liberty Bankers Life Insurance Company bought them in 2007. The current headquarters is in Dallas, Texas, and the purchase made them part of the Liberty Bankers Insurance Group.
The Bankers Insurance Group comprises The Capitol Life Insurance Company, Liberty Bankers Life Insurance Company, and American Benefit Life Insurance Company. They have a long track record of helping their insurance clients' needs.
The Capitol Life Insurance Medicare Supplement plans
When it comes to comprehensive coverage, it doesn't get better than Medicare Supplement insurance. These plans work as secondary coverage to your Original Medicare. Medicare Supplement plans are also known as Medigap plans. They will help cover your portion of the Medicare cost-share for services rendered under Medicare Part A and B.
These Medigap health care plans help cover items such as the Medicare Part A deductible, Part B coinsurance, and excess charges. Since these plans are secondary to Medicare, you retain the ability to use the program for any healthcare provider nationwide that accepts Medicare. There is also no need to get a referral to see specialists. This ability makes Medigap plans very enticing for people enrolled in Medicare.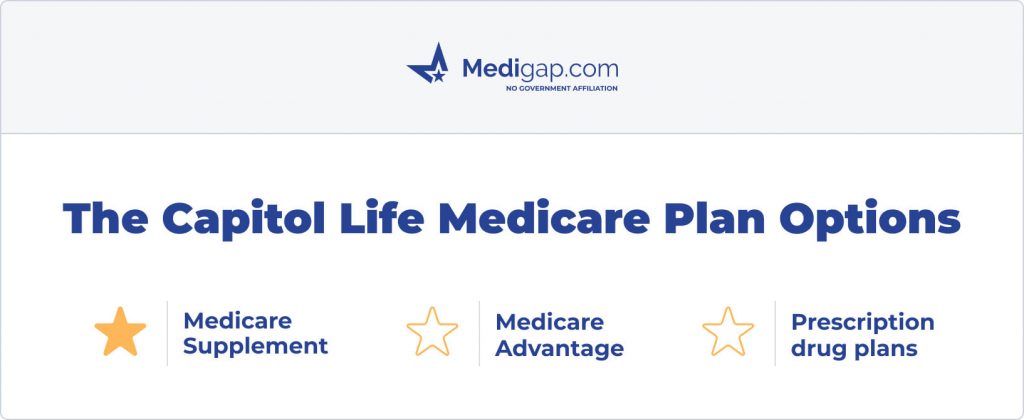 Capital Life Insurance Medigap Options
Medigap plans come in 10 different plan letters from which to choose. The Capitol Life Medicare Supplement plans include:
Plan F
Plan F has been the most popular for several years. It's no surprise why as it picks up 100% of the cost-share you would usually be required to pay. Simply pay your Plan F premium and pay nothing when you use health care services covered under Medicare Part A or Medicare Part B. However, Plan F isn't an option for people that are new to Medicare.
Plan G
Plan G is the most popular plan for Medicare beneficiaries starting Medicare. This plan will offer almost the same level of coverage as Plan F. The only difference is that you must pay the small annual Part B deductible.
Plan N
Plan N rounds out the top three Medicare Supplement plans. This plan offers one of the best bangs for your buck! The coverage for Plan N is similar to that of Plan G. The main difference is that you'll have small copays for office visits and the emergency room.
Plan A
Plan A is a basic plan. For the most part, It offers minimal benefits other than covering. The 20% coinsurance left over by Medicare.
The Capitol Life Medicare Advantage plans
Medicare Part C plans are required to include all the same coverage as Original Medicare. Most Medicare Advantage health plans will also contain Medicare prescription drug coverage and plan extras that Orignal Medicare doesn't cover.
The plan extras included in Medicare Advantage plans will vary depending on where you live and your selected policy. Some of the amenities could consist of:
Gym membership
Transportation
Dental
Vision
Hearing
Over-the-counter benefits
Capitol Life Insurance doesn't include Medicare Advantage plans in its portfolio. If this style coverage sounds like something you prefer, let us know! Our licensed insurance agents can assist in finding a Medicare Advantage plan that fits your individual needs.
The Capitol Life Medicare Part D prescription drug plans
Medicare Part D is Medicare's standalone coverage for prescription drugs that are filled at the pharmacy.
Private health insurance companies administer both Part D plans and Medicare Advantage. These insurance companies will set their plans' rules, terms, and conditions.
The Centers for Medicare and Medicaid Services regulate Medicare Advantage and Part D plans.
The Capitol Life doesn't offer Part D plans either. If you need standalone drug coverage, we can assist you as well.
The Capitol Life Insurance-affiliated companies
When you start researching Medicare, you learn that there are a few options to investigate. Supplemental Medicare plans help to offset the health care costs you're responsible for when using your health insurance.
One direction you can elect is to stay on Original Medicare, add a Medigap, and Part D Prescription drug plan.
The other direction is to enroll in a Medicare Advantage plan. These plans will give you another way to receive your Medicare benefits. They roll your Medicare into an all-in-one plan.
We'll review The Capitol Life Medicare Supplement plans and then explain how Medicare Advantage works. Next, we'll discuss Medicare Part D and Capitol Life's financial strength. We'll wrap up with some common questions and explain how to get help with Supplemental Medicare plans with The Capitol Life.
The Capitol Life Medicare pros and cons
Pros
Excellent financial strength rating
Household discounts
12-month rate increase
Conservative rate increases
Cons
Strict underwriting
No additional Medicare plan options, only Medigap
Capitol Life Insurance financial strength ratings
Several entities are the standard for rating insurance companies' financial strength. Knowing about a company's financial strength will give a great picture of how they handle its business.
Higher financial strength ratings show how companies perform in a few areas.
More competitive rates
Faster claims processing
Conservative rate increases
The Capitol Life Insurance Company has received an "A- Excellent rating."
This rating is the 4th highest possible, showing that the company should provide excellent service and do well in the above items.
Capitol life Insurance reviews
The Capitol Life Insurance company has provided excellent service and policies for over 100 years. Their Medigap plans offer fast underwriting and approval, a 7% household discount in most states, and a 12-month rate lock. With the backing of the Liberty Bankers Insurance Group, they have plenty of capital to pay claims and ensure their beneficiaries with excellent coverage.
| | |
| --- | --- |
| Medicare Supplement plans | YES |
| Medicare Advantage plans | NO |
| Medicare Part D Drug plans | NO |
The Capitol Life Medicare plan options
FAQs
Is Capitol Life Insurance a good company?
The Capitol Life Insurance company is a solid choice for your insurance coverage. The Liberty Insurance Group backs them and has an "A-" AM Best rating.
Which Medicare Supplement plan has the highest level of coverage?
Plan F has the most comprehensive coverage. Unfortunately, it's no longer available for beneficiaries that became eligible for Medicare after 2020. Plan G has the highest coverage level that beneficiaries new to Medicare can choose.
What are the benefits of Capitol life Insurance?
The Capitol Life Medigap policies have a quick underwriting process. Sometimes you even have an answer as soon as their application is complete. They also allow a 12-month rate lock and freedom to choose doctors that accept Medicare nationwide, with no referrals.
What are the monthly premiums for Medicare Supplement plans?
Two things could impact pricing depending on where you live and your chosen plan. Several other factors can affect your monthly premium. The average cost of a Medigap plan can run from $80 to $300 per month.
What is a Medicare Supplement Plan F?
Medicare Supplement Plan F is the most popular Medigap insurance plan. It covers all your Medicare cost share associated with Medicare Parts A and B.
How to enroll in a Capitol Life Medicare plan
Enrolling in your Supplemental Medicare health insurance plan is a significant decision. The process can be a bit much to deal with without assistance. There is so much information out there that it can be an overload.
Our licensed insurance agents can help you decide on your Medicare coverage. Give us a call or fill out our online request form for assistance.