Nassau Life Supplemental Medicare Plans are offered through Nassau Financial Group, and the company is located in Hartford, Connecticut. They have been in business since 1851 and manage over $19 billion in assets.
The company focuses on its core values for success: service, commitment, and integrity. If underwriting is required, a decision is made within minutes, and if approved, the policy will be issued within a couple of business days.
Nassau Life Medicare plans
Nassau Life offers services in three related fields. They provide solutions for insurance, reinsurance, and asset management. We're going to focus on the insurance portion of Nassau Life. They started offering Medicare Supplement coverage in 1980.
Most Medicare beneficiaries don't stick with only Federal Medicare Program. They typically purchase a supplemental Medicare health plan. These options are Medicare Advantage, Medicare Supplement plans, or Medicare Part D Prescription Drug Policies.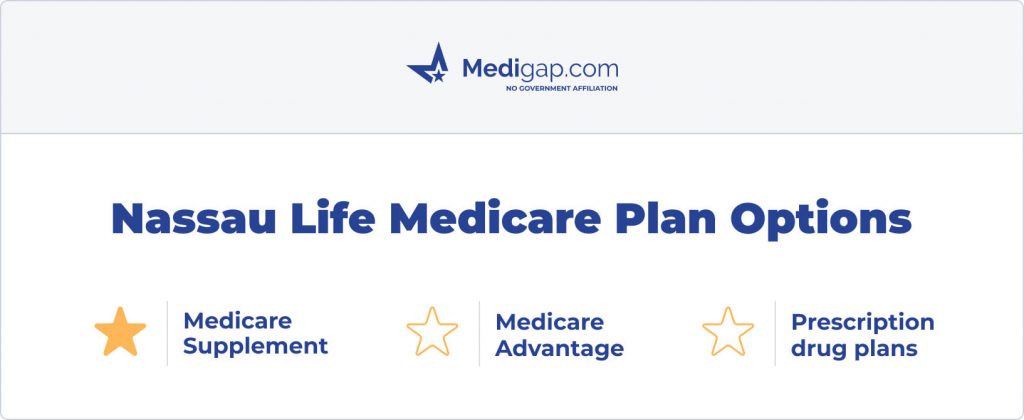 Nassau Life Medicare Supplement plans
We'll review Medicare Supplement Plans first. This option uses private insurance as secondary coverage for Medicare Part A and Medicare Part B. Medicare Supplement insurance policies don't include Medicare prescription drug coverage. A Medicare Supplement plan is the most comprehensive coverage for Medicare beneficiaries. Beneficiaries with Original Medicare and a Medicare Supplement Plan have fewer out-of-pocket costs after paying the premium.
These plans work by paying your portion of the Medicare cost-share. Depending on your plan letter, you could spend little to nothing using Medicare-covered services. Medicare Supplement policies are also known as Medigap plans because they fill in the gaps left by Original Medicare.
Types of costs covered by Medigap plans include
Medicare Part A Deductibles
Medicare Part A Copayments
Skilled Nursing Facility Copayments
Medicare Part B Deductible
Medicare Part B Excess Charges
Medicare Part B Coinsurance
Because Medicare is primary, Medicare Supplement Plans are considered secondary to Medicare. You won't need a referral; you can see any healthcare provider accepting Original Medicare.
Nassau Life Medicare Advantage plans
Medicare Part C combines your Medicare Part A and Part B benefits. Medicare Advantage plans will usually include Medicare prescription drug coverage. The benefits are incorporated into a single plan that, in most cases, will consist of services and benefits that are excluded from Original Medicare. Some examples include dental, vision, and hearing coverage.
Nassau Life doesn't offer Medicare Advantage plans.
Nassau Life Medicare Part D prescription drug plans
Medicare prescription drug coverage is called Medicare Part D. Medicare beneficiaries usually add these stand-alone plans when they have Original Medicare only or a Medicare Supplement plan.
Nassau Life doesn't offer Part D prescription drug plans. Let us know if you need help with Medicare Advantage or Part D plans. Our licensed brokers can assist you with details of your area's prescription drug and Medicare Advantage plans.
Nassau Life Medicare pros and cons
Pros
Underwriting approval or denial at the time of application in most cases
Monthly premiums are affordable
Fair monthly rates
Cons
Newer to Medigap plans
liberal rate increases
Financial strength ratings
It's essential to look at a company's financial strength and ratings to understand better how they manage their business.
Companies with higher ratings are more likely to process claims faster, offer competitive rates, and minimize rate increases. AM Best rewards Nassau Life with a "B+ Good" rating.
Reviews
Nassau Life is competitive in the 27 states they offer Medicare Supplement Plans. With a simple underwriting application that boasts a mere 15 yes or no questions, you'll know within minutes if you pass underwriting and will get the policy.
FAQs
Is Nassau Life a good company?
Nassau Life has been in business for over 170 years. The company was previously known as The Pyramid Life Insurance Company. The pyramid was formed in 1913 and offered Medicare Supplement coverage since the inception of the Medicare program.
What is the cost of Nassau Re Medicare Supplemental insurance for Medicare?
Medicare Supplement coverage can range in price from $90 per month to $300 monthly. Several variables can affect the cost of Medicare Supplement plans. Some examples are where you live and how old you are.
What does Nassau Re supplemental insurance cover?
The most popular Medicare Supplement Plan is Plan F. This plan is so popular because Plan F covers all cost-share not paid by Original Medicare. Including skilled nursing facility, Part A and Part B deductibles, Part B excess charges, and foreign travel emergencies.
Plan G covers everything except the Part B deductible. This is the most comprehensive plan for beneficiaries now starting Medicare.
Who is eligible for supplemental Medicare insurance?
Anyone enrolled in Original Medicare can apply for a Medicare Supplement Plan or Medicare Advantage plan. To enroll in coverage, you must register in Medicare Parts A and B and live in the plan's service area.
How to enroll in a Nassau Life Medicare plan
If it sounds like a Medicare supplement plan with American Home Life is right for you, we can help. We can also help you to explore other options. Our licensed insurance agents can educate and verify that you're choosing coverage that fits your needs.
Give us a call for assistance enrolling or information on supplemental Medicare policies. You can fill out our online request form if now isn't the best time. We're here to help and make the process quick and efficient.