Allstate is a well-known name when it comes to home and auto insurance. A few years ago, Allstate purchased National General, a subsidiary of the Allstate Corporation, and started offering Medicare Supplement plans.
Recently Allstate has updated the branding of their Medicare Supplements to include the well-known and trusted Allstate name. National Health Insurance Company and National General are both subsidiaries of Allstate Insurance Company.
Allstate Supplemental Medicare Plans
When starting your Medicare journey, you realize there is more to it than most people realize. There are several options you choose from when you're selecting your Medicare health insurance.
Supplemental Medicare options help you offset the out-of-pocket medical costs you'd otherwise be responsible for covering.
Most beneficiaries choose between two options Medicare Advantage or Medicare Supplement.
Some prefer the Medicare Advantage route, another name for Medicare Part C. They combine your benefits into one plan.
The other direction is staying with Original Medicare and enrolling in a Medicare Supplement and Part D prescription drug plan.
We will discuss the Allstate Medicare Supplement plans and then help you understand how Medicare Advantage plans work.
Then, we'll cover what Medicare Part D is and the financial strength of Allstate. Finally, we'll finish up by answering some frequently asked questions and how to get assistance with Allstate Supplemental Medicare plans.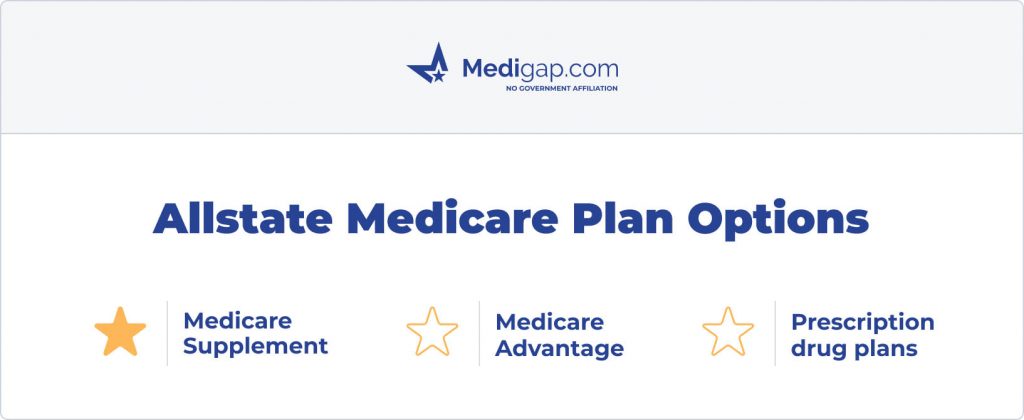 Allstate Medicare Supplement plans
Medicare Supplement coverage is the most comprehensive coverage you can have. Medigap plans work together with Original Medicare to help cover your Medicare out-of-pocket expenses for hospital stays and other medical expenses.
Medicare Supplements pays for your portion of the cost of the services rendered under Medicare Part A and Medicare Part B.
Many Medicare beneficiaries prefer these plans because of the freedom to choose their doctors and because they are less restrictive than other supplemental Medicare options.
Medicare Supplement Insurance offers ten different plan letters from which to choose. Not all plans are offered by all carriers or in all areas.
The most popular Allstate Supplement plans include:
The Allstate benefits are many. They are among the few companies offering additional discounts for enrolling with certain products. They also provide generous household discounts for family members on their Medigap premiums.
Allstate Medicare Advantage plans
Medicare Advantage plans are Medicare Part C of Medicare. They're popular because they include all the benefits covered under the Original Medicare health plan and usually include your Medicare prescription drug coverage.
In addition to covering Medicare Part A, B, and D benefits, many of these plans are equipped with extras that Medicare doesn't offer.
The Medicare Advantage plan's extra benefits can differ based on where you live and which plans you choose. Additional benefits could include:
Allstate doesn't offer Medicare Advantage plans. Our licensed insurance agents are well-versed in Medicare Advantage and can assist in finding the plan that fits your situation if you prefer this coverage style.
Allstate Medicare Part D prescription drug plans
Prescription drugs are covered by enrolling in a Medicare Advantage or standalone Medicare Part D prescription drug plan. Private health insurance companies run these plans. The company you choose will set the terms and conditions of its programs. The Centers for Medicare and Medicaid Services approve and regulate Medicare Advantage and Part D plans.
Allstate doesn't offer Medicare Part D plans at this time.
Allstate Medicare pros and cons
Pros
Affordable Medicare Supplement rates
Instant underwriting decision for most applications
Discounts for adding dental, vision, and hearing plans
A large company with strong financials
Cons
New to the Medicare market
Limited state availability
Doesn't offer Part C or Part D plans
Financial Strength Ratings
Allstate has been a staple in the insurance industry forever, and not only do they tell you that you're in good hands with Allstate, but they back it up with their financial strength ratings.
Financial strength ratings can tell quite a bit about companies' performance in several key areas.
The stronger the company, the better they do in the categories below:
Competitive rates
Claims processing speed
Stable rates
| | |
| --- | --- |
| A.M. Best Rating | A+ |
| Standard & Poors Rating | AA- |
| Moodys Rating | A3 |
Reviews
Allstate is a great company; they pride themselves on caring for their customers. They are relatively new to the Medicare Supplement world, but there's no doubt that "You're in good hands with Allstate." They have a streamlined enrollment process.
Even though they don't offer all Supplemental Medicare health care, they have excellent dental, vision, and hearing plans. If you enroll in their Medigap and dental plans, you receive additional discounts on their already low rates.
FAQs
What is a comprehensive Allstate Supplement insurance policy?
Plan F is the most comprehensive Medigap plan. It covers all of your Medicare cost-share. For beneficiaries that are new to Medicare, Plan G is the most comprehensive plan they can select.
What is the Allstate supplemental Medicare plan?
National General underwrites Allstate Medicare Supplement plans. These plans pick up the costs of the gaps in Original Medicare.
What are the benefits of supplemental insurance?
Medicare Supplement Insurance plans allow you to see any doctor that accepts Medicare nationwide with no restrictions. No referrals are required to see specialists. Depending on your chosen program, you could have a $0 cost-share when using your Original Medicare coverage.
What other coverages are offered by Allstate?
Allstate is known for its Auto, homeowners, property, and casualty insurance. Below are some other products offered through Allstate.
Accident Insurance
Life Insurance
Cancer Insurance
Disability Insurance
Identity Protection Insurance
Dental Insurance
Vision Insurance
How to enroll in an Allstate Medicare Supplement plan
Choosing a company and planning for your Medicare medical coverage can be overwhelming. That's where we come in.
Our licensed insurance brokers are experts in Medicare. We can guide and educate you through all the options available.
Choosing supplemental Medicare Insurance plans is one of the most important decisions you'll make upon retirement. Let our experts help give you peace of mind. Fill out our online request form or give us a call for assistance.