For 118 years, the Federal Life insurance company has provided high-quality annuity, life, Medicare, and health insurance products.
They believe in the core values of Stability, Integrity, Trust, Stewardship, Tradition, Value, and Customer Satisfaction. Federal Life Insurance Company has operated since 1899 and is headquartered in Riverwoods, Illinois.
Federal Life Medicare plans
Original Medicare has additional out-of-pocket costs that are associated with coverage. Unfortunately, many people don't realize this as they approach Medicare eligibility. Off help cover these costs, Medicare beneficiaries can enroll in a supplemental Medicare health plan to help cover these expenses.
These insurance policies come in a couple of forms. You should consult a licensed insurance broker to help determine which one fits your needs.
Today, we'll review the Federal Life Medicare Supplement policies and show you a Medicare Advantage plan. Next, we'll discuss how Part D coverage works and Federal Life's financial ratings.
Finally, we'll answer some common questions and explain how you can get help with your Supplemental Medicare medical insurance.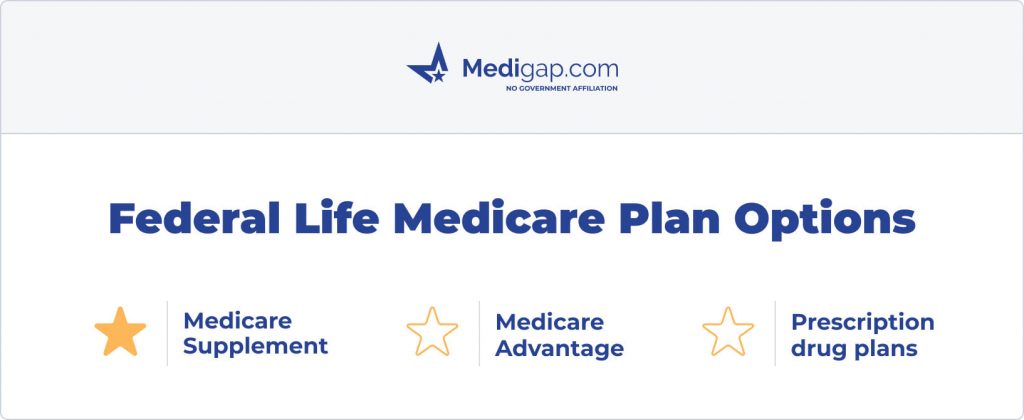 Federal Life Medicare Supplement plans
The cream de la creme of coverage is the Medicare Supplement plan. These health insurance programs are the most comprehensive and complete coverage to combine with your Medicare Part A and Medicare Part B.
When someone refers to Original Medicare, they talk about Medicare Parts A and B.
Original Medicare handles your inpatient hospital, skilled nursing facility care, outpatient medical services, and emergency care.
The Medicare Supplement coverage combines with the Medicare program to fill the cost gaps left over by the Original Medicare. This combination provides the complete health care available.
Your Medigap policy will pick up some or all of your out-of-pocket costs after Original Medicare pays.
You're required to pay a fixed monthly premium, but the amount you pay when using Medicare services will be lower if you have to pay anything.
Medicare Supplement insurance plans have ten plan choices available. Not all programs are offered by all carriers or in all areas. Federal Life offers competitive rates on the most popular plans in the nation.
Federal Life Medicare Advantage plans
Medicare Part C combines your Medicare benefits into one easy-to-use plan. These Medicare Advantage plans will cover your Medicare Parts A and B. In most cases, this type of plan includes a Medicare drug plan and extra benefits and services you can't get from Original Medicare.
Federal Life doesn't provide access to Medicare Advantage options. For more information, contact one of our licensed insurance agents.
Federal Life Medicare Part D prescription drug plans
Medicare prescription drug coverage can be obtained in two ways. Through the Medicare Advantage plans or a standalone Part D Drug plan. These plans are regulated by the Federal Government and are administered by private insurance companies.
Their coverage must be as good or better than the standard model the Centers for Medicare & Medicaid Services outlined.
These plans are also not provided by the Federal Life Insurance Company.
Federal Life Medicare pros and cons
Pros
12% early enrollment discount in select states
High-deductible G is convertible to the Standard Plan G
Federal Life offers the top Medigap options
Cons
Not available in all states
Rate increases may be higher than larger competitors
Federal Life financial strength ratings
Financial strength is an indicator of how well an insurance company will perform. Health Insurance companies with a high rating typically pay claims quickly, have lower rate increases, and have more conservative rates.
AM Best gives Federal Life Insurance Company a rating of "A+."
Federal Life Medicare reviews
They provide highly competitive rates on Plan F, Plan G, and Plan N. A convertible high deductible Plan G. Federal Life also has a unique benefit that allows new enrollees to receive a 12% early enrollment discount in some states. The company also boasts the highest financial rating that you can receive from AM Best. This indicates that they are an excellent choice for your Medicare Coverage.
FAQs
What is Federal Life health insurance?
Federal Life offers Medicare Supplement plans to individuals enrolled in Medicare. These plans help cover the cost-share left over from Original Medicare.
Does Federal Life sell Supplemental Medicare Plans?
Medicare Supplement plans offered by Federal Life include:
What's the most popular Federal Life Medicare Supplement?
Federal Life has some of the most competitive rates on Medigap Plan N. They also have a High Deductible G that allows you to change to a regular Plan G at the two-year mark. They'll enable this change without the need for Medicare Underwriting.
What does the Federal Life Medigap plan cover?
Medicare Supplements through Federal Life cover all services and items covered by Original Medicare. Depending on your chosen plan, they'll pay some or all of your cost share.
How to enroll in a Federal Life Medicare plan
The best time to enroll in a Supplemental Medicare plan is when your Open Enrollment Period begins. This is when you first start Medicare. Our licensed experts help educate and guide you through the process.
Give us a call, or fill out our online request form for assistance. Our Agents are standing by to help.