A group of farmers in central Illinois founded Pekin Life Insurance Company. The goal in mind was to offer reliable and affordable auto insurance. Since then, it has grown into a very successful company.
The mission statement of Pekin Life is to provide financial protection and peace of mind for its customers. They place a high value on being able to respond and follow through until they exceed expectations.
Below we'll cover supplemental Medicare plans and Pekin Life Medicare Supplement insurance policies. Then, we'll explain Medicare Advantage and Part D prescription drug coverage. We'll wrap up with a review of Pekin Life Insurance Company, answer some common questions, and explain how to get help with a supplemental Medicare policy.
Pekin Life Supplemental Medicare plans
The Original Medicare health plan is available to people over 65 and some individuals under 65 with certain health conditions. Medicare helps cover the out-of-pocket healthcare costs that Medicare beneficiaries are responsible for.
The additional costs associated with the Medicare program include:
Medicare Part A Costs in 2023
Medicare Part B Costs in 2023

Part A is premium-free for most
Part A deductible is $1,600 per benefit period
Inpatient hospital stay days 61-90 is $400

The standard Part B premium is $164.90
The annual deductible for Part B is $226
Medicare pays 80%, you pay 20% out-of-pocket
Medicare beneficiaries can enroll in a supplemental Medicare plan to help cover or offset these potentially high out-of-pocket costs. Beneficiaries have the option of either a Medicare Supplement insurance plan or a Medicare Advantage plan.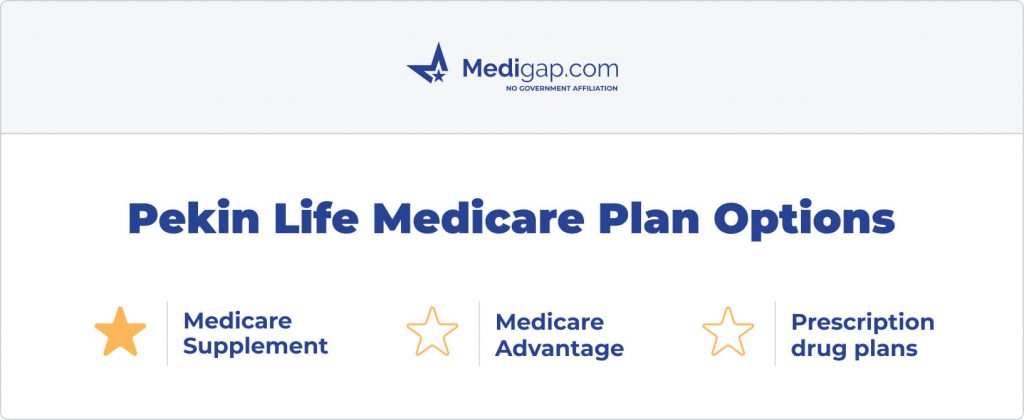 Pekin Life Insurance Company Medicare Supplement plans
Beneficiaries can lower their healthcare costs by enrolling in a Medigap plan. These supplemental insurance plans help cover the costs associated with Medicare Part A and Medicare Part B.
Medicare Supplement plans by Pekin Life include the following policies:
Plan A
Plan F

This plan is only available to beneficiaries eligible before January 1, 2020.

Plan G
Plan N
Medicare Supplement insurance can even help with the costs of hospitals, skilled nursing facilities, coinsurance at the doctor's office, and foreign travel emergencies. For a Medicare Supplement to cover the cost of a service, It must be a benefit that Original Medicare covers. Coverage for dental, vision, and hearing services won't be covered.
Pekin Life Medicare Supplement insurance isn't available in all states, nor do they offer all Medicare Supplement plan options. Enrolling in a Medicare Supplement plan is recommended during your Open Enrollment Period. This timeframe allows you to apply without the worry of medical underwriting.
When to enroll in a Pekin Life Insurance Company Medigap Plan
You can enroll in Medicare Supplement health insurance anytime if you can pass medical underwriting. You may be subject to denial or higher monthly premiums if you have less than average health.
Eligibility in a Medicare supplement plan is determined by where you reside. To enroll in a Medicare Supplement health insurance plan with Pekin Life, you must live in one of the following states.
Pekin Life Medicare Advantage plans
Medicare Advantage insurance plans combine your Original Medicare benefits into one program. These plans will include the benefits under Medicare Part A, Medicare Part B, and in most cases, Medicare prescription drug coverage.
These Part C plans can also include extra benefits such as transportation, dental, vision, and hearing coverage. These are items that Original Medicare doesn't offer.
Medicare Part C plans are unavailable through Pekin Life. However, several health insurance companies provide Medicare Advantage plans.
Pekin Life Medicare Part D prescription drug plan
Medicare Prescription drug coverage is offered either through a stand-alone Medicare Part D plan or a Medicare Advantage insurance plan. Private health insurance companies contracted with CMS administer Medicare Part D plans.
Pekin Life Medicare pros and cons
Pros
Competitive premium rates
Quick claims review
Positive customer experiences
Cons
Tough underwriting
Limited plan offerings
Financial strength ratings
AM Best gives Pekin Life Insurance Company a financial strength rating of "A- Excellent."
Companies with a higher rating tend to offer lower rates, quicker claims processing, and conservative rate increases. It's a financially strong company that strives for excellence.
Reviews
Pekin Life Insurance Company has a solid financial rating and offers the most popular Medigap plans. They have competitive rates and are constantly moving forward to refine and improve their processes. This constant drive for improvement helps ensure a positive customer experience.
FAQs
What is the highest level of coverage in a Pekin Life Insurance Company Medicare health insurance Plan?
The Medicare Supplement plan offering the highest coverage level is Plan F. If you're new to Medicare, Plan G is the plan that's available for you.
Does Pekin Life offer High Deductible Medigap plans?
Pekin Life only offers Plans F, G, N, and A. They don't offer any high deductible Medicare Supplement plans.
Do Pekin Life Medicare Supplement plans cover hospice?
Hospice is covered under Medicare Part A. There isn't typically an out-of-pocket cost for most hospice care. A Medicare Supplement insurance plan would help cover these costs if a coinsurance or copay were required.
What affects the costs of Pekin Life Medicare Supplement insurance?
A few factors can affect the amount you pay as a monthly premium. These factors include your age, where you live, and health. If you enroll in your open enrollment or a guarantee issue period, your health conditions will not apply.
How to sign up for Pekin Life Medicare plans
Enrolling in a supplemental health insurance plan is not difficult but can be confusing. To make things simple, you can work with a licensed insurance agent. Choosing an agent that works with several companies is vital to get the best results for you.
For assistance, you can simply give us a call or fill out our online request form. Our experts can help you through the entire process, from education to enrollment and becoming a policyholder for the company of your choice.