Arkansas Medicare Supplement plans, or Medigap plans, are additional coverage options enrollees tack onto their Original Medicare to add a range of unique benefits.
There are ten different Medicare Supplement plans with various benefits, but the federal government standardizes each, so those benefits won't change regardless of your provider.
Even though the specific coverage remains at every provider, the plan's cost varies dramatically at each company.
Arkansas Medicare Supplement enrollment per letter plan
Arkansas has nearly 185,000 Original Medicare beneficiaries enrolled in a Medicare Supplement plan. That's roughly 36% of people with fee-for-service Medicare who also have coverage from Arkansas Medicare Supplement plans, one of the highest rates in the country.
| | | | | | | | | | | |
| --- | --- | --- | --- | --- | --- | --- | --- | --- | --- | --- |
| PLAN | A | B | C | D | F | G | K | L | M | N |
| | 488 | 373 | 1,393 | 357 | 36,741 | 16,584 | 490 | 277 | 3 | 7,293 |
What are the best Medigap plans in Arkansas?
Plan F is by far the most popular Medigap option in Arkansas, which is standard across the rest of the country. It includes the most coverage of any Medigap plan and, despite being the most expensive policy on average, has 36,741 enrollees.
Plan G has the second-highest enrollment rate of the Arkansas Medicare Supplement plans, with 16,584 beneficiaries. This policy includes everything in Plan F aside from Part B deductible coverage.
Other popular plans in Arkansas include Plan N (7,293 enrollees), Plan J (2,152 enrollees), and Plan C (1,393 enrollees). No other plan in Arkansas has over 1,000 beneficiaries.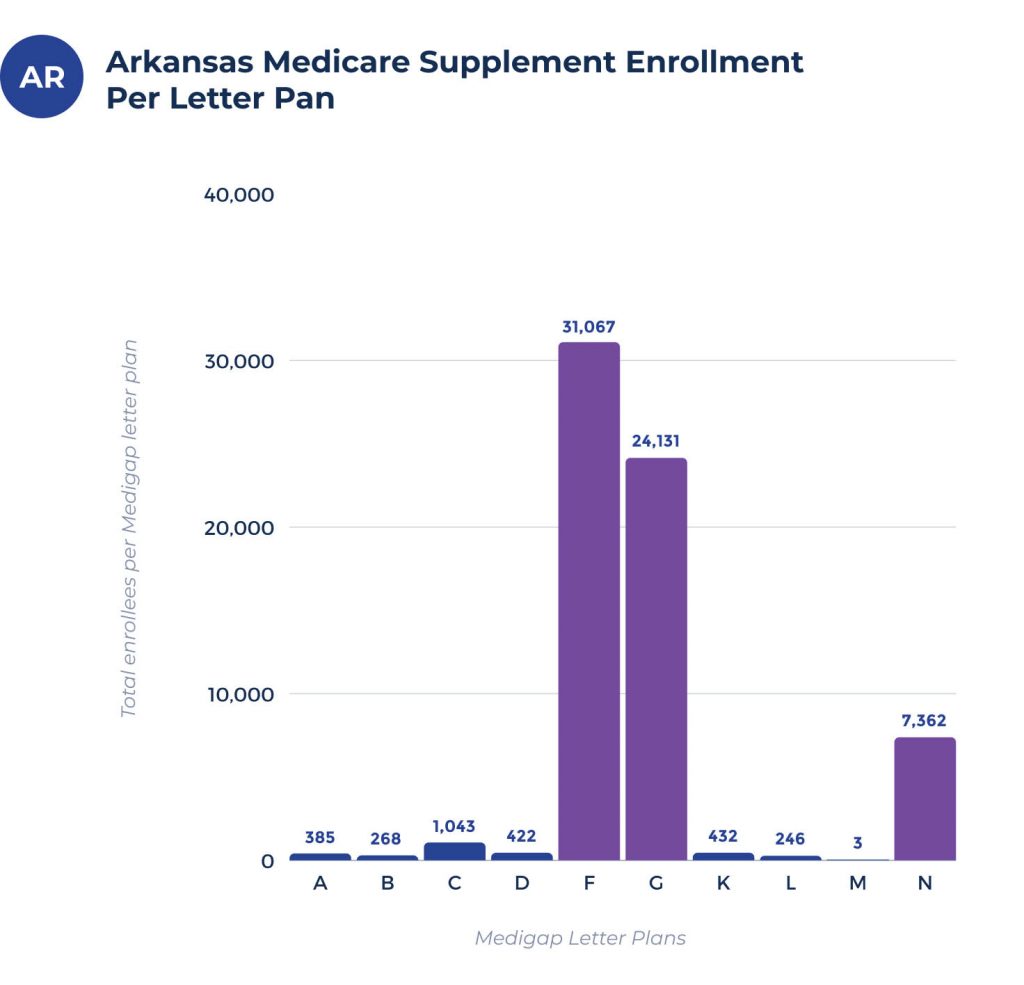 Medigap plan coverage chart for Arkansas
Medigap benefits remain constant regardless of your location as well as your provider. So, if you're moving to a new city or state, you won't have to worry about losing your exact Medigap coverage.
Medicare Supplement plans costs in Arkansas
Even though the federal government standardizes the coverage included across the different Medigap Supplement plans, they have no bearing on what the private insurance companies charge for each policy.
As a result, Arkansas Medicare Supplement plans vary wildly depending on obvious factors like your provider, how much coverage you're enrolling in, and for minor reasons you might not expect.
Several things will shift your Medigap coverage rates. Some of the most common factors include:
Your age and gender (women and enrollees below 70 years old generally pay less than men and older beneficiaries)
History of tobacco use
Special carrier discounts (many companies cut your plan's cost by as much as 15% if you and your spouse apply for a policy at the same provider)
Payment frequency (insurance companies prefer monthly payments over yearly or quarterly installments, so many offer lower prices if you pay per month)
Policy-specific conditions (your provider's history of rate locks and increases will play a significant role in how much you pay)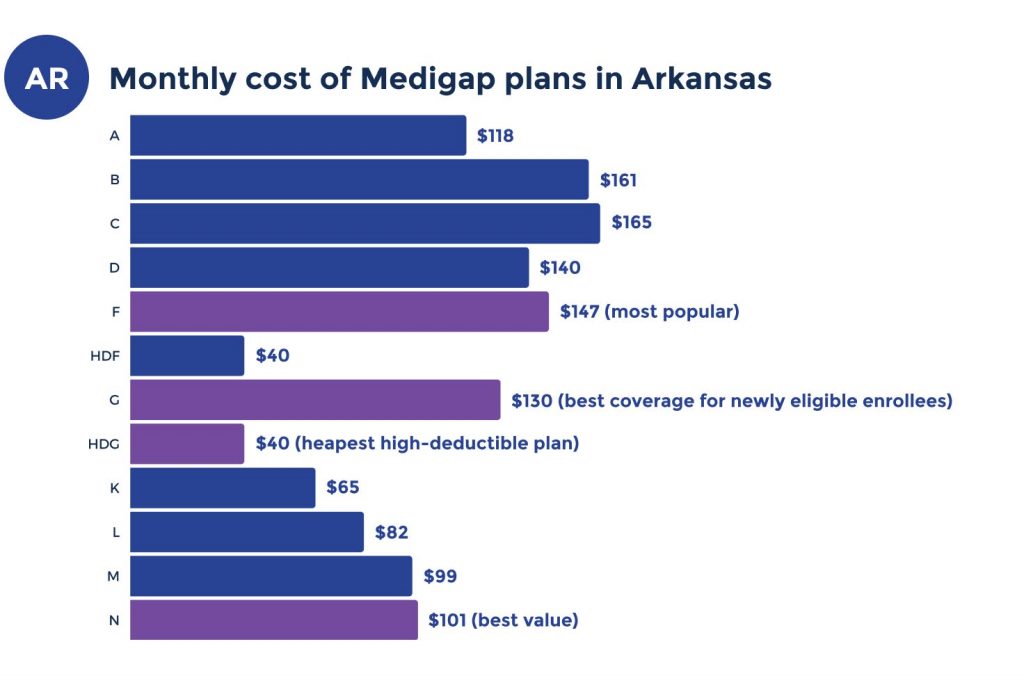 How much does Medigap cost in Arkansas?
In Arkansas, the premium of a Medigap policy may vary based on the coverage level and the policyholder's age, with the premiums typically ranging from $105 to $200 per month.
Lowest premium per Medigap letter plan in Arkansas
Several Arkansas Medicare Supplement plans have low premiums under $100 for budget-conscious enrollees.
The chart below lists Arkansas's most affordable Medigap plans for an average 65-year-old woman.
| | | | | | | | | | | |
| --- | --- | --- | --- | --- | --- | --- | --- | --- | --- | --- |
| PLAN | A | B | C | D | F | G | K | L | M | N |
| Premium | $107 | $160 | $164 | $139 | $158 | $131 | $64 | $81 | $98 | $105 |
Highest premium per Medigap letter plan in Arkansas
Because of all the factors private insurance companies consider, the average costs for Medigap plans can vary by several hundred dollars.
The chart below shows the highest average premium price for an Arkansas Medigap plan for a 70-year-old man.
| | | | | | | | | | | |
| --- | --- | --- | --- | --- | --- | --- | --- | --- | --- | --- |
| PLAN | A | B | C | D | F | G | K | L | M | N |
| Premium | $431 | $851 | $356 | $291 | $533 | $495 | $151 | $216 | $264 | $356 |
Top Medicare Supplement/Medigap plan carriers in Arkansas
The quotes below reflect the average costs for a 70-year-old woman for Arkansas' three most popular Medigap plans from a handful of trust providers.
National Guardian has the most affordable Plan F policy in Arkansas with a $166 premium.
Plan F is Arkansas' most popular and extensive Medigap option, but enrollees concerned about the higher premium costs can look at United States Fire's Plan G option. You'll receive many of the same benefits for an average $134 premium, the most affordable among Arkansas' leading providers.
Arkansas cities with Medicare Supplement coverage estimated premiums
Below, you can find charts with estimated premiums for Medicare Supplement coverage for the following cities:
FAQs
How much does Medigap cost in Arkansas?
In Arkansas, the premium of a Medigap policy may vary based on the coverage level and the policyholder's age, with the premiums, typically ranging from $105 to $200 per month.
What pricing method do Medicare Supplement insurers in Arkansas use?
All carriers in Arkansas use the community-rated method. So it doesn't matter if you enroll with a small carrier such as Old Surety, or a large carrier like Allstate, the pricing methods will be the same.
What is the difference between a Medigap plan and a Supplemental plan in Arkansas?
Medigap plans and Medicare Supplement plans are the same things. Of course, there are critical differences between Medigap coverage and Medicare Advantage coverage, but Medigap and Medicare Supplement are synonyms.
Are Medigap plans better than Advantage plans in Arkansas?
Neither Medigap nor Medicare Advantage is distinctly better, as they serve different roles. Though each adds to your Original Medicare, Medicare Advantage plans provide vision, dental, and hearing coverage. In contrast, Medicare Supplement plans fill in the gaps in Original Medicare that Medicare Advantage plans do not.
The "better" option will depend on your immediate healthcare needs. For example, a Medigap plan is the more robust option if most of your medical expenses come from hospital visits or nursing bills.
Does Medigap have an out-of-pocket maximum in Arkansas?
Medigap plans do not have a maximum out-of-pocket limit because they do not need one. They cover most, if not all, of your out-of-pocket expenses. Unlike Medigap plans, Medicare Advantage plans have this limit because they come with high out-of-pocket costs.
Can you be denied a Medicare Supplement plan in Arkansas?
Insurance companies cannot deny you a Medicare Supplement plan as long as you enroll during your Medigap Open Enrollment Period. During this time, you'll have guaranteed issue rights. If you enroll outside this window, you'll have to undergo medical underwriting and could be denied coverage or charged a higher premium due to age or pre-existing conditions.
How to sign up for Medicare Supplement/Medigap plans in Arkansas
With ten different types of Arkansas Medicare Supplement plans and dozens of providers across the state, finding supplemental coverage that works for you can be a nightmare.
But our team of licensed insurance agents makes finding the perfect coverage quick and straightforward, and our services are completely free.
Our agents will compare rates from all Arkansas Medigap providers and send them to you. That way, you can find the perfect Medigap plan at the ideal rate in moments. Call us today or complete our online rate form to get the best rates in your area.