Kansas City isn't the most expensive place to get your health care needs met – but it isn't the cheapest, either. But things can get pretty chaotic if you aren't aware of the gaps in Medicare Parts A and B coverage which can result in some truly dramatic medical bills for you. Luckily, you have found the leading Medicare Supplement Insurance website on the internet for help and information on this topic. Keep reading to learn more about what Kansas City seniors like you can and should do to protect yourself from the costly gaps in your federal Medicare coverage.
Facts and Figures
There are 60,997 senior citizens living in Kansas City right now
There are 10 hospitals in the Kansas City area where seniors can get emergency and/or in-patient care
31% of Missouri seniors have a Medicare Advantage plan
27% of Missouri seniors have a Medicare Supplement (Medigap) plan
Which leaves 42% of seniors potentially uninsured or underinsured against costly Medicare coverage gaps!
Many seniors are rightly concerned about sudden and unexpected medical emergencies taking them to the cleaners financially. But the cumulative cost of chronic health conditions can also become overwhelmingly expensive with time. Right now, senior citizens in Kansas City are seeking medical treatment first things like high blood pressure and arthritis with regular frequency. But the medical expenses related to these conditions become increasingly more costly as time goes on.
| | |
| --- | --- |
| Disease | Prevalence (in Kansas City) |
| Arthritis | 26% |
| High Blood Pressure | 35% |
| Coronary Heart Disease | 6% |
| Diabetes | 12% |
| Kidney Disease | 3% |
Healthcare Costs in Kansas City, MO
How much do you think you spend annually on things like medications and medical supplies? It might not seem like that much when you're paying a little at a time here and there at the pharmacy; but when you sit down and add the total costs up, you may be surprised. Take a look at the graph below for a snapshot of what seniors in your area are spending annually on their chronic conditions. And just remember that whatever you're paying to manage your chronic conditions right now, it's only going to get more expensive as you get older.
| | | |
| --- | --- | --- |
| Disease | Prevalence (in Kansas City) | Annual Cost of Treatment |
| Arthritis | 26% | $2,117 |
| High Blood Pressure | 35% | $2,400 |
| Coronary Heart Disease | 6% | $3,470 |
| Diabetes | 12% | $7,900 |
| Kidney Disease | 3% | $15,614 |
Medicare Advantage Savings in Kansas City, KS
Your first protection option is to purchase a Medicare Advantage policy. Medicare Advantage in Missouri is actually a private health insurance plan which replaces your federal Medicare benefits. But don't worry, it has a legal stamp of approval straight from the federal government. And the federal government will pay a large portion of your monthly premium directly to your insurance company for you if you decide to purchase a plan. This means that some qualifying seniors can get their Medicare benefits covered for as little as $0 per month. But if you decide to purchase extra coverage, it will make your monthly premium cost more and you may have to contribute a little bit financially.
Medicare Advantage plans can be large and cumbersome. But they also offer the most customization options. If you have specific or unique medical needs, or if you want to take advantage of the fact that you can get all of your medical needs provided for by Medicare Advantage instead of juggling multiple insurance policies, then you may want to take a closer look at Medicare Advantage in Missouri. Just make sure you closely discuss the gaps in Original Medicare coverage with your Medicare Advantage insurance agent, along with the additional coverage options you can purchase in order to make sure that your benefits are properly supplemented.
Once you and your Medicare Advantage insurance agent take care of those troublesome coverage gaps, you might want to move on and discuss things like vision or dental coverage. Many Medicare Advantage plans also come with prescription drug coverage, too. If you let your Medicare Advantage provider choose your vision and dental coverage for you, you will also have to let them choose which optometrists and dental networks you are allowed access to. But if you feel like the value is worth the restriction, then it may all work out in the end.
Medicare Supplement (Medigap) Savings in Kansas City, KS
On the other hand, there are Medicare supplement insurance plans in Missouri, too. These are smaller and sometimes less costly than Medicare Advantage; but the benefits you get are very different from Medicare Part C. Because Medigap policies are only concerned with the gaps in Medicare coverage, you won't be able to tack on any extras. But you will be financially protected from the exorbitant costs which are not covered by Medicare Parts A and B.
Medigap plans start with benefits that protect you from the gaps in your hospital expenses (Medicare Part A). These can include things like hospice care coinsurance, blood transfusions, extended hospital stays, and more. These plans – specifically A, D, K, and L – can save you thousands of dollars in hospital bills and end-of-life care expenses that you would otherwise have to pay out-of-pocket if you relied upon Medicare Part A alone to help you manage these costs.
Then there are Medigap plans B, C, F, G, M, and N. These plans contain additional coverages which will help you with the costs associated with Medicare Part B coverage gaps. Some of these coverages include foreign travel benefits, Part B excess charges, your Part B deductible, and your out-of-pocket limit. Plan F is the most comprehensive; just remember that the more coverage you purchase, the more expensive your monthly premium will be. Also remember that 2020 is the last year you will be able to purchase a Medigap Plan F policy. They will be phased out after that, and you will have to purchase either Plan C or Plan G if you want similar levels of comprehensive coverage.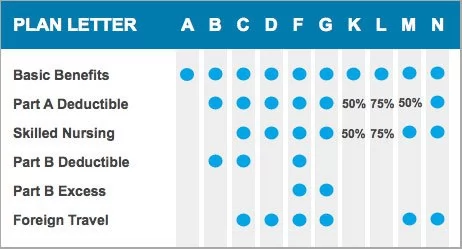 Unlike Medicare Advantage, you won't have the option to add certain types of extra coverage directly to your Medigap policy. You won't be able to add anything, actually, because the plans are standardized and cannot be customized. You just choose which plan you want based on the coverage you need. For dental or vision insurance, you can choose any private insurance provider who will sell you those types of coverage – and you may get a wider variety of dentists and optometrists to choose from as a result. For prescription drug coverage, there's the Medicare Part D program which helps millions of seniors cover the costs of their medications.
Kansas City, MO is a wonderful place to live. but it's not always the most wonderful place to get medical care, especially given the somewhat higher medical costs which the area is known for. If you want to avoid falling victim to higher regional medical prices near you – especially when those prices come from unexpected medical bills due to Medicare coverage gaps – you need the right Medicare supplement insurance policy. And we would be more than happy to help you find answers to your questions so that you can make a smart decision as a consumer.
| | | | |
| --- | --- | --- | --- |
| Medigap Plan | Minimum Monthly Premium | Maximum Monthly Premium | Average Estimated Monthly Premium (Part B Premium Included) |
| Plan A | $99 | $260 | $315 |
| Plan B | $136 | $296 | $352 |
| Plan C | $163 | $357 | $396 |
| Plan D | $142 | $228 | $321 |
| Plan F | $137 | $270 | $339 |
| Plan F (high deductible) | $30 | $93 | $197 |
| Plan G | $123 | $248 | $321 |
| Plan K | $64 | $126 | $231 |
| Plan L | $106 | $185 | $281 |
| Plan M | $137 | $225 | $317 |
| Plan N | $104 | $196 | $286 |