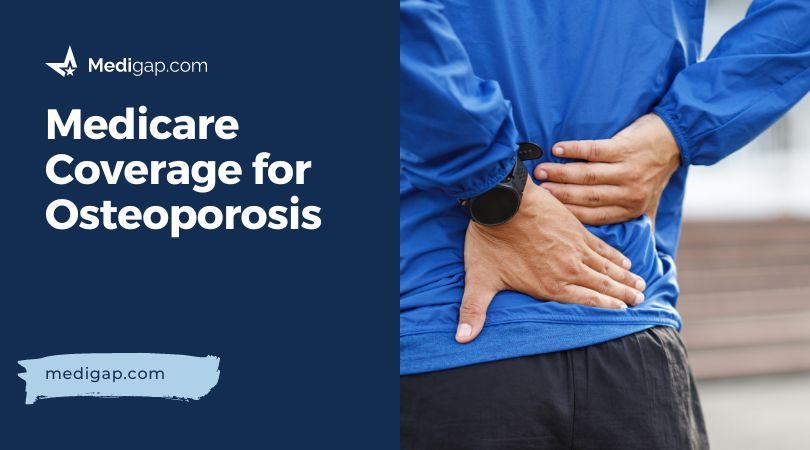 Osteoporosis is a chronic health condition in which your bones become weaker and more brittle. Medicare offers coverage for testing, treatments, and medications to help alleviate your osteoporosis. Below we'll dive deeper into Medicare's coverage of all osteoporosis-related aspects.
Guide to Medicare coverage for osteoporosis
Osteoporosis affects more than 10 million Americans throughout the country each year. The definition of this condition is, quite literally, "porous bone" and ultimately leads to a determination of bone tissue and weak bones. Osteoporosis can lead to the risk of severe injuries, like hip and spine fractures.
How does Medicare cover osteoporosis?
Original Medicare (Part A and B) covers certain screenings and tests every two years. In most cases, osteoporosis screenings are geared more toward women, as you'll see below while reviewing certain risk factors. To qualify for Medicare coverage of related tests and treatments, you must have at least one of the following risk factors:
X-rays that suggest osteoporosis or severe fracture
If you currently receive treatment for osteoporosis
If you take a steroid-type medication
If you have an estrogen deficiency or are in menopause
Original Medicare coverage
Part B benefits cover 80% of any potential medications needed if given by injection or intravenously. To have these benefits kick In, you must first reach your Part A deductible. Part B will also cover 100% of preventative bone density screenings once every two years.
Medicare Supplement coverage
Medicare Supplement plans (known as Medigap) can help Medicare beneficiaries cover those pesky out-of-pocket expenses related to osteoporosis diagnosis. Since Medigap is an additional form of coverage, plans can vary regarding coverage and costs. If you have a diagnosis of Osteoporosis, be sure to speak with your insurance agent or carrier to determine your supplemental coverage for the condition.
Medicare Part D coverage
Medicare beneficiaries often opt-in to a prescription drug plan, also known as Medicare Part D prescription drug coverage. Most Part D plans cover some of the most popular medications that are designed to treat those with osteoporosis.
Medicare Advantage coverage
Medicare Advantage policies work like Original Medicare and cover everything Part A and B cover. So, Medicare Advantage policies will cover Osteoporosis screenings, treatments, and medications. However, these plans can be tailored to your needs, and you can get additional benefits that may be incredibly beneficial to you that you may not get with Original Medicare coverage.
Osteoporosis treatments covered by Medicare
Medicare covers specific osteoporosis treatments as well. Let's look at some of those covered treatments available to beneficiaries.
Bone mass density tests
These tests help to diagnose osteoporosis officially. These screenings also check the efficiency of the prescribed medication therapy by screening the quality of your bone mass. Medicare will cover a bone density screening once every two years unless necessary based on medical needs. Beneficiaries won't need to pay anything for these screenings but must meet at least one of the following health conditions:
You must be diagnosed with primary hyperparathyroidism
You must be taking prednisone or another steroid medication
X-rays indicate possible osteoporosis
You're currently being monitored with your osteoporosis drug therapy
You're a woman whose doctor feels you're at risk for osteoporosis
Prescription medications
So many of the prescriptions on the market today can help slow down the rate of bone loss, and some can even help improve the strength of your bones. Osteoporosis medications can come in tablets or liquids, and even injectable medications that you can get at your physician's office or administer at home. The most popular type of medication prescribed is bisphosphonates.
Injectable drugs
Injectable drugs can be administered by your doctor, or even by you, at home. Original Medicare will cover a portion of the cost of injectable drugs, and you'll be responsible for 20% in coinsurance costs. The most popular intravenous medications include the following:
Ibandronate (Boniva)
Zoledronic acid (Reclast)
Calcitonin (Miacalcin)
Denosumab (Prolia)
Physical therapy
Medicare will cover medically necessary physical therapy for osteoporosis. In most cases, you'll more than likely need your doctor to continue to authorize physical therapy every month to continue to receive Medicare coverage. Remember, you'll still be responsible for your coinsurance and deductible expenses. You may qualify for physical therapy if you have one of the following qualifications:
You've recently been fractured because of osteoporosis
You've been diagnosed with osteoporosis
You're older and have a history of osteoporosis within your family
Another health condition you may have affects your bone health
FAQs
What's the average cost for a bone density test?
The average price of a bone density test can range between $165 to $270. Of course, your out-of-pocket expense will be significantly less when going through Medicare.
How does Medicare cover osteoporosis?
Medicare covers osteoporosis in a variety of ways. Part B covers bone density screenings every couple of years, and Medicare can even cover drug and physical therapies.
Will Medicare Part D cover common medications prescribed for osteoporosis?
Part D covers the most popular osteoporosis medications. The most popular forms of drug therapy include bisphosphonates, generally covered through Medicare Part D.
What chronic conditions will allow someone to qualify for Medicare before turning 65?
There are a couple of chronic conditions In which you may qualify for Medicare coverage before you turn 65. These chronic conditions include End-Stage Renal Disease (ESRD) and Amyotrophic Lateral Sclerosis (ALS).
Does Medicare cover physical therapy for beneficiaries with osteoporosis?
Medicare will cover physical therapy if your physician deems its need medically necessary. You may find that you need to continue to get this therapy authorized through Medicare every 30 days.
Enrolling in a Medicare plan to help cover the costs of osteoporosis
If you have osteoporosis, you can take a breath of relief knowing that many treatments can be covered through Medicare. Enrolling in a Medicare plan is easy and affordable and can help alleviate the financial burden you may otherwise face. Contact our experienced agents to learn more about Medicare and osteoporosis and ensure you get the coverage you need and deserve.
Related Content