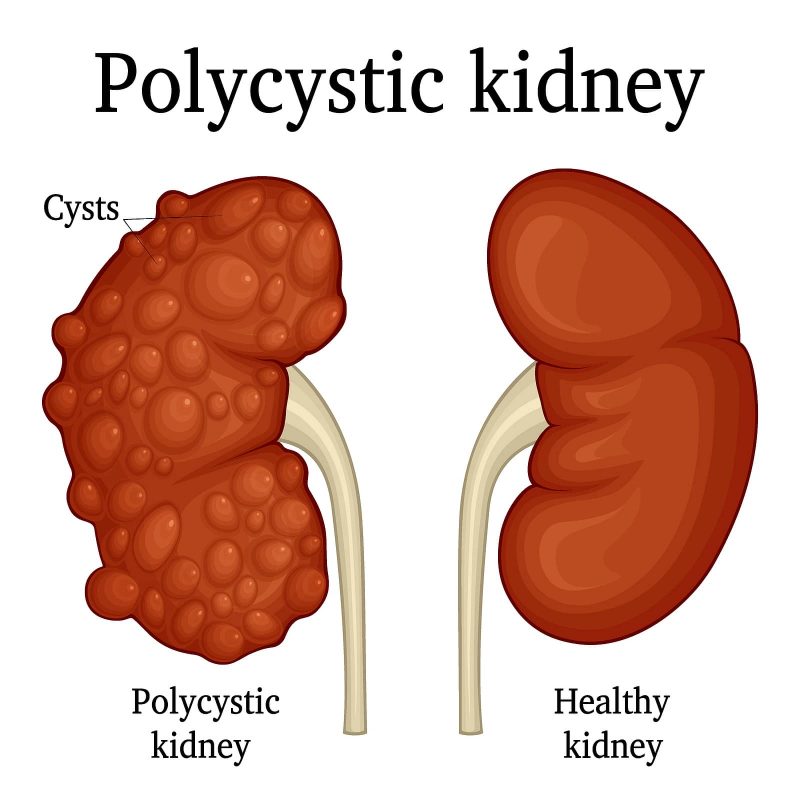 Excellent health coverage is crucial when living with PKD. The damage that polycystic kidney disease causes can be severe and lead to severe complications. Diagnosing and treating patients is vital and expensive.
The Medicare program operates differently for those with chronic kidney conditions. Below we will find out if Medicare covers kidney disease, how to qualify for coverage, and what you can expect along the way.
Is Polycystic Kidney Disease Considered A Chronic Kidney Disease?
Polycystic kidney disease (PKD) is a chronic disease where cyst clusters begin to grow within your kidneys. When someone suffers from polycystic kidney disease, they experience cysts that grow larger and begin to lose functionality as time goes on. Kidney cysts aren't cancerous and can be a variety of sizes. Cysts that grow too large can create severe damage to your kidneys.
PKD comes in two different forms. Autosomal dominant polycystic kidney disease and autosomal recessive polycystic kidney disease. In addition to severe kidney damage, PKD can also wreak havoc on your heart and brain by causing issues with the blood vessels. Patients may develop cysts within the liver and suffer from high blood pressure as a direct correlation to polycystic kidney disease.
What Are The Limitations Of Medicare Coverage For Polycystic Kidney Disease?
You may end up with kidney failure due to PKD depending on your health. Medicare will cover kidney dialysis or a transplant, but you must be diagnosed with ESRD to receive this form of Medicare coverage. Your healthcare provider must refer you for treatment, and you must seek medical care from a Medicare-approved transplant or dialysis facility. With Medicare's coverage of ESRD, age still doesn't matter in receiving coverage. You can get Medicare coverage if you meet Medicare's specific requirements to qualify for health insurance.
What Are The Costs Of Treating Polycystic Kidney Disease?
Treating polycystic kidney disease can be pretty expensive. And when factoring in essential health care treatments, you'll need to also factor in the expensive care costs. The typical cost to treat PKD for just four short months can range from around $7,800 – $12,000 before any dialysis treatments or transplant costs! Thankfully, Medicare picks up a hefty chunk of change for those with kidney failure. Part A (inpatient coverage) typically doesn't carry a monthly premium, but you will pay one with Part B coverage.
The monthly Part B premium is $164.90 each month. If your income is significantly higher, your premium may increase. Part B benefits also carry a deductible of $226 for the year and possibly any applicable co-pays. You'll also have a 20 percent coinsurance (out-of-pocket costs), while Medicare covers 80 percent. Medicare covers all services received in the hospital and doctors' offices, labs, IV fluids, home dialysis training, and additional dialysis services.
Medicare Coverage Of Kidney Disease
Medicare has explicit rules regarding its coverage of kidney disease. For Medicare to cover kidney disease, the beneficiary must receive a diagnosis of End-Stage Renal Disease (ESRD). You must be diagnosed with permanent kidney failure that requires a kidney transplant or dialysis. To qualify for ESRD coverage through Medicare benefits, you must have Medicare Part B benefits.
Be sure to make the premium payments, and cover your portion of the coinsurance and deductibles. At that point, Medicare will cover many treatments and services to treat kidney failure. It's important to know that patients requiring kidney dialysis will have a waiting period and can't enroll in Original Medicare until they start dialysis. Medicare coverage becomes effective at the beginning of the fourth month of dialysis.
Coverage will begin on day one of dialysis if a beneficiary starts dialysis in their home. When a beneficiary has a kidney transplant, Medicare will pay for the patient's medical costs for up to three years after surgery. Once three years are up and the kidney transplant is successful, Medicare will no longer pay.
Does Medicare cover all Patients With ESRD?
Just because Medicare does, in fact, cover patients with ESRD, it doesn't necessarily cover all patients who have ESRD. While Medicare is generally for those over 65 years old, Medicare for ESRD can also extend to those under 65 if they qualify for Medicare eligibility. Medicare beneficiaries must have a diagnosis of ESRD. They must also meet the following points of criteria:
The beneficiary must meet necessary work credits through Social Security, as a government employee, or through Railroad Retirement.
The beneficiary must receive Railroad Retirement or Social Security benefits.
The beneficiary must be either the spouse or child of someone who already meets the work credits or gets Railroad Retirement or Social Security benefits.
Those who qualify for ESRD coverage with Medicare can utilize Original Medicare (Part A and B) benefits or purchase a Medicare Advantage plan through a private insurance carrier.
Does Medicare Part D Prescription Drug Coverage Apply to Patients With Kidney Disease?
You'll have to be on immunosuppressant drugs when you undergo a kidney transplant. These medications can be pretty costly, especially when it's a medication you'll be on for the remainder of your life. If by chance, you don't have Medicare Part A coverage during this time, a Part D drug plan will cover these pertinent medications.
Remember that if you have Part A coverage at the time of your kidney transplant, Part B will step in and pay for your immunosuppressants following your transplant. If you do choose to buy a Part D policy, you'll want to ensure you compare all available plans. Some plans may have fewer restrictions and far better coverage. Specific pharmacies may also be out-of-network, so you must confirm who's in-network before sealing the deal with a Part D policy.
What Are Some Private Insurance Companies That Cover ESRD?
While some private insurance plans offer coverage for ESRD patients, not all do. Especially in certain states. Some of the most popular private insurance companies that help cover include:
Humana
Blue Cross Blue Shield
United Health Care
Etc.
FAQs
Check out some of our most common questions among Medicare beneficiaries with kidney disease.
When Did Medicare Start Covering ESRD?
Medicare began covering ESRD in October of 1972.
How Does Medicare Help Patients With ESRD?
Medicare can help cover the expenses of dialysis patients. It can also help cover kidney transplants for ESRD patients. Original Medicare covers these health services, and you can buy a prescription drug plan (Part D) to help cover the costs of medications you may need.
What Are The Benefits For Medicare Patients With Kidney Disease?
Medicare patients with kidney disease can receive a wide range of benefits through their Medicare coverage. Not only are dialysis treatments and transplants covered, but a wide array of other medical services. Hospitalizations at transplant centers are covered with Part A benefits. If you require outpatient dialysis, this will fall under Part B. Medicare Part D policies are available for purchase if you need prescriptions to maintain your health.
Get Help With Your Medicare Coverage Today
Chronic kidney disease can leave you questioning many things. One of the last things you should ask is whether you can afford to treat your illness. Medicare works to cover those who suffer from this disease, and although it may seem overwhelming at first, many Medicare professionals can help guide you every step of the way. Call our team of experienced Medicare agents today, or complete an online instant quote to learn about options best suited for you and your healthcare needs.