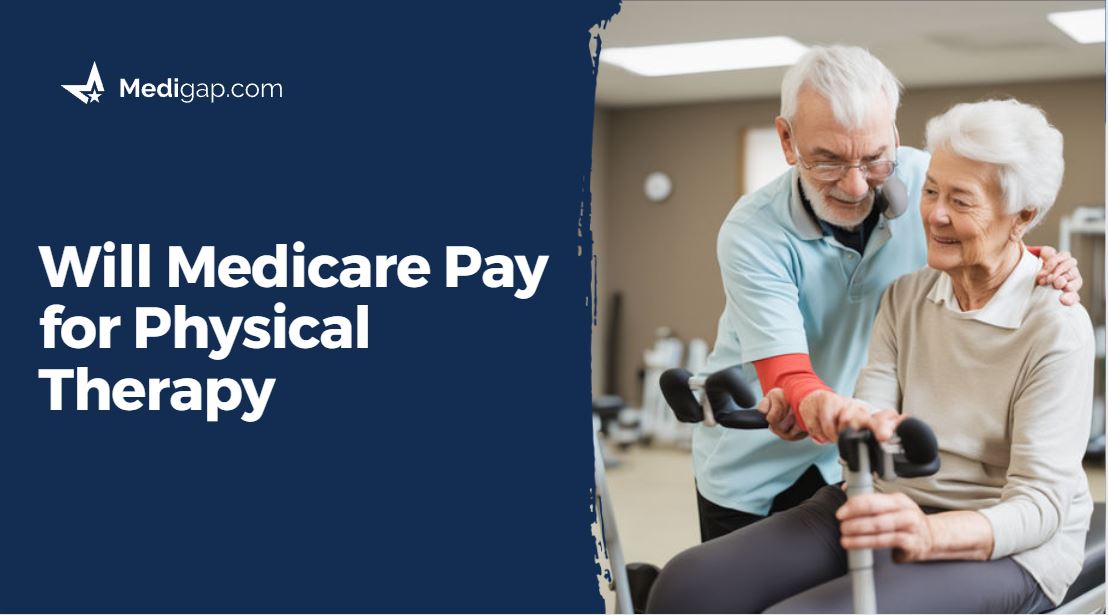 Losing your mobility can be devastating. It reduces your independence and compromises your quality of life. Unfortunately, most physical therapy isn't cheap. But how much will it cost you as a Medicare beneficiary? It's a tough thing to estimate.
But the good news is that Medicare will pay for some of those costs. Let's break down what Medicare will and won't cover so that you can budget accordingly.
Does Medicare cover physical therapy?
Physical therapy is any medical care that evaluates and/or treats injuries and diseases that negatively affect your ability to function. There are three main reasons a doctor may prescribe physical therapy:
Improve your current level of functioning
Maintain your current level of functioning
Slow potential decline
Physical therapy and medical necessity
Establishing medical necessity is the first step to ensuring Medicare pays for your physical therapy. Usually, all this takes is a simple note from your doctor.
Also, make sure you keep track of your paperwork. Always keep a copy for your own records in case you have to dispute a claim.
Original Medicare and physical therapy costs
Both Medicare Part A and Part B will help cover physical therapy expenses. But context matters. Medicare Part A will only pay for physical therapy if you are admitted to the hospital as an inpatient for at least 3 days.
Here are the expenses you can expect if you get physical therapy in a hospital:
A [GCBB#part-a-deductible] Part A deductible
Daily coinsurance costs (after 60 days of treatment)
100% of the cost of medically unnecessary physical therapy
Part B excess charges (if any apply)
It's a little different for Medicare Part B. Here's what you have to do to make sure Medicare pays for your physical therapy under Part B:
Establish medical necessity with your doctor
Pay your annual deductible, which is [GCBB#part-b-deductible]
Pay 20% coinsurance for the Medicare-approved amount of your physical therapy
Keep in mind that these estimates are for Original Medicare only. You can help reduce your own expenses by purchasing a Medicare supplement. Whether that supplement is Medigap or a Medicare Advantage plan is up to you.
Where to get physical therapy under Medicare
Getting physical therapy under Medicare Part A is easy. If you are an inpatient in a hospital, the hospital usually brings it to you. Either that or your caretakers help you get to the part of the hospital where you perform physical therapy. It's not very complicated.
But it gets more tricky if it is for outpatient therapy. Transportation from home to the facility can be difficult if you can't drive yourself. There are two options for getting around this:
You can get physical therapy at home. If your doctor believes it is medically necessary, you may qualify for in-home physical therapy. But your doctor will have to negotiate with Medicare. Most Medicare claims for this get rejected because it is a very expensive practice.
You can get transportation services. Medicare may pay for some transportation services associated with medically necessary physical therapy. You might also want to look into local programs. Some nonprofit organizations provide free transportation for medicare beneficiaries who have trouble getting around.
Original Medicare and physical therapy limits
In 2018, Medicare changed the way it handles physical therapy claims. They used to cap the number of appointments you could have and limit spending to a specific dollar amount. Not anymore!
Now, it's virtually unlimited — as long as your doctor can prove medical necessity, that is. Instead of a capped spending amount, there is now a spending threshold. If you surpass that threshold, Medicare will watch you closely to ensure you and your doctor are not committing fraud.
That spending threshold is $2,150. Once you reach that spending limit, you can keep getting physical therapy if your doctor insists it's medically necessary.
But it will be coded differently by your healthcare provider. And your physical therapy claims are more likely to get rejected once these new codes pop up in the computer system. So be wary of that, stay on top of your paperwork, and be prepared to dispute any denied claims if they happen.
Medicare Part C and physical therapy
Medicare Advantage is legally required to give you the exact same benefits as Original Medicare. The good news is that most Medicare Advantage plans offer even more than that. Your plan might charge lower coinsurance costs and/or copays. You might even be able to get physical therapy for free (depending on your plan).
For better or worse, though, your plan can implement appointment caps and spending limits if they wish. And your Medicare Advantage medical network might not include the doctors or facilities that can give you the best care.
But medical networks and physical therapy limits can help you spend less money on your care. So there is a bit of give-and-take you have to accept with Medicare Advantage and physical therapy.
Medicare Supplement plans and physical therapy
Medicare supplement insurance (Medigap plans) will cover most of your out-of-pocket costs for physical therapy. But which plan is the best? That depends on your budget and your needs. The best Medicare plan for physical therapy provides the following benefits:
Your Part A coinsurance
Part A deductible
Your Part B coinsurance
Part B deductible
Since all ten plans cover these expenses to some degree, you are free to choose the plan that suits you best based on other factors. For many beneficiaries, the most important thing is an affordable monthly premium. And we can show you how to find it (but more on that later).
FAQs
How many physical therapy sessions will Medicare pay for?
As long as the sessions are medically necessary, Medicare will pay for an unlimited amount.
Will Medicare pay for physical therapy at home?
Part B of Medicare will pay for physical therapy at home. However, it might only approve certain providers, so checking into this before scheduling your at-home services is essential.
Does Medicare cover exercise therapy?
Medicare will cover certain types of exercise therapy. However, your doctor or health care provider must deem it medically necessary.
What's the difference between physical therapy and physiotherapy?
None, really. They're essentially two different words that mean the same thing.
What types of physical therapy does Medicare cover?
Medicare covers medically necessary physical therapy administered by a Medicare-approved doctor or facility, including:
CORF therapy
Aquatic therapy
Back pain therapy
And more
Can beneficiaries get transportation to/from physical therapy paid for by Medicare?
Some Medicare Advantage plans will offer to help with transportation costs. They may even permit you to use convenient options like Lyft or Uber.
But if you have Original Medicare, and your doctor can prove you're homebound, you may have some wiggle room to negotiate. You could be eligible for transportation compensation or at-home treatment.
Does the 8-minute rule apply to physical therapy?
The 8-minute rule applies to physical therapy if a beneficiary is on Original Medicare or a Medicare Supplement. Medicare Advantage plans aren't subject to the 8-minute rule.
How to get help with Medicare coverage for physical therapy
Original Medicare will help with physical therapy costs, but you're still responsible for your portion of the out-of-pocket costs. That is where a Medicare Supplement plan can really be a boost to your coverage. A Medigap plan comes with a monthly premium but will protect you from unexpected costs that could pop up.
Our licensed insurance agents guarantee you'll get the exact help you want in picking the right plan. Their wealth of knowledge means they can answer any questions you have about anything Medicare-related.
Their assistance is free of charge, so give them a call today. Or fill out our simple online rate form in minutes to get connected with the best rates in your area.
Related Content