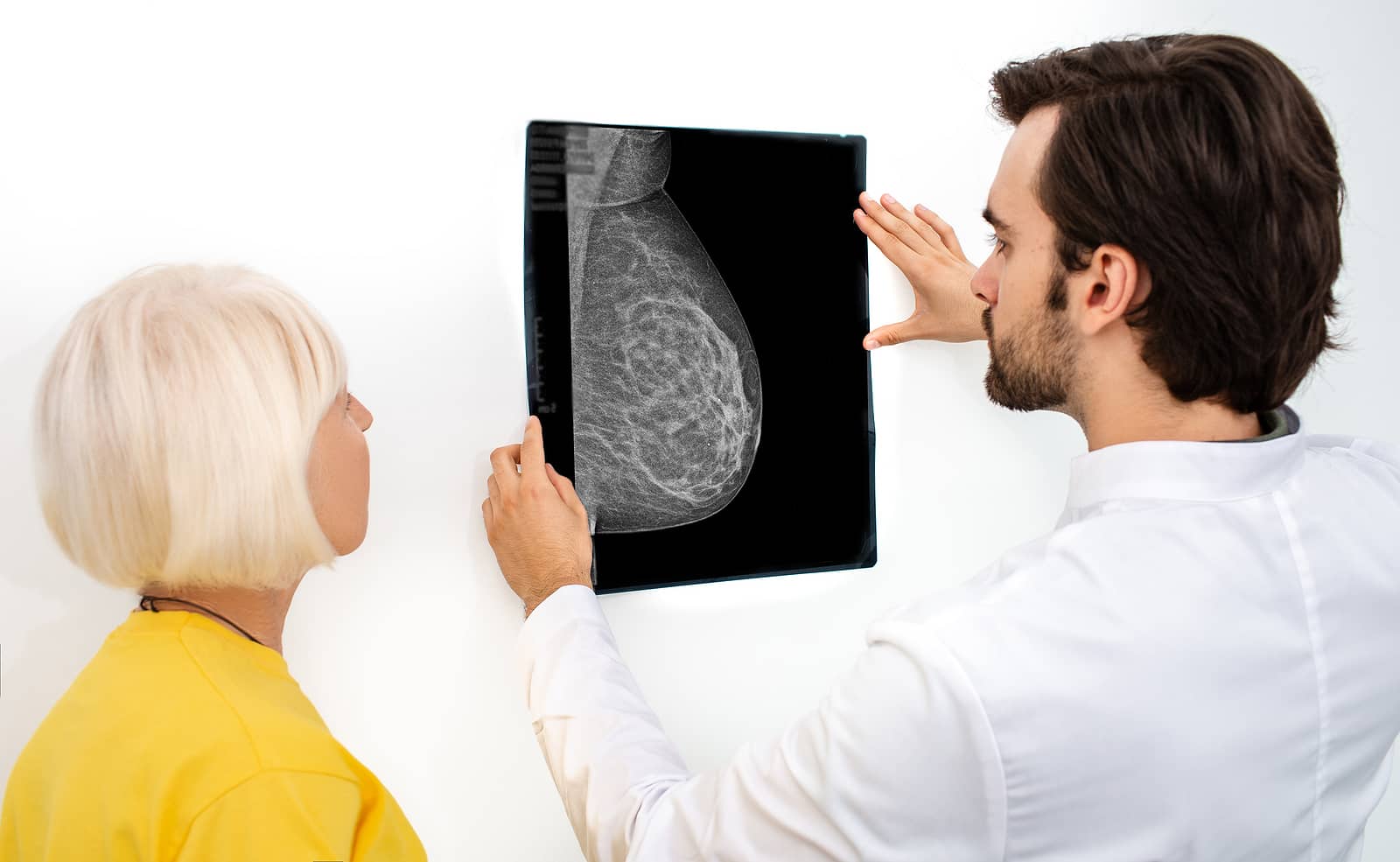 A mammogram is an x-ray test that can detect abnormalities in breast tissue. These tests detect breast cancer, regardless of size. This screening test should occur even if you have no symptoms.
But why is it so important? The answer is that nine out of 10 breast cancer cases can is cured with early detection, and acting as soon as possible is essential.
The US Preventive Services Task Force found that women aged 60 to 69 who had regular mammograms had a 33% lower risk of dying from breast cancer. Read more to find out how Medicare covers this benefit.
What Can a Mammogram Detect?
While the most common use of a mammogram is early detection of breast cancer, they can also find other breast-related issues such as:
Cysts — A cyst is a fluid-filled sac. The breast absorbs fluid as part of the usual cycle of hormonal breast changes.
Fibroadenomas — A fibroadenoma is a smooth, firm breast lump of fibrous and glandular tissue.
Radial scar — A Radial scar is an abnormality in the breast tissue shaped like a star.
Microcalcifications — Spots of calcium salts that show white dots on a mammogram.
Ductal carcinoma in situ (DCIS) — With DCIS, the cells lining the milk ducts have become cancerous, putting you at high risk of invasive breast cancer.
Atypical ductal hyperplasia (ADH) — The cells lining the milk ducts are growing oddly.
What type of mammogram does Medicare pay for?
Medicare Part B covers both analog and digital mammogram coverage every 12 months. In some cases, Medicare can cover them at a higher frequency if you're considered high risk or your doctor deems it medically necessary.
Some items that can be considered high-risk factors are:
Family history of breast cancer
Personal history of breast cancer
Suppose you need to have a mammogram as a diagnostic test if you've already paid your annual Medicare Part B deductible. Medicare will pay 80% of the Medicare-approved amount, and you can expect to pay the remaining 20% and up to a 15% excess charge.
Additional insurance options can assist with the costs associated with diagnostic mammograms and if you need treatment for cancer or other conditions discovered with a mammogram.
Medicare Advantage Coverage for Mammograms
Medicare Advantage plans are another name for Medicare Part C. These plans roll your Medicare Part A, Part B, and in many cases, Part D coverage into one program. These plans must cover the same benefits as Original Medicare health insurance and can have additional benefits.
Medicare Advantage plans will follow the same preventative screening schedule as Original Medicare. Preventive mammograms will be at no cost. If the mammogram is considered diagnostic, you'll be required to pay the price outlined by the terms of your plan. Typically it'll be a fixed, affordable copay.
Medicare Supplement Coverage for Mammograms
Medicare Supplement plans are gap coverage for a portion or all of your Medicare out-of-pocket costs. These Medigap insurance plans are the same no matter which company you enroll with. There are several plans to choose from, and your plan letter will determine your coverage level.
Medicare Supplement insurance will travel with you and cover you at any health care provider nationwide that accepts Medicare. In addition, you won't need a referral to see a specialist.
How often do you get mammograms on Medicare?
Medicare offers 2D and 3D mammograms to female beneficiaries as a preventive health measure for the early detection of breast cancer every 12 months. The tomosynthesis or 3D mammograms are superior to their 2D counterparts.
How are mammogram tests administered?
A mammogram typically lasts 10 to 15 minutes and is performed in a radiology office or as an outpatient in a hospital radiology department. Mammography uses a mammogram machine, which uses low-dose x-rays to produce high-resolution images of breast structures.
Mammography can be analog, producing images printed on silver film or digital, allowing computer processing of the resulting images. Today, mammography is a digital technology, and mammograms exist to detect possible breast cancer.
This screening requires your consent before its administered; you are free to accept or refuse it. Now that we understand how a mammogram works, we'll discuss Medicare and its relationship to mammography.
Mammograms use a machine designed to view breast tissue, and it takes x-rays at lower doses than the x-rays used to examine other body parts, such as the lungs or bones. The mammography camera has two plates that compress or flatten the breast to spread the tissue apart. This spreading of the tissue provides better quality images and uses less radiation.
Diagnostic Mammogram versus Preventative Mammogram Screening
There are essential differences between types of mammograms.
Screening mammograms are annual preventive exams, and doctors may order a diagnostic mammogram if there are signs of breast cancer symptoms.
A diagnostic mammogram is more detailed than a screening mammogram.
Screening mammograms take only 10 to 20 minutes, while diagnostic mammograms may take longer.
FAQs
Does Medicare pay for mammograms after the age of 65?
Medicare covers mammograms for women starting at age 40. Annual screening mammograms 100% coverage. Medicare pays 80% of the cost of a diagnostic mammogram.
As we age, mammograms remain an important cancer detection tool. 25% of breast cancer diagnoses occur in women between the ages of 65 and 74.
Does Medicare pay for mammograms after age 75?
Part B continues to cover screening and diagnostic mammograms for women over age 70, and Medicare pays the total cost of annual screenings plus 80% of the cost of diagnostic mammograms.
The American Cancer Society recommends that women over 70 receive breast cancer screenings. About 14% of breast cancers in women occur between the ages of 75 and 84.
At what age does Medicare stop paying for Mammograms?
Medicare doesn't stop paying for diagnostic or screening mammograms as you age. As women age, they should speak to their doctor to see if mammograms are necessary as they age and the associated benefits.
Is Medicare eligible for a free mammogram?
Yes, anyone that is on Medicare can receive screening mammography services. Medicare covers preventive mammograms at no cost at specific intervals. All diagnostic tests will have a charge associated.
Are mammograms covered 100% by Medicare?
Traditional Medicare and Medicare Advantage cover 100% of preventive screening mammograms. They also cover diagnostic mammograms, but a person may have to pay applicable deductibles, coinsurance, and co-payments. If you have Medicare Supplement insurance, you may have little to no cost for diagnostic mammograms.
Help with Medicare Coverage for Mammograms
Preventive care is crucial when as you age. Knowing the right coverage for you can be confusing due to all the plan options available. Whether you need help with Medicare Supplemental health care, Medicare Advantage plans, or Medicare Part B, we're here to help.
We can help guide and educate you through the process. Our licensed insurance agents will ensure coverage for your healthcare providers, prescriptions, and other needs. We're only one call away.
We look forward to assisting you and making the enrollment process as simple as possible. No matter which supplemental Medicare option you need help with, simply fill out our online request form or call us. We're here to help and guide you every step of the way.