United World Life Insurance Company is part of the Mutual Of Omaha family. It's one of the most recognizable and trusted names in the Medicare Supplement market.
They're a mutual company that helped pilot the Medigap program and have been operating in the insurance markets since 1909.
Their subsidies include Omaha Insurance Company, United of Omaha Life Insurance Company, Omaha Supplemental Life Insurance Company, and United World Insurance Company.
United World Life Medicare Plans
Medicare has great benefits and good base coverage, but some significant holes exist. For example, coverage for routine vision care such as eye exams, dental insurance, and hearing health isn't covered.
This is because Medicare doesn't consider it medically necessary. In addition, when you use your Original Medicare coverage, you have costs you must pay. These out-of-pocket costs include your Medicare Part A and Part B deductibles, copayments, coinsurance, and Part B excess charges.
Many Medicare beneficiaries will enroll in a supplemental Medicare health insurance plan to protect themselves from these unpredictable costs. These include Medicare Supplement insurance policies and Medicare Advantage plans.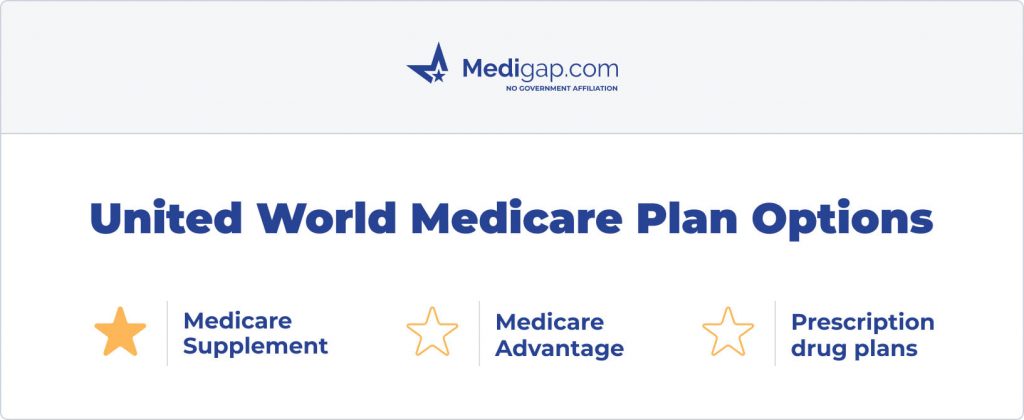 United World Life Medicare Supplement plans
Mutual of Omaha Medicare Supplement plans are offered throughout the continental United States. It could be through one of their other subsidiaries, depending on the state.
They offer most Medicare Supplement plan options. The exceptions are that Plan K and Plan L. Mutual Of Omaha provide a 12% household discount in most states on their Medigap policies.
The best time to enroll in a Medigap plan is during your Open Enrollment period (OEP). This is when you first become eligible for Medicare. Suppose you aren't in your OEP or a guaranteed issue situation.
In that case, you'll be required to pass underwriting to be approved for a Mutual Of Omaha Medigap plan.
United World Life Medicare Advantage plans
Medicare Advantage plans represent Part C of Medicare. These plans will combine your Medicare Part A and Medicare Part B into one convenient plan. These Medicare Advantage plans usually include a prescription drug plan and additional benefits that aren't included with Original Medicare.
Mutual of Omaha doesn't offer Medicare Advantage health care plans.
United World Life Medicare Part D
Medicare beneficiaries' prescription drug coverage can be a great source of stress. You can receive a Medicare prescription drug plan through either a Medicare Advantage plan or a Part D coverage.
Since neither Original Medicare nor Medicare Supplement insurance policies include drug coverage, many beneficiaries add a Part D plan to cover this need. Mutual of Omaha offers Prescription drug plans nationwide.
United World Medicare pros and cons
Pros
Helped pilot the Medicare Supplement program
Household discounts
Great monthly rates
Mild rate increases
Cons
Financial strength ratings
Mutual Of Omaha and its subsidiaries, like United World, have the highest financial rating. AM Best provides a rating of A+ "Excellent."
Reviews
Mutual Of Omaha has been offering quality insurance products since 1909. Since they're a mutual company, they don't have to answer to wall street; but instead, their policyholders are the stakeholders. This helps them to invest profits back into the company to keep rates low.
They have the best AM rating available and one of the most straightforward signature processes in the market. Enrolling in a Mutual of Omaha Medigap health insurance plan will allow you to add their Mutually Well wellness membership.
FAQs
Does Mutual of Omaha sell Medicare Supplement plans?
Mutual Of Omaha is one of the leading Medicare Supplement companies in the nation. They provide access to the following plans.
Not all Medicare Supplement insurance plans are available in all states. To see all your Medigap options work with a licensed insurance broker.
What kind of insurance is United World Life?
United World Life is a subsidiary of Mutual of Omaha that offers Medicare Supplement, life, and accident insurance policies. United World health insurance offerings are centered on Medigap policies.
How much does United World Plan G cost?
Many factors can affect the premium of a Medigap plan. Some of these include where you live, your age, and if you're a tobacco user. You can expect a Mutual Of Omaha Plan G to have a monthly premium of between $90 and $200.
What is the highest-rated Medicare Supplement company?
The highest AM best rating available is A+. Mutual of Omaha and its subsidies, like United World Life Insurance Company, Omaha Insurance Company, and United of Omaha, have an A+ "Excellent" rating.
Is United World Life the same as Mutual of Omaha?
United World Life Insurance Company is a subsidiary of Mutual Of Omaha.
What are the benefits of Medicare Supplement Plan G?
Plan G covers all your cost-share left from Original Medicare except the Medicare Part B deductible. Mutual Of Omaha Plan G will also cover costs associated with skilled nursing facilities, foreign travel emergencies, outpatient procedures, and inpatient hospital stays.
Plan G does have a high deductible option. The High-Deductible Plan G has a lower premium but requires you to pay a higher plan deductible before the plan starts to pay.
How to enroll in a United World Life Medicare plan
Enrolling in a plan is straightforward. The complicated part is ensuring you choose the right plan for you. Everyone has different needs, so you must consider your situation. Our licensed insurance agents can help make the process simple.
Please fill out our online request form or call us at the number above. We'll help educate you on your options and narrow the choices to only plans that fit your needs.