Accendo exploded into the Medicare Supplement world a few years ago. They are a subsidiary of Aetna and part of the CVS Health family of companies, and they were one of the first products of the CVS/Aetna merger. They first appeared with Medicare products in March 2020, headquartered in Salt Lake City, Utah.
Accendo Medicare plans
Supplemental Medicare plans are one of your most significant decisions regarding your Medicare coverage. These plans help assist with the costs associated with your Medicare coverage.
You can take a couple of paths to receive your Medicare benefits, and there is no right or wrong answer. Since everyone's health insurance needs differ, your direction may be unlike that of your neighbor or friends.
You could stay with Original Medicare and add a Medicare Part D prescription drug plan and a Medicare Supplement. Consequently, you could enroll in Medicare Part C. These Medicare Advantage plans combine your Medicare benefits into a simple-to-use plan.
This article will review the Accendo Medicare Supplement plan options and show how Medicare Advantage plans operate. Then, we'll discuss Medicare Part D and Accendo's financial strength ratings. After that, we'll wrap up with some commonly asked questions and how to get help with Accendo supplemental Medicare plans.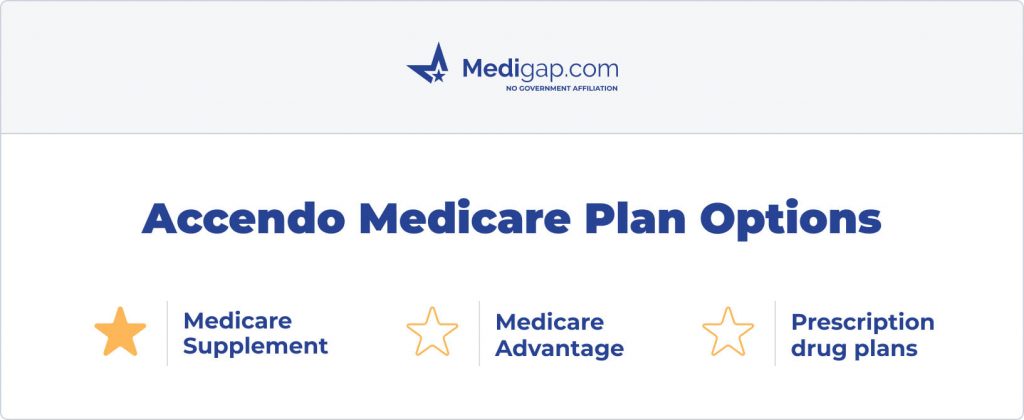 Accendo affiliated companies
Accendo Medicare Supplement plans
Many Medicare beneficiaries like the prospect of "set it and forget about it. "This is truly how a Medicare Supplement policy can work for you.
With these plans, you have a monthly premium, and then your plan pays all or most of your costs for using your Medicare Part A and Medicare Part B benefits and services. These plans are secondary to Medicare and are referred to as Medigap plans.
Since they're secondary to Medicare, you keep all the same freedoms you enjoy with Original Medicare. Some examples are nationwide coverage at any healthcare provider that accepts Medicare and no need to hassle with referrals. These plans fill the gaps left for you to pay.
You get to select from 10 Medigap plan letters. Accendo Medigap offers 5 of the ten available Medicare Supplement insurance plans. The top three Medicare Supplement plans are Plan F, Plan G, and Plan N.
Accendo Medicare Supplement Plan G is quickly become a favorite for new Medicare beneficiaries. it provides the highest level of coverage for they can buy and a resonable price.
Not all plans are available in every area, and the price and options you have available to choose from can vary from place to place.
Even though all plans are available in all areas, the coverage will be identical no matter where you live or which insurance company you choose to enroll in.
Accendo Medicare Advantage plans
Path number two is enrolling in a Medicare Advantage plan. These plans are the same thing as Part C of Medicare. These plans will contain all the benefits included under Original Medicare, with a different cost structure.
In addition, to covering the same benefits as Medicare Part A and Medicare Part B, these plans will typically include Medicare prescription drug coverage.
Medicare Advantage plans must also include a maximum out-of-pocket to limit your costs for the year. This feature isn't featured under Original Medicare and protects beneficiaries from potentially catastrophic costs.
These plans are attractive options for Medicare Beneficiaries because they have little to no premium in many areas and give additional features that Original Medicare doesn't cover.
Depending on where you live, Medicare Advantage plans will vary in cost, coverage, and additional benefits. Accendo doesn't provide access to Medicare Advantage plans. However, Aetna does offer Medicare Advantage plans.
Accendo Medicare prescription drug plans
Medicare coverage for prescription drugs filled at the pharmacy is part of Medicare Part D. Coupled with Original Medicare and Medicare Supplements, and these standalone programs give you complete coverage.
Medicare Part C and Medicare Part D plans are regulated by CMS and administered by private health insurance companies. They set their own rules and parameters regarding plan benefits. Accendo doesn't offer Medicare Part D plans, but you can get them through Aetna's SilverScript brand.
Accendo Medicare pros and cons
Pros
Backed by Aetna
Large household discounts in most states
Low monthly premiums
Low rate increase
Instant underwriting decisions, in most cases
Cons
Strict underwriting
New to Medicare Supplements
Not available in all states
Accendo Insurance Financial strength ratings
A company's financial strength rating is what we use to understand how well a company will perform. Regarding financial strength, AM Best is one the most well-known entities that rate insurance companies.
AM Best rates Accendo with a rating of "A-Excellent." The rating helps to gauge how a company will do in a few areas of its business offerings. The most noticeable impacted items are competitive rates, claims processing, and rate increases.
| | |
| --- | --- |
| A.M. Best Rating | A- |
| Standard & Poor's Rating | n/a |
| Moody's Rating | n/a |
Accendo Medicare Supplement reviews
Accendo Life Insurance Company provides excellent Medicare Supplement coverage with competitive premiums. They have a solid financial rating, and being part of Aetna and CVS gives them unparalleled strength.
Aetna has been a provider of Medicare insurance for over 50 years. Accendo provides a 12-month rate lock and some of the highest household discounts in the industry.
FAQs
What's the average cost for an Accendo Medicare Supplement Plan G?
Accendo Medigap Plan G's pricing will vary based on age, location, tobacco use, and other factors. You can expect to pay between $90 and $160 for Accendo Medicare Supplement Plan G
Is Accendo Insurance Company part of Aetna?
Accendo is an affiliate of Aetna. Both are part of CVS Health.
Does Accendo cover dental?
Accendo doesn't offer a dental plan, but Aetna's affiliate Continental Life Insurance has dental options for Medicare beneficiaries.
Does Accendo provide Medicare Advantage plans?
No. Accendo doesn't offer Medicare Advantage plans. However, their parent company Aetna does.
What is the difference between Medicare Supplement and Medicare Advantage?
Medicare Advantage plans are part C of Medicare. These plans take over your Original Medicare and include all your benefits in one plan. Medicare Supplement plans help fill in the cost gaps in Original Medicare.
Is Accendo Insurance a good company to use?
Accendo is a good Medicare Supplement company. They are a highly rated Aetna affiliate and backed by CVS Health. They have some of the most competitive rates in the Medicare Supplement market.
How to enroll in an Accendo Medicare plan
Enrolling in an Accendo Medigap plan is a great choice. We can help educate you on your Medicare options and ensure your chosen insurance will meet all your needs. Our licensed insurance agents can educate and assist you in every aspect of the process.
Fill out our online request form or give us a call. We're standing by to help make this enrollment process simple and efficient.