Life in Clarksville can go from calm to exciting in the blink of an eye. That's probably why so many retirement-aged people love it there! Unfortunately, if you're reliant on Original Medicare to meet your health insurance needs, that excitement might not always be the kind that you were looking for.
Original Medicare comes with thresholds known as coverage gaps between your ordinary everyday benefits and things like extended hospital stays or Part B coinsurance. While you're in one of those coverage gaps, you'll experience a sharp decline in effective benefits, causing you to have to either forgo treatment or pay excessive amounts of money in out-of-pocket expenses.
Fortunately, there are ways out of the no man's land of Medicare coverage gaps. Those ways include Medicare Advantage and Medicare Supplement (Medigap) insurance plans.
Medicare in Clarksville, Tennessee: Facts and Figures
There are 12,543 seniors living in Clarksville right now.
There are 2 hospitals in the Clarksville area where seniors can get emergency and/or in-patient care.
36% of Tennessee seniors have a Medicare Advantage plan.
16% of Tennessee seniors have a Medicare Supplement (Medigap) plan.
Which leaves 48% of seniors potentially uninsured or underinsured against costly Medicare coverage gaps!
Just under half of all seniors in Clarksville don't have proper access to reliable and affordable healthcare. As the population ages, that is bound to become even more of a severe problem than it already is. Age-related illnesses are a phenomenon that healthcare professionals have been studying for decades in order to improve available treatment options and develop new ones.
The research shows that your risk of developing an age-related illness – even if you already have a different one – increases with age, hence the word "age-related." The frequency and severity of the symptoms of those illnesses also increase with age, further increasing your need for treatment. The chart below showcases a few of the most common age-related illnesses with data on how prevalent they are in the Clarksville community.
| | |
| --- | --- |
| Disease | Prevalence in Clarksville, TN |
| Arthritis | 25% |
| High Blood Pressure | 32% |
| Coronary Heart Disease | 5% |
| Diabetes | 10% |
| Kidney Disease | 3% |
Healthcare Costs in Clarksville, TN
As your need for treatment increases, so too will the amount of money that you have to spend to receive those treatments. After all, healthcare costs money. In fact, healthcare is costing more and more money with each passing year.
Thanks to a variety of factors, economists have noticed that general medical costs are increasing every year, leading to burdensome expenses for uninsured or underinsured seniors. Seeing as how medical costs are already on the rise and an age-related illness increases your need for medical treatment, you can safely assume that going uninsured or underinsured is a financially dangerous idea.
Even if you rely on Original Medicare for your insurance, you might not be fully insured against the threat of rising healthcare costs in Clarksville. Since seniors are now living longer lives than ever before, those rising healthcare costs have much more time to stack up.
| | | |
| --- | --- | --- |
| Disease | Prevalence in Clarksville, TN | Annual Cost of Treatment |
| Arthritis | 25% | $280 |
| High Blood Pressure | 32% | $288 |
| Coronary Heart Disease | 5% | $7,209 |
| Diabetes | 10% | $2,158 |
| Kidney Disease | 3% | $6,449 |
Medicare Advantage Savings in Clarksville, TN
More than 4,500 seniors in Clarksville have already made the move from Original Medicare to Medicare Advantage in order to get away from costly Medicare coverage gaps. It's important to note that Medicare Advantage plans completely replace your existing Medicare plan; however, that doesn't mean that you will lose benefits.
It simply means that the entity providing those benefits will shift from the government to a private provider. The government requires that all providers of Medicare Advantage plans provide the same baseline level of coverage options as Original Medicare.
Moreover, many private providers of Medicare Advantage offer additional coverage options in exchange for higher premiums in order to keep up with consumer demand. Since the government pays most or all of your Medicare Advantage premiums, it's possible to enjoy all of those additional coverage options without ever paying so much as one penny.
If you rely heavily on a large number of prescription medications or pieces of minor medical equipment, a Medicare Advantage plan might suit you better than a Medicare Supplement plan for one simple reason: Medicare Advantage plans can provide comprehensive prescription drug coverage as well as minor medical equipment coverage.
That can include everything from the whole list of your prescriptions to any glucose monitors or testing strips that you may need, though the exact list of covered options varies from provider to provider. If you're suffering from arthritis, high blood pressure, and/or diabetes, then the savings could be in the tens of thousands over a ten-year period.
Another common option for additional coverage benefits is the inclusion of vision and dental care coverage into your Medicare Advantage plan. That means teeth cleanings, elective dental surgery, and a wide array of other vision expenses come well within your price range, a benefit that neither Original Medicare nor Medicare Supplement insurance are capable of providing.
In fact, Original Medicare covers almost nothing when it comes to either vision or dental care. The same goes for Medicare Supplement insurance for reasons that will be discussed below.
Medicare Supplement (Medigap) Savings in Clarksville, TN
Medicare Supplement insurance is more frequently referred to as Medigap. Medigap plans differ from Medicare Advantage plans in that Medigap plans do not replace your existing Medicare coverage.
Rather, they simply supplement it, providing protections against costly Medicare coverage gaps. Each of the ten available plan types provides some form of protection from Medicare Part A coverage gaps and several of the available plans also provide protection from Medicare Part B coverage gaps.
Since Medicare Part A coverage gaps can be extraordinarily high for seniors suffering from chronic health conditions the likes of age-related kidney or heart disease, these plans tend to be quite popular.
Medicare Supplement plans of types A, D, K, and L all make it possible for those seniors to enjoy quality access to affordable healthcare. Since all four of these plans provide benefits to help cover the coverage gaps associated with Medicare Part A, they can help seniors suffering from age-related heart or kidney disease save quite a bit of money.
Part of the reason why is that Medicare Part A controls treatments associated with hospitalizations, which can be quite common among seniors with these illnesses. If you find that you're paying a large amount of money to the Medicare Part B coverage gaps as well, however, you most likely wouldn't gain as much benefit from either of these plans.
In order to secure protection from coverage gaps related to both Medicare Part A as well as Medicare Part B, you're going to want to look into the remaining Medigap plan types: B, C, F, G, M, and N.
Each of these plans make it possible to avoid the costly coverage gaps of just about everything from emergency services to skilled nursing care, making it possible to go from the ambulance to the hospital and back home again all without worrying about the Medicare coverage gaps.
Unfortunately, Medicare Supplement insurance plan type F will not be available beginning in 2021. In order to ensure that you have access to the level of health insurance that you want, you're going to have to look into one of the other plans, or hurry up and get enrolled in Medigap Plan F before it is discontinued.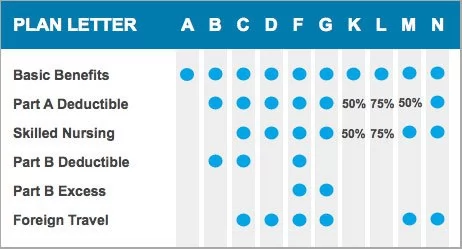 Securing prescription drug coverage and dental and vision care coverage while on Medigap might seem like a daunting challenge, but it's more so a walk in the park. The majority of seniors find that enrolling in Medicare Part D prescription drug coverage provides more than what they need and sets them up with enough medication to get them through the day.
However, if you rely more heavily on large amounts of prescription medications, you'll probably find better luck enrolling in a Medicare Advantage plan with prescription drug coverage. To secure dental and vision care while on a Medicare Supplement plan, all you have to do is call a local provider and ask to enroll in a private plan.
That can typically be done regardless of the time of year and can cost less than $100 each month. Of course, that all depends on the specifics of the provider with whom you choose to enroll.
Living your best life takes work, but it doesn't have to. By enrolling in an insurance plan that's all but guaranteed to help you save thousands of dollars each year by avoiding Medicare coverage gaps, you can take back control of your future and secure your finances against any unwanted turns for the worse that your health might take without sacrificing on your access to healthcare.
Of course, you don't have forever. With medical costs on the rise and your risk of developing or worsening symptoms of age-related illnesses, there is no telling when poor health might strike. So don't wait! Log into Medigap.com and start on the path to your perfect health. Your future self will thank you.
| | | | |
| --- | --- | --- | --- |
| Medigap Plan | Minimum Monthly Premium | Maximum Monthly Premium | Average Estimated Monthly Premium (Part B Premium Included) |
| Plan A | $68 | $172 | $256 |
| Plan B | $91 | $214 | $288 |
| Plan C | $104 | $272 | $324 |
| Plan D | $95 | $263 | $315 |
| Plan F | $103 | $246 | $310 |
| Plan F (high deductible) | $29 | $92 | $196 |
| Plan G | $87 | $215 | $287 |
| Plan K | $44 | $114 | $215 |
| Plan L | $82 | $160 | $257 |
| Plan M | $86 | $152 | $255 |
| Plan N | $73 | $371 | $358 |