Medicare coverage gaps in Broken Arrow, Oklahoma, are just as bad as they are elsewhere in the United States. These coverage gaps are the result of seniors requiring specific kinds of medical care that Medicare refuses to pay for. The outcome is that you could end up paying thousands of dollars in out-of-pocket expenses as a result of the coverage gaps every year. Fortunately, there are two ways out of that situation. Either you could enroll in a Medicare Advantage plan or you could enroll in a Medicare Supplement Insurance plan.
Facts and Figures
There are 14,410 seniors living in Broken Arrow right now.
There are 4 hospitals in the Broken Arrow area where seniors can get emergency and/or in-patient care.
18% of Oklahoma seniors have a Medicare Advantage plan.
24% of Oklahoma seniors have a Medicare Supplement (Medigap) plan.
Which leaves 58% of seniors potentially uninsured or underinsured against costly Medicare coverage gaps!
More than half of all seniors in the Broken Arrow area do not have the proper insurance necessary to ensure reliable access to the affordable healthcare that they both need and deserve. If you're one of the estimated 8,357 seniors to whom this applies, then there is some more bad news coming. As you age, you become at an increased risk of developing new or worsening symptoms of various age-related illnesses. Since it is possible to develop more than one age-related illness and more than one symptom of each, you could eventually collect a host of illnesses and a wide list of severe and debilitating symptoms. The chart below serves to highlight exactly how common a few of the worst age-related illnesses are in the Broken Arrow area. For example, there are an estimated 3,602 seniors who have severe osteoarthritis in the Broken Arrow area.
| | |
| --- | --- |
| Disease | Prevalence in Broken Arrow, OK |
| Arthritis | 25% |
| High Blood Pressure | 32% |
| Coronary Heart Disease | 6% |
| Diabetes | 9% |
| Kidney Disease | 3% |
Healthcare Costs in Broken Arrow, OK
As you age and your health deteriorates, leaving you with more age-related illnesses and worse symptoms, you can reasonably expect your exposure Medicare coverage gaps to increase. That's because the more you spend on healthcare the more you risk falling into the threshold between your effective benefits and your catastrophic care benefits. While in that threshold, you can end up paying thousands of dollars in out-of-pocket expenses every year, depending on the nature of your illness (see the chart below for more details). Even if, through a regimen of treatment and medication, you manage to prevent your symptoms from becoming worse or growing in number, your healthcare costs will likely still increase. That's because medical costs across the country are on the rise, whether your symptoms worsen or not. Since seniors are living longer lives now than ever before, that means that there is more time in your life for each of these factors to result in significant financial obligations.
| | | |
| --- | --- | --- |
| Disease | Prevalence in Broken Arrow, OK | Annual Cost of Treatment |
| Arthritis | 25% | $291 |
| High Blood Pressure | 32% | $354 |
| Coronary Heart Disease | 6% | $8,967 |
| Diabetes | 9% | $2,163 |
| Kidney Disease | 3% | $7,976 |
Medicare Advantage Savings in Broken Arrow, OK
Only 18% of seniors in Broken Arrow have switched over to a Medicare Advantage plan as of the writing of this article. That means that only a small percentage of Broken Arrow's seniors have direct access to a wide variety of healthcare options. Since Medicare Advantage entirely replaces Original Medicare, many seniors wrongly believe that the swap would result in decreased coverage options. In reality, the law requires that all Medicare Advantage plans provide the same minimum coverage options as those found in Original Medicare. On top of that, many providers of Medicare Advantage plans will go on to offer optional additional coverage options that can be just as specific and comprehensive as you like, in exchange for paying higher premiums. That being said, the government tends to cover all or most of your premiums, meaning that you could add on as many additional coverage options as you like and pass most of that bill along to the government.
One of the most widely enjoyed of those additional coverage options is Medicare Advantage prescription drug coverage. These plans vary in their specifics from one provider to the next, but the general rule of thumb is that they are comprehensive enough to cover any and all of your prescription medication needs. In fact, they can even be expanded to provide coverage for minor medical equipment such as glucose monitors and testing strips. If you've been diagnosed with arthritis, high blood pressure, and/or diabetes, you could potentially save thousands or even tens of thousands of dollars over a five- or ten-year period.
Yet another way to save money with a Medicare Advantage plan is by adding vision and dental coverage directly to your plan. This is an option that is entirely unique to Medicare Advantage plans, which is to say that neither Medicare Supplement nor Original Medicare can do the same. In fact, neither of those two other plans are capable of providing even a fraction of the vision and dental care coverage options as Medicare Advantage. Instead, seniors on those plans have to rely on other means to obtain their vision and dental treatments.
Medicare Supplement (Medigap) Savings in Broken Arrow, OK
Unlike Medicare Advantage, these plans do not replace your Original Medicare coverage plan. Instead, they supplement it, acting like icing on a cake. There are ten Medigap plan types in total and each one provides a different set of benefits. That being said, there are a good number of commonalities between the plans. For example, each of the ten plans provides coverage for Medicare Part A coverage gaps, which would otherwise risk becoming financially ruinous for seniors suffering from age-related heart and/or kidney disease. Each of these plans can further be broken down into one of two categories.
The first batch of Medicare Supplement plans includes those plans that only provide coverage related to the coverage gaps of Medicare Part A. This batch includes Medigap plan types A, D, K, and L. While these plans can be particularly helpful if you only have been paying out-of-pocket costs associated with Medicare Part A coverage gaps, they won't do you much good if you are also or are only paying costs associated with Medicare Part B coverage gaps. However, if all you need is help bridging the coverage gaps of treatments such as hospitalizations, blood transfusions, and skilled nursing care, then one of these plans might be perfect for you.
The second category of Medigap plan types includes those plans that provide coverage related to the coverage gaps of both Medicare Part A as well as Medicare Part B. This batch includes the remaining Medigap plan types: B, C, F, G, M, and N. These plans tend to be of the greatest importance to seniors who find themselves paying high out-of-pocket costs associated with both Part A and Part B coverage gaps. Although many seniors prefer Medigap Plan F, those plans are set to be discontinued come 2020. If you will be a new Medicare enrollee in 2021 and want similar benefits, you will have to speak to an expert to see which plan most closely resembles your needs. Many seniors find that Medigap Plan C does the trick for them.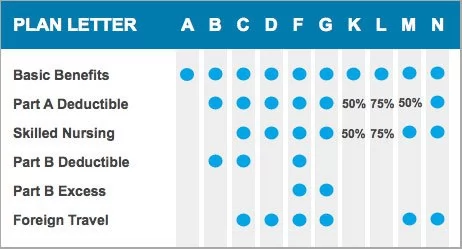 As mentioned earlier in this article, there is no way to add vision and dental care coverage directly to your Medigap plan. But don't fret! There are plenty of ways to get those options covered and the same goes for prescription medications. For vision and dental care coverage, the process is as simple as contacting a local insurance provider and asking to enroll in the plan you prefer. This can be done at any time of the year since there is no Open Enrollment Period for vision or dental insurance plans. For prescription drug coverage, you can simply enroll in Medicare Part D prescription drug coverage. This plan tends to cover just about everything for most seniors, although there is still the risk of falling into the "donut hole," which is another coverage gap, if you rely on a large number of medications.
As your health worsens and your symptoms grow in severity, the amount of money that you're losing to Medicare coverage gaps each year is only going to increase. That's why it is more important than ever for you to be proactive with your healthcare. That means going to Medigap.com today and getting started on your path to security in your finances, your healthcare, and your independence. Don't wait a second longer.
| | | | |
| --- | --- | --- | --- |
| Medigap Plan | Minimum Monthly Premium | Maximum Monthly Premium | Average Estimated Monthly Premium (Part B Premium Included) |
| Plan A | $70 | $214 | $278 |
| Plan B | $86 | $230 | $294 |
| Plan C | $104 | $261 | $318 |
| Plan D | $99 | $195 | $283 |
| Plan F | $101 | $218 | $295 |
| Plan F (high deductible) | $23 | $80 | $187 |
| Plan G | $72 | $192 | $268 |
| Plan K | $45 | $86 | $201 |
| Plan L | $66 | $121 | $229 |
| Plan M | $80 | $168 | $260 |
| Plan N | $71 | $153 | $248 |