Columbus, Ohio is one of the nicest places to live in the US. But the amount of money it costs to get good quality healthcare in Columbus is less than ideal sometimes. This is especially true for senior citizens. There are ways to protect yourself from these costs if you purchase the right kind of Medicare supplement insurance. But if you don't prepare yourself with the right policy, your golden years could be plagued with unbearable medical expenses.
Facts and Figures
There are 87,468 senior citizens living in Columbus right now
There are 10 hospitals in the Columbus metropolitan area where senior citizens can get emergency or inpatient care
35% of Ohio seniors have a Medicare Advantage plan
19% of Ohioans, on the other hand, have a Medicare Supplement (Medigap) insurance plan
That means 46% of seniors in Ohio might not have adequate financial protection from Original Medicare coverage gaps!
One of the unfortunate realities of getting older is that your body starts to break down. This leads to the rise of chronic conditions in most people. Sometimes these conditions are minor and relatively inexpensive to treat, like arthritis or blood pressure that's a little high. But when you get into more serious diseases like diabetes, that's when your costs start to go up. Below, you can see which chronic conditions are most prevalent among Columbus residents.
| | |
| --- | --- |
| Disease | Prevalence (in Columbus) |
| Arthritis | 23% |
| High Blood Pressure | 32% |
| Coronary Heart Disease | 6% |
| Diabetes | 11% |
| Kidney Disease | 3% |
Health care costs in Columbus, OH
Some of your most expensive healthcare costs as a senior citizen will come to you in the form of hospital bills. When your health starts to decline to the point where you need frequent hospital care, that's where many of the gaps in Original Medicare will start to pop up the most. And these costs are always rising, usually on an annual basis right along with inflation. If you don't prepare for them properly, then you could be in a financial world of hurt later.
| | | |
| --- | --- | --- |
| Disease | Prevalence (in Columbus) | Estimated Costs |
| Arthritis | 23% | $304 |
| High Blood Pressure | 32% | $180 |
| Coronary Heart Disease | 6% | $9,335 |
| Diabetes | 11% | $2,208 |
| Kidney Disease | 3% | $8,471 |
Medicare Advantage Savings in Columbus, OH
One supplemental insurance plan option for Medicare enrollees is Medicare Advantage in Ohio. Instead of being government-run, it is actually a private health insurance plan. But it offers the exact same benefits as Original Medicare, if not more (although additional benefits will cost you extra in most cases). The government gets involved when it pays a large share of your monthly premium to your Medicare Advantage company; sometimes, this share is so large that seniors get their Medicare benefits for as little as $0 per month. But there may still be extra charges like co-pays and other cost-sharing expenses – and those will be your financial responsibility.
Compared to to a Medicare Supplement Insurance plan, there are certain advantages which some seniors may prefer to get from Medicare Advantage. No matter which benefit options you choose, you get to control all of your health benefits under the same plan; most Medicare Supplement policies can't offer this. Your monthly premium may also be lower than what you might end up paying for Medicare supplements, Medicare part A, and/or Medicare Part B premiums, depending on which supplement insurance policy you choose. bBut the choice you make will largely be determined by what your medical needs are, and how much financial protection you need from the gaps in Original Medicare.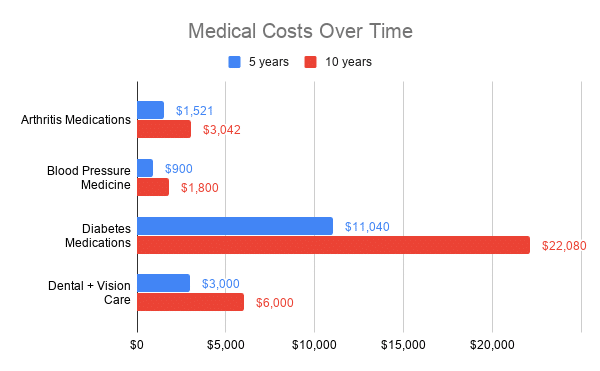 Some of the additional benefits that Medicare Advantage offers include vision and dental. On almost any other Medicare program, you would have to get private coverage separately from a private company for vision and/or dental. You would have to manage those benefits separately from your medical benefits, which can get complicated for some. On the other hand, it's not always guaranteed that the dental and vision coverage you get with a Medicare Advantage plan will be the best options available for the best value in your area. That's why it's so important to shop around.
Medicare Supplement (Medigap) Savings in Columbus, OH
The other major Ohio Medicare Supplement Insurance policy you may be considering is a Medigap policy. Again, this is a private insurance policy – not unlike Medicare Advantage. But Medigap doesn't replace your Medicare benefits the way Medicare Advantage does. Instead, it only adds medical benefits coverage to the gaps in Medicare Parts A and B. You won't have the option to add additional coverage to your plan the way you would with Medicare Advantage. But you will be able to choose which coverage options you want based on the specific plan you pick.
Out of the ten plans – which are standardized across all 50 states – some plans focus on the hospital expenses not covered by Medicare, and other plans focus on both hospital costs and Part B Medicare coverage gaps. The plans which focus on hospital expenses include plans A, D, K, and L. If you need Medicare Supplement Insurance coverage, but you think you have your Part B expenses covered, you can save money by choosing a Medigap plan which only focuses on Part A expenses. The monthly premiums for these policies tend to be lower than their more comprehensive counterparts.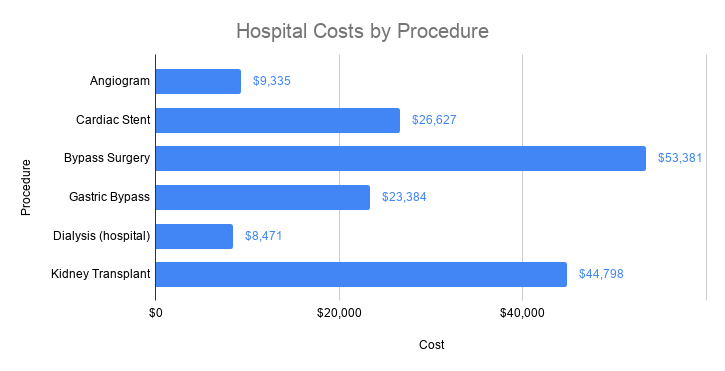 Odds are, however, that you care just as much about uncovered Part B Medicare expenses as you do Part A expenses. In that case, you can take a look at plans B, C, D, F, G, M, or N. All of these plans contain some or all of the Part A hospital expenses that the other four plans do. But they also contain things like travelers insurance, coverage for Part B coinsurance, and more. Obviously, the more coverage you purchase, the more your monthly premium will be. But that comprehensive monthly premium could be a small price to pay to protect yourself from out-of-pocket expenses in the future. Speaking of the future, you should know that Plan F is being phased out – but you can still get grandfathered into this comprehensive plan if you sign up for it before the year 2021.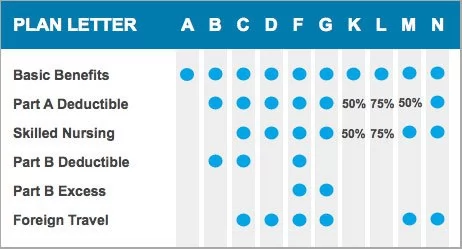 When it comes to things like dental, vision, or even prescription drugs, Medigap plans work a little differently than Medicare Advantage plans. If you want these types of coverage and medical benefits, you will have to purchase them separately or enroll in separate programs. Since you have to be enrolled in Medicare in order to purchase a Medigap policy, you should also be able to enroll in Medicare Part D for prescription drug coverage. Vision and dental must be purchased separately on your own. If you're having trouble paying for them, be sure to look for discounts for seniors from companies near you, or get in touch with an insurance agent for extra help.
Columbus is a wonderful place to live for people of all ages – worrying about your medical costs should be the furthest thing from your mind. But it doesn't change the fact that you need to prepare yourself for your inevitable financial future. If you want to protect your savings from being eaten away by medical bills, you should purchase either a Medicare Advantage or a Medicare Supplement Insurance plan right away. And we have friendly customer service agents standing by to help you choose one.
| | | | |
| --- | --- | --- | --- |
| Medigap Plan | Minimum Monthly Premium | Maximum Monthly Premium | Average Estimated Monthly Premium (Part B Premium Included) |
| Plan A | $71 | $196 | $269 |
| Plan B | $104 | $223 | $299 |
| Plan C | $123 | $253 | $324 |
| Plan D | $96 | $181 | $274 |
| Plan F | $124 | $222 | $309 |
| Plan F (high deductible) | $28 | $69 | $184 |
| Plan G | $97 | $169 | $269 |
| Plan K | $45 | $91 | $204 |
| Plan L | $81 | $128 | $240 |
| Plan M | $97 | $142 | $255 |
| Plan N | $84 | $172 | $264 |