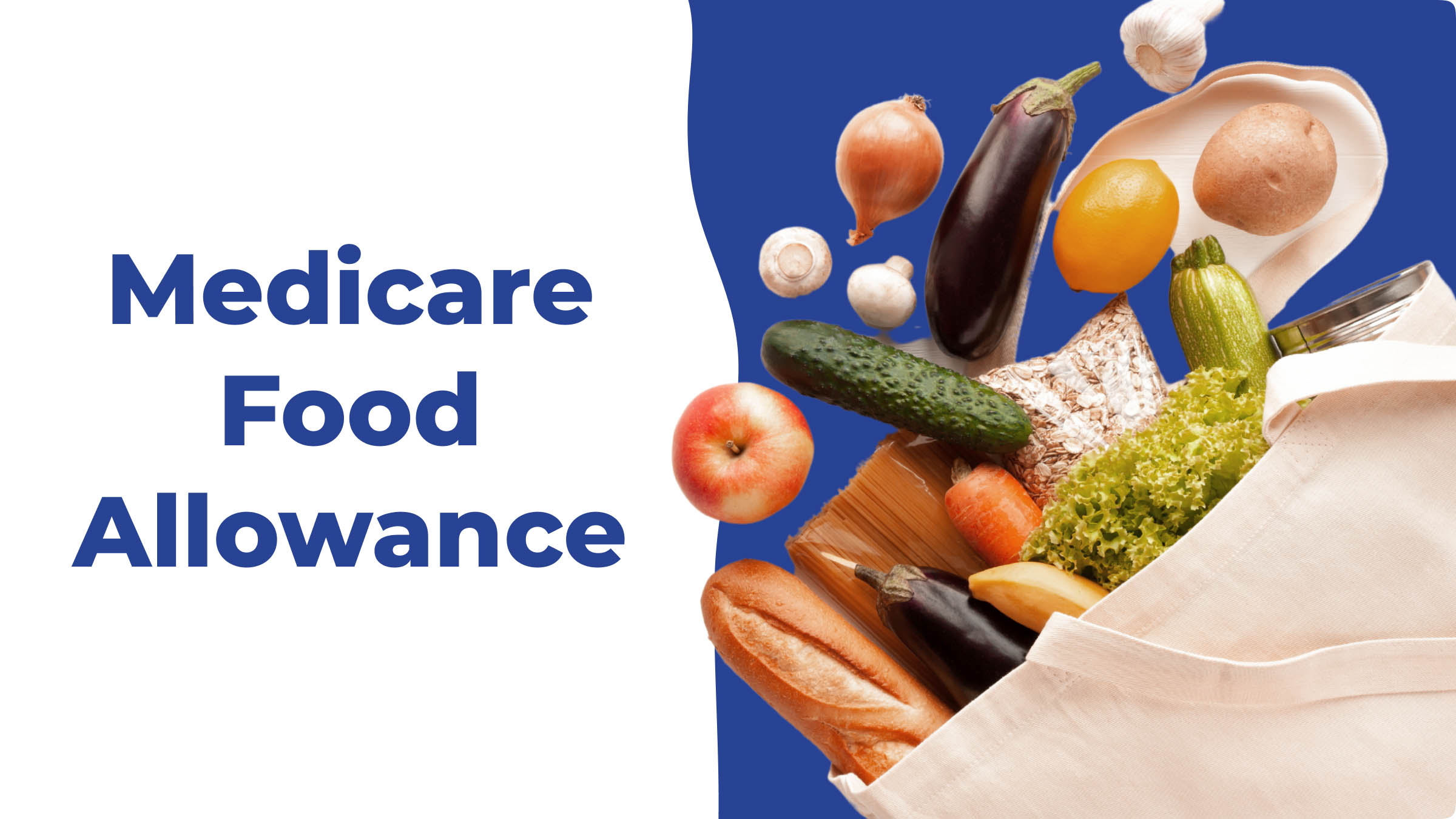 Medicare Advantage plans always add new benefits, but the Medicare food allowance benefit goes above and beyond most available programs. Some plans pay $10 up to $120 monthly in healthy food grocery cards.
We discuss a few guidelines, eligibility requirements, and more below. The information below is provided for educational purposes, and Medicare recipients looking for all available options can contact Medicare.gov.
Medicare food allowance benefit
The grocery benefit provides beneficiaries with a quarterly allowance for qualifying food items. Eligibility is based on enrollment. Also, you need to live in the service area for one of these health plans to qualify.
The Medicare Part C food allowance benefit is sometimes combined with the over-the-counter allowance. Since every Part C plan is slightly different, comparing the health care coverage is essential. It's also wise to consider the wellness benefits, cost-sharing responsibility, and each plan formulary before you enroll.
You can expect Part C plans to offer varied benefits. These plan extras come in many forms, such as a gym membership, dental, vision, or flex cards.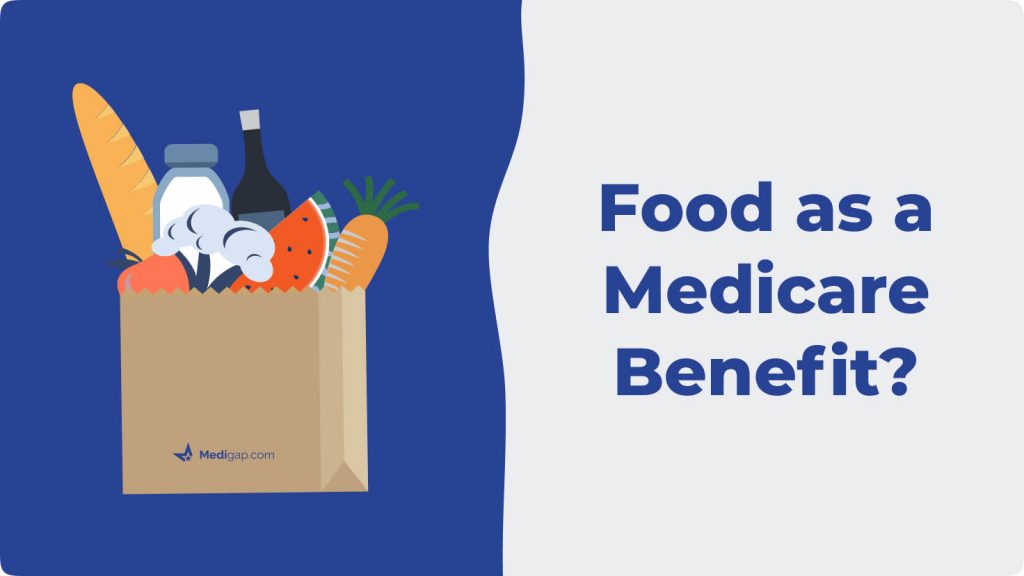 What's covered by the Medicare food allowance benefit?
Many health plans are offering the new healthy food card benefit. Understanding what you can buy with a health allowance card is essential.
In most cases, you may use the card to buy:
Fresh, canned, and frozen fruit
Fresh, canned, and frozen vegetables
Salad kits
Dairy Products
Beans
Healthy Grains
Meats
Baking needs like flour, seasonings, sugar
Nutrition shakes and snack bard
Water and vitamin water
You can contact your plan to see which specific items are covered under your plan's Medicare food allowance. The grocery mobile app may even say if an item is eligible.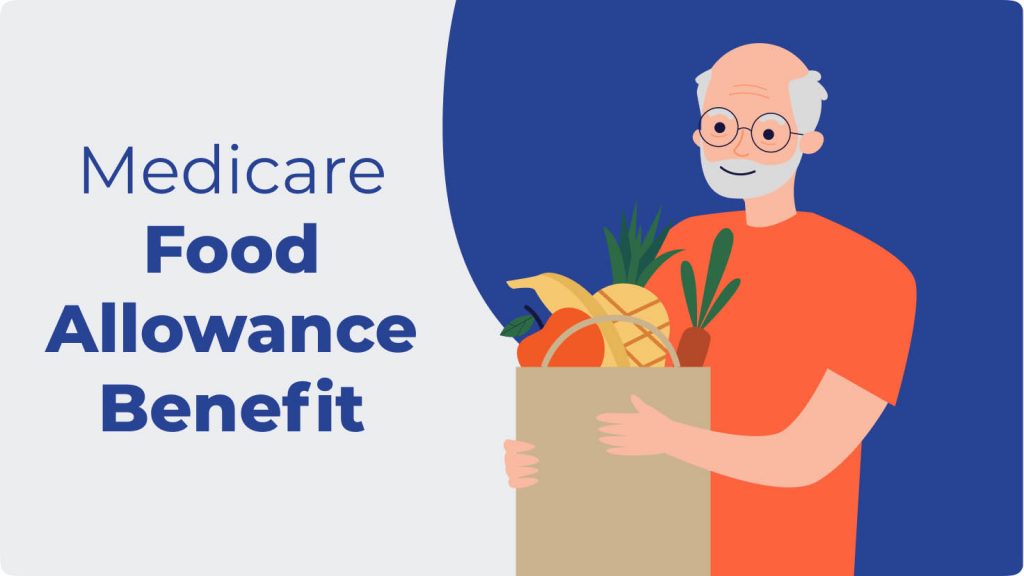 What's not covered by the Medicare food allowance program?
While there are many benefits, the Medicare food allowance card doesn't cover all items. Some items that won't be covered:
Pet food
Baby formula
Non-food items
Chips
Fresh baked goods
Desserts
Candy
Soda
Alcohol
Tobacco
Coffee shop items
You'll pay for it yourself if it's not healthy food. But, since this is the addition of a health benefit, it makes sense there wouldn't be funds for alcohol or soda.
Where can I use the Medicare allowance for food benefits?
Depending on which Medicare Advantage plan you enrolled in, different grocery retailers may be eligible to shop. Participating in grocery stores may also vary by state.
Some retailers include:
Walgreens
CVS
Kroger
Walmart
Food Lion
and more
It's best to contact your plan to get precise information on which stores you need to go to, which items have coverage, and which things don't have coverage.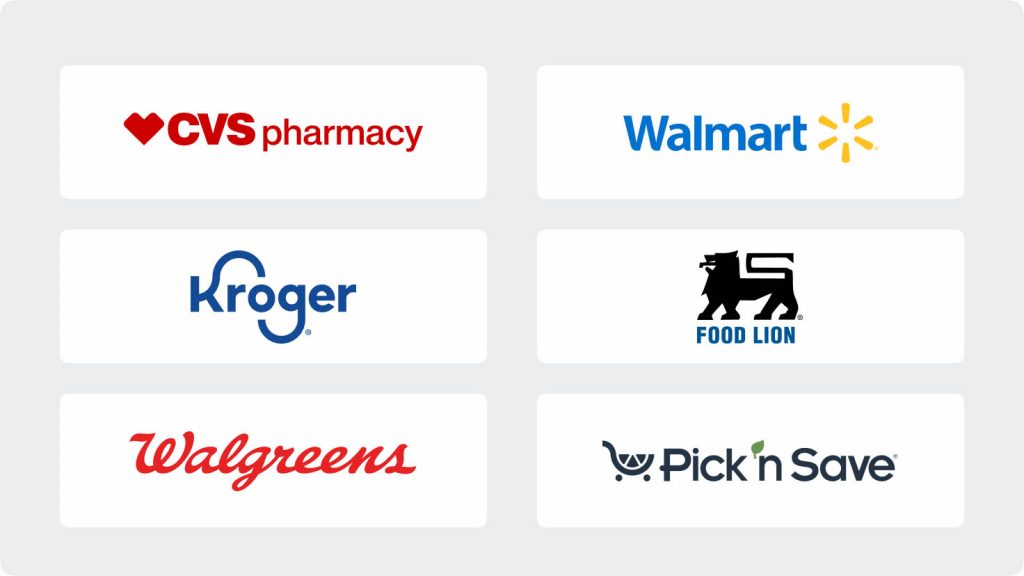 Which Medicare Advantage plans offer nutrition benefits?
Many top Part C plans offer nutrition benefits such as a Medicare food allowance or home meal delivery. Sometimes, you must have a qualifying health condition or a medical care need. For example, if you've recently been discharged from the hospital.
Medicare Advantage plans are usually HMO or PPO plans with a low monthly premium in exchange for higher copays. These plans typically include prescription drug coverage.
Medicare beneficiaries with chronic conditions may qualify for a Part C Special Needs Plan (SNP). These plans cater to people with health issues such as diabetes, kidney disease, or other significant health conditions.
Beneficiaries eligible for Medicaid and Original Medicare may qualify for a "dual-eligible" Special Needs Plan (D-SNP). These plans may include a healthy food benefit or meal delivery service to qualifying members.
How Do I Use the Medicare healthy foods card?
Members with a healthy food card will have their Medicare food allowance benefits pre-loaded to the card. The card can then be used to pay at checkout. You may need to activate your card before it's ready to use. Also, you'll need to shop at a participating store and buy eligible foods. The card will cover the cost of approved foods up to the allowed limit.
With some plans, you can choose to use all the funds on healthy food or over-the-counter benefits or some credits for each. Limitations and restrictions may apply. Only those eligible for these unique supplemental benefits can use the allowance to buy groceries.
Beneficiaries that don't have this benefit on their plan aren't qualifying members. Plans are subject to change each year during the Annual Enrollment Period. During this contract renewal, you must review your new benefits.
FAQs
Is there a food allowance for Medicare recipients?
Original Medicare doesn't include food allowance benefits. However, many Medicare Advantage programs do include a health food card. This benefit will allow a specific amount of healthy food to be purchased from select locations.
How do I get a Medicare healthy food card?
To get a Medicare health food card, you must live in a service area and enroll in a Medicare Advantage plan that offers the benefit. These benefits are not available in all areas. Check with a licensed insurance broker to determine if Medicare Advantage plans with a health food benefit are available in your area.
What is the Medicaid grocery allowance?
There isn't really a Medicaid grocery allowance. However, Dual-SNP Medicare Advantage programs will typically have more food benefits and plan extras than other plan options.
Does Part A pay for meals?
Neither Part A nor Part B covers meal delivery services or grocery benefit cards. These are extra benefits available to those with specific Medicare Advantage plans.
Does Medicare give a healthy grocery allowance?
Original Medicare won't cover meals delivered to your home or provide you with a food allowance benefit. However, some Medicare Advantage plans do cover healthy food benefits or transportation to the grocery store.
What food items can you buy with an OTC card?
Food items you can buy with the OTC card include healthy food options such as dairy, eggs, soups, produce, vegetables, meats, sugar, flour, herbs, and more. Not all carriers allow you to use the OTC benefit for food, so review your plan documents.
Is there a $900 Medicare grocery benefit for Medicare recipients?
Many Medicare Advantage plans do offer a healthy allowance card or also referred to as a Medicare grocery benefit or Medicare food card. Sadly most are not a $900 benefit. If you have Medicare and Medicaid and a Dual Special Needs Plan in your area, you may have access to a larger benefit amount.
Is the Medicare food allowance legitimate?
Yes, but unfortunately many advertisements, especially TV commercials boast unreal expectations of the actual benefit amount for the Medicare grocery card. The amount for the Medicare food allowance will vary depending on your location and the Medicare Advantage plan you enroll in.
How to apply for the Medicare food allowance benefit
There are many Medicare Advantage plans available that offer a Medicare food allowance. Sometimes it's difficult to find a plan that meets your needs and has the benefits you desire and working with a licensed agent to help navigate Medicare helps make the process easier. To find out what plans are available in your area, fill out our online rate form or call us.
Related Content: