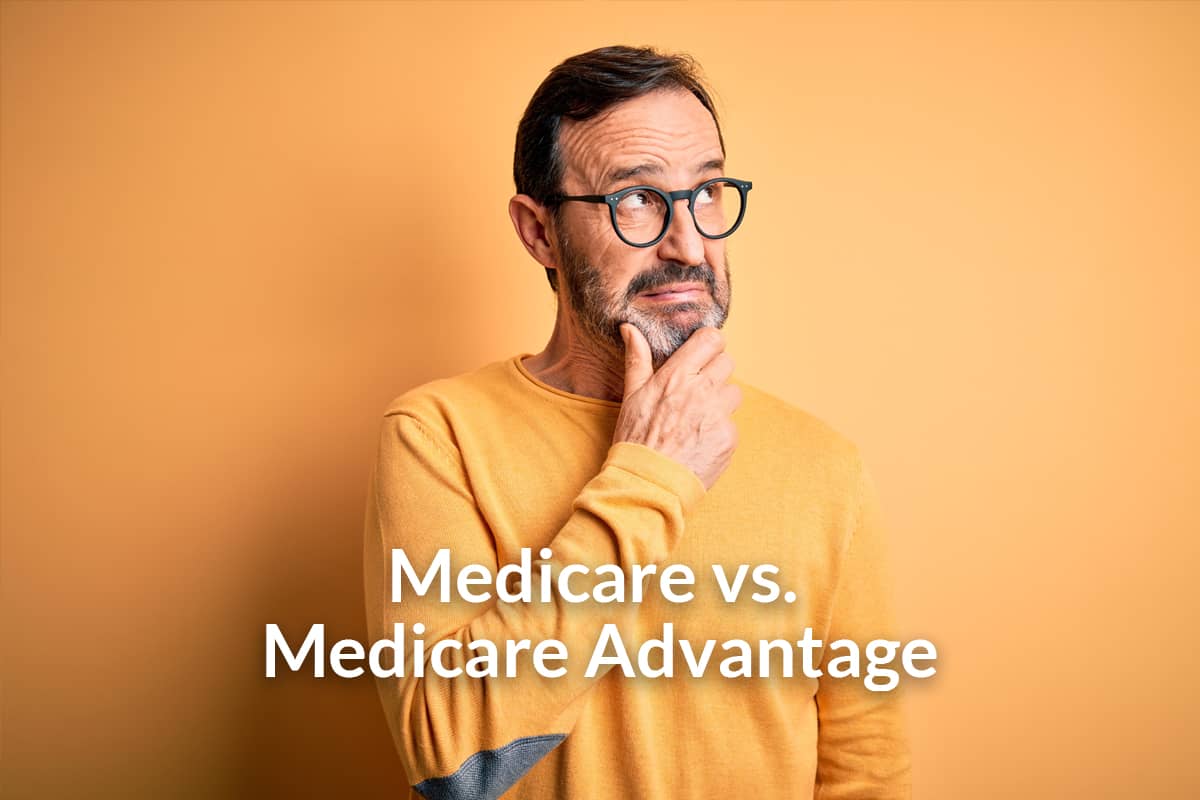 Regarding the federal government's Medicare program, you have a couple of choices on receiving your Medicare benefits. The most confusing part of Medicare healthcare is learning and deciphering the difference between Original Medicare and Medicare Advantage plans.
Below we'll provide information on how both work and educate you on the differences.
Understanding the Pros and Cons of Medicare Advantage vs. Original Medicare
You must first understand that Medicare consists of four parts, and Medicare Part C is the same as Medicare Advantage. Next, let's discuss what aspects of Medicare are considered Original Medicare.
Original Medicare describes Medicare Part A hospital insurance and Medicare Part B medical insurance.
Medicare Part A covers inpatient hospital stays, skilled nursing facilities, and hospice care. At the same time, Medicare Part B handles outpatient medical services and durable medical equipment.
Original Medicare doesn't include Part D prescription drug coverage. You can, however, add Medicare Part D for an additional premium.
Medicare Part C or Medicare Advantage plans will combine the benefits of Medicare Parts A and B into one plan.
These programs can include prescription drug coverage and additional benefits that Original Medicare doesn't offer. Next, we'll go over some of the differences between the two.
Differences Between Original Medicare vs. Medicare Advantage
While these two coverages have similarities, there are also some stark differences. Medicare Advantage plans are required to cover the same benefits as Original Medicare. Their coverage rules and Medicare costs differ.
Networks
Original Medicare allows you to use any doctor nationwide that accepts Medicare. There isn't a need for referrals or authorizations to see specialists. Medicare Advantage plans are network-based programs.
Many are health maintenance organizations and preferred provider organization plans. HMO plans require all items and services performed by in-network providers except for an emergency.
Referrals and authorizations will be required for specialist doctor visits, tests, and treatments. PPO plans are also network-based. However, you can visit out-of-network providers for a higher cost share.
With a PPO, there isn't typically a referral needed. However, there will still be authorizations required for tests and treatments.
Costs
Original Medicare and Medicare Advantage plans require you to continue paying your Medicare Part B premiums. Costs associated with Original Medicare are standardized. The costs are always the same.
There is a large reoccurring Part A deductible and daily copays for Part A. Medicare Part B has a small annual deductible, followed by a 20% coinsurance and a potential for a 15% excess charge.
Medicare doesn't have a cap on what a Medicare beneficiary can spend over the year. Since private insurance companies contracted with the Centers for Medicare and Medicaid Services to run these Medicare Advantage plans.
They set their cost share amount and authorization rules. Most items and services will have a fixed copay and have an out-of-pocket maximum for how much plan members can spend on medical services for the year.
Pros and Cons of Original Medicare
Pros
No network restrictions

Freedom to choose the doctors and hospitals you want to use

Coverage is the same regardless of where you're
You can add a Medicare Supplement health insurance to cover most or all of your cost-share

Enrollment into specific Medigap policies could include a foreign travel benefit.

You can choose a Part D prescription drug plan that's catered to the prescriptions you take
Cons
No out-of-pocket limit on medical costs
Only includes medically necessary benefits
Unpredictable costs
Must pay an additional monthly premium for drug coverage
Pros and Cons of Medicare Advantage plans
Pros
Combines Medicare benefits into one easy-to-use plan
Can include prescription drug coverage
It can consist of extra benefits not covered by Medicare, such as;
Predictable fixed copays for most services
Low to $0 premiums
Cons
Tight networks
Many plans require services to be provided by providers in the plan's network.
Must see a primary care doctor and get a referral for specialist services.
Non-medical plan administrator that processes or denials approvals for services
Coverage benefits aren't available out of network on HMO plans, and out-of-network services cost more on PPO plans.
How does AEP affect Original Medicare vs. Medicare Advantage plans?
The Annual Enrollment Period is geared toward Medicare Advantage plans and Medicare Part D prescription drug coverage. During AEP, you can do the following:
If on Original Medicare:
If you're enrolled in a Medicare Advantage plan:
Change from one Medicare Advantage plan to another
Drop your Medicare Advantage plan and return to your Original Medicare
Deciding if Original Medicare or Medicare Advantage plans are Right for You
Here's a checklist beneficiaries can use to help decide which type of Medicare coverage is right for them.
Choose Original Medicare if:
You want provider flexibility
If you're a frequent healthcare user
Can afford a Medicare Supplement Insurance plan
Plan to spend your retirement traveling
Like to minimize risk
Choose Medicare Advantage if:
You live in an area with a broad network
Can't afford a Medicare Supplement Insurance plan
Don't mind getting referrals
If you have significant health conditions such as cancer, end-stage renal disease, or diabetes complications, Original Medicare and a Medicare Supplement plan will provide you with more protection and less overall costs. Medigap policies will help cover the out-of-pocket costs left over by Original Medicare.
Depending on the Medicare Supplement health plan you enroll with, you could have little or even no cost-sharing related to your medical care.
FAQs
What's the main difference between traditional Medicare vs. Medicare Advantage?
The primary difference between traditional Medicare and Medicare advantage is the benefits structure. Medicare Advantage plans must include the same benefits as traditional Medicare, but how they are covered differs. In addition, Medicare Advantage plans can include Medicare drug coverage and additional benefits that aren't included with the Original Medicare program.
When is the Open Enrollment Period?
The Medicare Advantage Open Enrollment Period runs annually from January 1 to March 31. During this time, Medicare beneficiaries that are enrolled in a Medicare Advantage plan can make one change to their coverage.
How does Medicaid affect Medicare?
Beneficiaries that enrollees of both Medicare and Medicaid will have some or all of their Medicare costs covered by the Medicaid and Medicare Savings Programs. These dual-eligible beneficiaries can also enroll in Medicare Advantage special needs plans explicitly designed to help low-income people.
How much does a Medicare Supplement cost?
Medigap costs will vary depending on several factors. Some of the most significant considerations are which plan you choose, your age, location, and if you're a tobacco user. The average cost for a Medicare Supplement Plan G is around $150 per month.
Can I enroll in a Medicare Advantage plan and a Medicare Supplement?
No! When you enroll in a Medicare Advantage program, the Part C plan will take over the administration of your Medicare benefits. Medicare Supplements will only coordinate with Original Medicare. Some Medicare Advantage enrollees will enroll in a hospital indemnity plan and a critical illness plan to help cover some gaps.
Can I enroll in both Medicare Advantage and Part D prescription drug plans?
No! In most cases, if you want Medicare drug coverage, you can enroll in a Medicare Advantage plan that includes drug coverage. Otherwise, stay with Original Medicare and add a Part D plan. The only exception would be if you enrolled in a private fee-for-service (PFFS) Medicare Advantage plan that didn't include drug coverage.
Get help choosing between Original Medicare vs. Medicare Advantage plans
You may still have additional questions even with the help we provided above. The quickest and easiest way to answer these questions is by speaking to a licensed insurance agent specializing in Medicare. Our agents can answer any additional questions and provide further education on all types of Medicare coverage.
For assistance with your supplemental Medicare plans, give us a call. If now isn't a good time, you can fill out our online request form, and we'll have one of our specialists contact you.