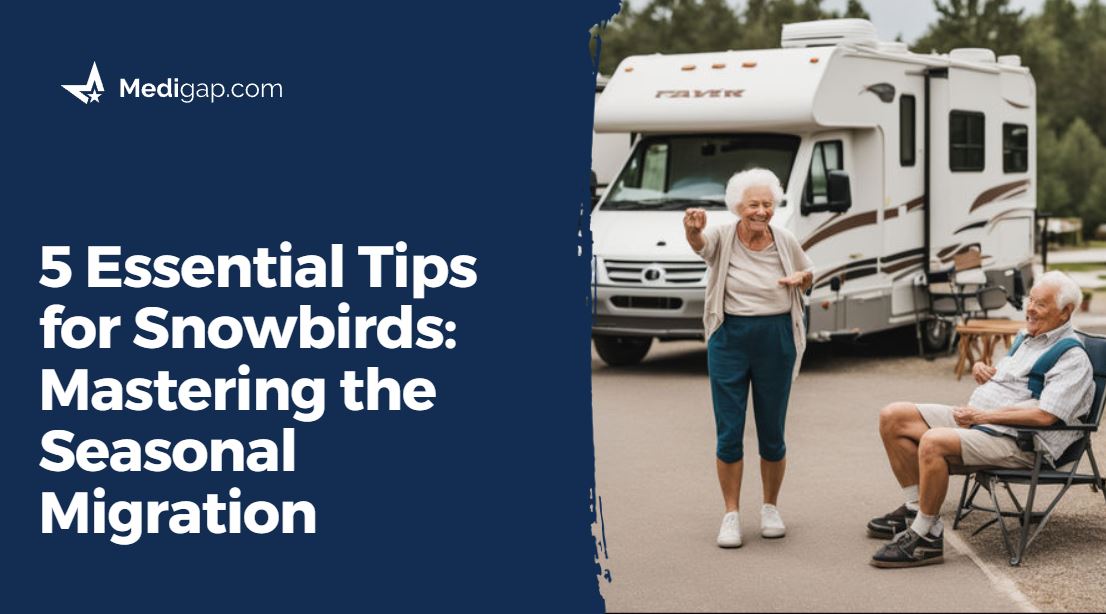 The allure of the Snowbird lifestyle is undeniably captivating. Yet, navigating the challenges of this lifestyle requires careful planning and consideration, particularly when it comes to healthcare, travel, and lifestyle adjustments. This article will explore five tips to help Snowbirds make the most of their seasonal journey.
What is the snowbird lifestyle?
The Snowbird lifestyle is a unique and appealing way of life many retirees embrace. It involves migrating from colder regions to warmer, sun-soaked destinations for part of the year, typically during winter. Snowbirds seek to escape the harsh winter weather in their home states by temporarily relocating to more temperate climates, often in southern states like Florida, Arizona, or Texas.
This seasonal migration allows them to enjoy the best of both worlds, experiencing the comforts of home in their primary residence while basking in the relaxation and adventure offered by their secondary, warmer abode. The Snowbird lifestyle is characterized by flexibility, outdoor activities, social engagement, and a pursuit of a healthier and more enjoyable retirement.
Tip 1: Mastering Medicare on the move
One of the primary concerns for Snowbirds is ensuring seamless healthcare coverage while traveling between states. Medicare, the federal health insurance program for retirees, provides coverage across the United States, including Washington D.C., Puerto Rico, Guam, the U.S. Virgin Islands, and the Northern Mariana Islands. As a US citizen or legal resident of at least five consecutive years, you can see a doctor in another state as long as they accept Medicare patients.
However, it's crucial to understand the three categories of Medicare acceptance:
Participating provider: These providers accept Medicare assignment, agreeing to accept Medicare reimbursement as full payment.
Non-participating provider: While they accept Medicare patients, they don't accept Medicare reimbursement as full payment, potentially charging up to 15 percent more than the Medicare-approved amount. Some Medicare Supplement Insurance plans cover these excess charges.
Opt-out provider: These providers have chosen to opt out of the Medicare program entirely and don't accept Medicare insurance. If you visit an opt-out provider, Medicare won't cover the services you receive, even if they'd typically be covered.
Snowbirds should verify their healthcare providers' participation status and potential out-of-pocket costs when seeking medical care in different states.
Tip 2: Travel and accommodation hacks
Finding affordable and convenient accommodations is a key consideration for Snowbirds. Whether you prefer RV parks, vacation rentals, or extended-stay hotels, there are numerous options to explore. Websites and apps dedicated to Snowbird travel can help you discover suitable destinations.
To make your life easier, keep a travel checklist to ensure nothing is forgotten during transitions between homes. Utilize travel apps for planning and staying organized, and consider the benefits of packing light to reduce the hassle of moving between states.
Tip 3: Embracing a healthy lifestyle
Maintaining a healthy lifestyle while on the move is essential for Snowbirds. Engage in regular physical activity and focus on a balanced diet to ensure your well-being. Many Snowbird destinations offer opportunities for outdoor activities like hiking, swimming, and golfing.
Additionally, it's crucial to have a healthcare plan in place. Some Snowbird-friendly destinations provide easy access to medical facilities, but it's wise to research healthcare options before your travels. Carry important medical records and prescriptions with you, and know how to reach medical professionals in emergencies.
Tip 4: Financial planning for seasonal living
Managing finances effectively is another critical aspect of the Snowbird lifestyle. Establish a budget for your primary and secondary residences and travel expenses. Use online banking and financial apps to monitor your accounts while moving.
Consider setting up automatic bill payments to ensure bills are paid promptly, preventing any lapses in services. Additionally, explore options for managing investments, taxes, and insurance across different states. A well-thought-out financial plan will help you enjoy your Snowbird lifestyle without financial stress.
Tip 5: Staying connected and social
Maintaining social connections is vital for a fulfilling Snowbird experience. Engage with local communities and fellow Snowbirds by participating in social activities, clubs, or volunteering opportunities. Joining online forums or social media groups can also help you connect with like-minded individuals.
Technology is crucial in staying connected with loved ones, especially when you're away from family and friends. Video calls, messaging apps, and social media can bridge the gap, allowing you to share your experiences and keep close ties.
FAQs
What is a Snowbird?
A Snowbird is typically a retiree who temporarily migrates from colder regions to warmer destinations during winter, seeking to escape cold weather and enjoy a more pleasant climate.
How do Snowbirds manage their healthcare coverage?
Snowbirds must carefully choose Medicare plans that provide coverage in their home state and their winter destination. Depending on their specific needs and preferences, they can opt for Original Medicare, Medicare Advantage plans, or Medigap plans.
Can Snowbirds maintain consistent healthcare coverage while living in two states?
Yes, they can. Original Medicare and Medigap plans offer nationwide coverage, ensuring access to healthcare services in both states. Some Medicare Advantage plans also offer travel benefits, allowing Snowbirds to receive care while away from their primary residence.
Are there specific considerations for Snowbirds regarding prescription drug coverage?
Snowbirds should select a Medicare Part D prescription drug plan that covers their medications and is accepted at preferred pharmacies in both states. It's essential to ensure seamless access to prescription medications while on the move.
What other tips can Snowbirds benefit from for a smooth seasonal transition?
Snowbirds can enhance their seasonal journey by maintaining a checklist of essential documents, securing their homes during their absence, and exploring local activities and social opportunities in their winter and summer residences.
Find Medicare plans to cover your snowbird lifestyle
The Snowbird lifestyle offers a unique opportunity to enjoy the best of both worlds—escaping winter's chill while embracing warm, sun-soaked destinations. You can make the most of your Snowbird journey by mastering Medicare on the move, making smart travel choices, prioritizing a healthy lifestyle, planning your finances diligently, and staying socially connected. With these five essential tips in mind, embark on your seasonal migration with confidence and preparedness, savoring every moment of your adventure.
Review Medicare plan options in your area by filling out our online rate form.
Related Content