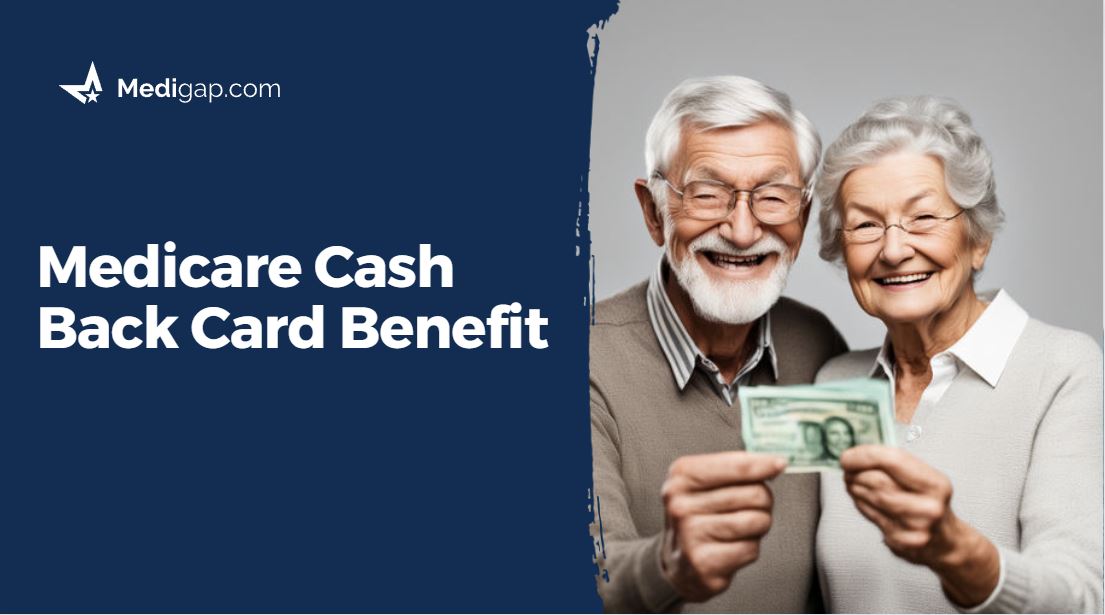 Change occurs constantly, and it seems that Medicare Advantage plans are constantly finding ways to add new and innovative plan extras, such as cash cards. When beneficiaries choose Medicare Advantage, they not only get the same benefits that Medicare covers but various other plan extras.
We'll dive deeply into these new Medicare Advantage cash cards, the different types, and how to use them. Next, we'll answer some common questions and explain how to enroll in a plan with these cash card benefits.
Does Medicare offer cash cards?
Medicare coverage for cash or flex cards is only available through specific Medicare health plans. Medicare Part A and Medicare Part B only cover medically necessary items and services. A flex card doesn't fit in this scope, so Original Medicare doesn't provide this benefit.
Original Medicare provides:
Coverage for inpatient hospital and skilled nursing services.
Outpatient procedures.
Visits to your physician's office.
Medicare Supplement plans and cash cards
These Medigap plans are additional coverage to Original Medicare. These health plans only cover items and services covered by Medicare Part A and Part B.
Since these plans only cover benefits included under Medicares Part A and B, additional benefits, plan extras, and prescription drug coverage aren't covered.
Medicare Supplements are standardized and offer the same coverage regardless of your chosen insurance company. Medigap plans have a separate monthly premium and your Medicare Part B payment.
Medicare Advantage plans and cash cards
Medicare Part C is the only Medicare Plan that can offer a cash card as an additional benefit.
Most Medicare Advantage programs are network-based PPO or HMO plans. To take advantage of the benefits of these plans, you should see healthcare providers in the network. Enrollees in a PPO plan can seek coverage out of the network, but the costs will be higher.
In addition, there may be times when they must pay for the service upfront and submit to their plan for reimbursement.
Unlike Medicare Supplement plans, Medicare Advantage plans benefits differ significantly. The benefits offered will depend on your location, insurance company, and Medicare plan in which you enrolled.
Types of Medicare Advantage cash cards
There are a few different benefits that are called cash cards. First, the name cash card is a little misleading, and if you're new to this benefit, you may think that this benefit is a Visa Gift card or something similar. Most of these cash cards are for specific benefits outlined by the plan.
Even though these cards allow for different benefits depending on your chosen plan, they work the same way. Every card has a connected account and reloads automatically when the new benefit period begins.
These cash cards usually don't carry over unused funds. This means that if you have money left on the card when the new benefit period begins, it won't roll over to the new benefit period. Of course, the amount, benefit periods, and benefits could differ like everything with Medicare Advantage plans. Some carriers may allow the rolling over of unused funds for specific benefits.
Flex card
These flex cards are typically reloadable debit cards for paying out-of-pocket cost-share amounts. Some items included are copays, deductibles, and coinsurance. Depending on your insurance company and Medicare Advantage health insurance, you can use these to offset dental, vision, hearing aids, or hearing exam costs.
Over-the-counter card
With over-the-counter benefits, some carriers don't provide an actual card. You'll call, mail, or go online to use your OTC benefit, such as grocery delivery for these carriers.
However, more carriers are beginning to issue this benefit as a reloadable debit card. For companies like UnitedHealthcare and Wellcare, you can use these cards to purchase at participating retail locations.
Some companies have additional cash benefits on their Dual Special Needs Plans (D-SNP). Some of these benefits can be used towards select utilities or a certain amount that can be withdrawn as a cash amount monthly.
If you are enrolled in one of these plans, the additional amount is usually added to your OTC debit card.
Healthy food cards
Another Flex Card style benefit is the healthy food card. While most Medicare Advantage plans issue a separate card with a select amount, some carriers like UnitedHealthcare allow you to use the entire OTC benefit on over-the-counter items or healthy food.
Beneficiaries with healthy food benefits can use these cards to purchase items such as fish, poultry, nuts, and fresh fruits and vegetables. Healthy food benefits can be used at participating locations such as Winn Dixie, Walmart, and Publix.
FAQs
How to check your cash card balance?
It's simple to check the remaining balance on your Medicare Advantage cash card. You can call the number on the back of the card or check the policyholder portal on your plan's website.
Do I need to activate my medicare advantage cash card?
When you receive your card, it'll come with a pamphlet explaining the benefits. This document will provide instructions on how to activate and use your card. It'll also explain what and where you can use your debit card.
Does medicare offer a cash card?
No! Medicare only covers services that are considered medically necessary.
Find a Medicare Advantage plan that includes a cash card
You must enroll in Medicare Part C to use cash cards, flex cards, or over-the-counter benefits. Review the plans in your area to see if a Medicare Advantage plan with a cash card is available in your area.
Related Content