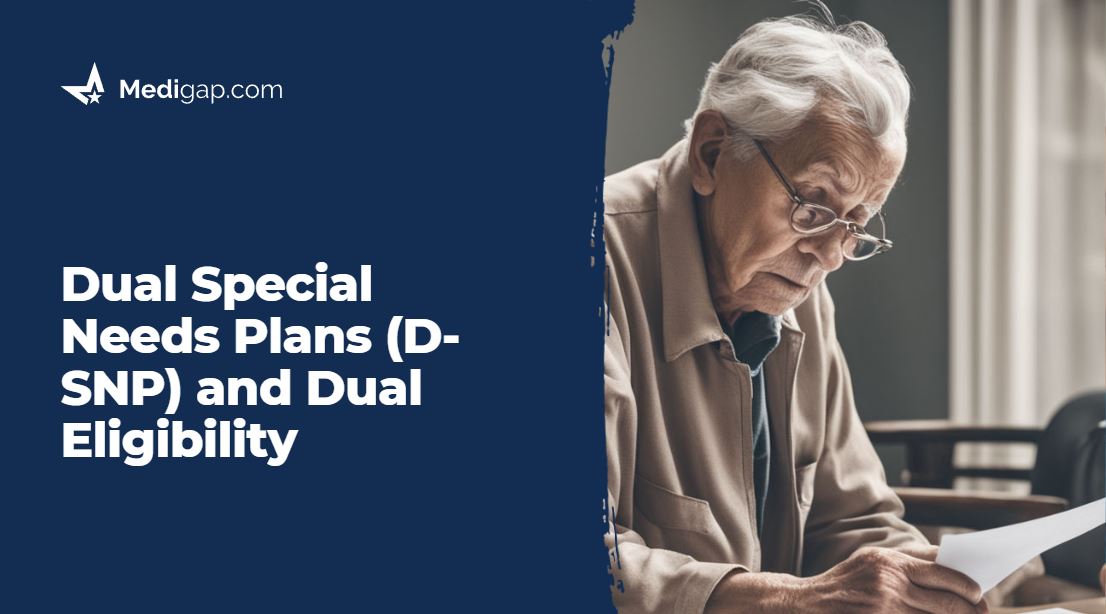 Once individuals retire and begin living on Social Security benefits, they typically have a lifestyle change and must be a little tighter with spending. However, many beneficiaries' income drops below the poverty level, and they also become eligible for Medicaid. Below, we'll discuss the Medicare Special Needs plans for dual enrollees of Medicare and Medicaid.
What is a Dual Special Needs plan?
These D-SNP plans are Medicare Advantage Special Needs plan options designed to work with and benefit enrolled beneficiaries who qualify for Medicare and Medicaid. These plan options provide coordination of benefits between both Medicare and Medicaid, as well as providing comprehensive healthcare coverage. Since these plans work with dual enrollees, they coordinate the benefits, resulting in $0 copays for qualified individuals and even additional benefits that can help increase the quality of living of the plan member.
Benefits of a Dual Special Needs plan
As mentioned above, when a Medicare beneficiary enrolls in a full D-SNP plan, the plan coordinates with Medicaid to pay all costs for services included in the coverage. This is a huge help for Medicare beneficiaries with low incomes. However, these plans include many plan extras that impact their lives.
While not all plans and areas have the same plan extras and benefits, some of the benefits that may be available in your area may include the following:
While many Medicare Advantage options may offer some of the above benefits, the allowance amounts are usually higher for the Dual Special Need plans.
D-SNP enrollment qualifications
To enroll in a Dual Special Needs plan, beneficiaries must be enrolled in both Original Medicare and Medicaid. In addition, they must live in the coverage area for the plan. There are some D-SNPs for members with partial Medicaid status. However, there will be costs when using the partial plans. When Medicare beneficiaries qualify for Medicaid, they'll also have full Extra Help and a Medicare Savings Program. These programs help cover the costs of prescription drugs and their Medicare premiums.
Companies that offer Dual Special Needs plans
While many Medicare Advantage companies offer D-SNP Medicare options, The largest companies that provide this coverage include UnitedHealthcare, Humana, Wellcare, Aetna, Cigna, and Anthem. Many smaller regional companies also include these Medicare Advantage plan options, but the ones above, on average, have great reviews on their Dual Special Needs plans.
FAQs
What is a D-SNP?
Dual Special Needs Plans (D-SNPs) are a category of Medicare Advantage (MA) plans designed specifically for eligible individuals for both Medicare and Medicaid. These plans offer specialized healthcare services tailored to the unique needs of dual-eligible beneficiaries. In addition to comprehensive medical coverage, D-SNPs provide essential care coordination and supplementary wrap-around services to enhance the overall quality of care and support for eligible individuals.
What are some distinct advantages of a (D-SNP )?
A DSNP plan provides a unified solution for beneficiaries by encompassing coverage for hospital services (Medicare Part A), medical healthcare needs (Medicare Part B), and prescription drugs (Medicare Part D), all within a single plan. In addition to this comprehensive coverage, DSNP plans may offer access to essential social services to streamline the coordination of a beneficiary's Medicare and Medicaid benefits.
What is the difference between eligibility for a D-SNP, I-SNP, and a C SNP plan?
It's important to remember that D-SNPs are designed for individuals eligible for Medicare and Medicaid, I-SNPs are tailored for those residing in long-term care facilities, and C-SNPs are intended for individuals facing significant health challenges or disabilities. This is precisely why a Medicare Advantage Plan can be incredibly convenient, as it offers specialized options to suit the specific needs of different beneficiary groups.
What are the features of a DSNP?
D-SNPs usually include the following:
Care coordination.
$0 monthly premiums.
Over-the-counter quarterly benefits.
Dental, vision, and hearing benefits.
Transportation benefits.
Gym memberships.
Benefits can vary based on location and plan selection.
What happens to members who lose their eligibility for the D SNP due to a change or loss?
The timeframe for regaining eligibility varies depending on the specific plan, typically 30 days to six months. If you do not reestablish your eligibility within this period, you will be disenrolled from the SNP. Within ten days of discovering that you no longer meet your SNP's eligibility criteria, you should expect to receive a written notice from your plan.
Find a Dual Special Needs plan that fits your needs
If you need help with Medicare plans in general or have Medicare and Medicaid and are trying to figure out which plan has the most benefits for you, we're here to help. Call us or fill out our online rate form to view and compare plans in the area. We can help answer questions and even put you in touch with an agent that specializes in Medicare plans in your area.
Related Content: