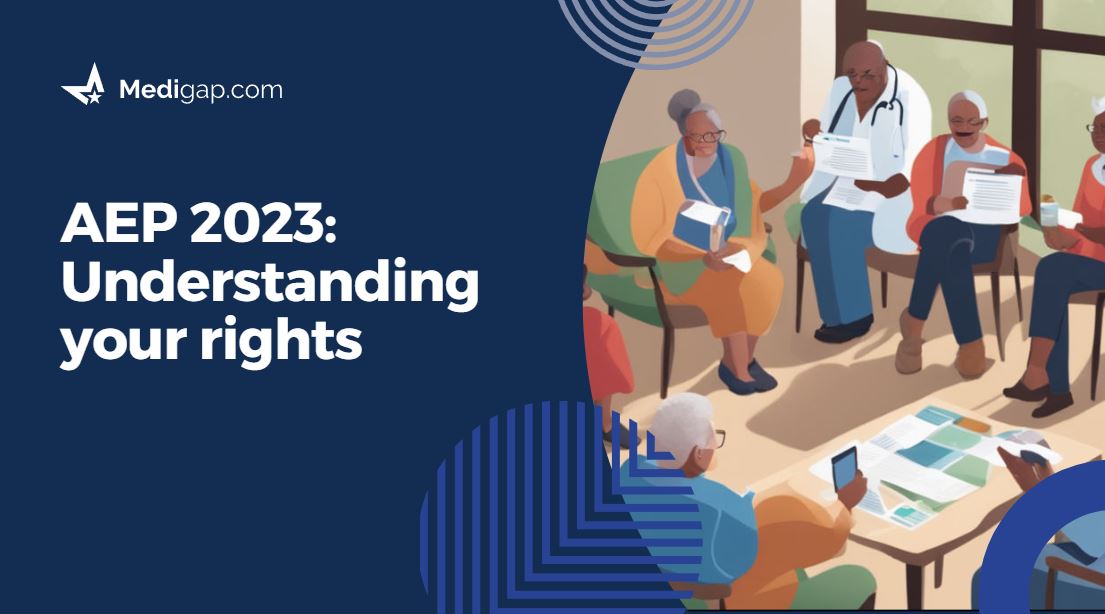 For those on Medicare, the Annual Enrollment Period is when they can review their Medicare coverage and make any changes they see fit. We'll review the 2024 AEP, what you need to know, and what changes you can make to your Medicare coverage.
Understanding the 2024 Medicare Annual Enrollment Period
The Annual Enrollment Period occurs between October 15 and continues until December 7. During this time, Medicare beneficiaries can review the new Medicare plan offerings and the changes to their current plan. All changes during the 2024 AEP will begin on January 1, 2024.
Medicare plan options affected by the 2024 AEP
During AEP, Medicare beneficiaries can enroll, change, or drop their Medicare Advantage or Part D drug coverage. Medicare Supplement plans aren't affected by the Annual Enrollment Period because they are month-to-month contracts. However, it's wise to review the costs of these plans every couple of years to verify you're still getting the best deal on your coverage.
What is a Medicare Advantage plan?
Medicare Advantage plans are another way to receive your Medicare benefits. Also known as Medicare Part C, these plans combine the benefits from Medicare Parts A and B into a comprehensive plan. In many cases, these plans also include coverage for your prescription drugs.
In addition to covering your Medicare benefits, these plans can also provide additional plan extras that Medicare doesn't cover, such as transportation, gym memberships, as well as coverage for dental, vision, and hearing.
These plans have their own schedule of benefits, costs, copays, network requirements, and authorizations.
What is a Medicare prescription drug plan?
Prescription drug plans are the same as Part D coverage. These stand-alone plans are typically added to Original Medicare and Medigap plans to provide drug coverage. Each plan must be at least as good as the Medicare standard model and will have its own formulary and cost-sharing.
You can't usually enroll in a Medicare Advantage and a stand-alone Part D plan.
What to review during the 2024 AEP
During AEP, you should compare your current plan with the other options available. To compare plans, first, you should verify that all your medications are on the formulary and at an affordable copay amount. Next, you should verify that doctors and facilities important to you're in the network of the plans you're considering. Then, compare the benefits, cost, copays, and plan extras on each plan to make the best choice for you.
What changes can be expected in the 2024 AEP?
You can expect changes to Medicare Advantage and Part D premiums, costs, copays, and changes in formularies, benefits, and plan extras. One notable change is that the coinsurance requirement for prescription drugs for beneficiaries that reach the catastrophic phase will be eliminated, Thus limiting the out-of-pocket costs of prescription drugs.
How to get help paying for prescription drug costs?
If you're on Medicare and have a lower income, there is assistance through the Low-Income Subsidy (Extra Help) program. This program will lower costs associated with your prescription copays, deductibles, and sometimes premiums. Extra Help is a federal program and will work with any prescription drug coverage regardless of if your coverage is included in your Medicare Advantage plan, or a stand-alone Part D plan.
FAQs
What's the difference between AEP and OEP?
The Annual Enrollment Period (AEP) runs from October 15 to December 7. It allows all Medicare beneficiaries to make any changes to their Medicare coverage that they choose. The Medicare Advantage Open Enrollment Period (MAOEP or OEP) is from January 1 to March 31. This is only for Medicare beneficiaries that enrolled in Medicare Advantage plans. They can make only one change to their plan. Switch to another Medicare Advantage plan, Drop their Medicare Advantage plan, return to Original Medicare, and/or enroll in a Part D prescription drug plan.
Can I only change my Medicare plan during AEP?
No, you can make changes if you qualify for a Special Enrollment Period. You can also use the Medicare Advantage Open Enrollment Period if enrolled in a Medicare Advantage Plan.
Will there still be a Donut Hole in 2024?
Yes 2024, the Donut Hole will still be in the Medicare drug programs, but in 2025, the drug costs will be capped at $2,000 annually.
Get help reviewing your 2024 AEP Medicare Plan options
While AEP allows you to review your Medicare plan options, it can be overwhelming to review them all and make the right decision, but we can help. Fill out our online comparison form to review plans in your area and connect with a licensed insurance professional.
Related Content