You've worked hard all your life, and now you get to retire in beautiful Chattanooga. But retirement for seniors these days isn't all grandkids and gardening. If you want to make sure the life savings you've worked so hard for all these years stays yours, you're going to have to protect yourself from the gaps in Medicare coverage. If you're unsure how to do that, that's okay. You're not alone. We are here to help you and give you options that are cost-effective and easy to manage.
Facts and Figures
There are 28,166 senior citizens living in Chattanooga right now
There are 10 hospitals in the Chattanooga area where seniors can get emergency and/or in-patient care
36% of Tennessee seniors have a Medicare Advantage plan
16% of seniors have a Medicare Supplement (Medigap) plan
Which leaves 48% of seniors potentially uninsured or underinsured against costly Medicare coverage gaps!
If you haven't already, it's a good idea to sit down and try to anticipate what your medical needs will be in the future. Some things are hard to anticipate because unexpected things like cancer or a broken hip from a traumatic fall are difficult to predict. But what about chronic disease? Statistically speaking, it will become a problem for you eventually. And if you don't plan accordingly, it could become a very expensive problem on top of that.
| | |
| --- | --- |
| Disease | Prevalence in Chattanooga |
| Arthritis | 30% |
| High Blood Pressure | 41% |
| Coronary Heart Disease | 8% |
| Diabetes | 13% |
| Kidney Disease | 3% |
Healthcare Costs in Chattanooga, TN
If you don't have a chronic disease diagnosis right now, consider yourself lucky. But don't get comfortable, because chronic disease will come for us all eventually. The type of diagnosis you get depends on a lot of different factors which are difficult to predict, and even harder to control. But once you get that diagnosis, you need to make sure you have a very comprehensive health insurance policy so that sneaky and ever-increasing expenses like prescription drugs, testing equipment, and more frequent doctor appointments don't start eating away at your life savings.
| | | |
| --- | --- | --- |
| Disease | Prevalence in Chattanooga | Annual Cost of Treatment |
| Arthritis | 30% | $291 |
| High Blood Pressure | 41% | $354 |
| Coronary Heart Disease | 8% | $8,983 |
| Diabetes | 13% | $2,163 |
| Kidney Disease | 3% | $7,909 |
Medicare Advantage Savings in Chattanooga, TN
You don't necessarily have to enroll in the federal Medicare program, especially if you're worried about the cost of Medicare coverage gaps. You have another option: Medicare Advantage. Medicare Advantage health insurance is a private health insurance policy which you can purchase to replace and opt out of original Medicare. Just keep in mind that these policies must offer you the exact same benefits as Original Medicare, or the unscrupulous company offering you that policy is officially breaking federal law. These policies tend to be heavily discounted because the federal government uses the tax revenue from the Medicare program to pay for part of your premium – or sometimes to pay for all of it, giving you a $0 per month insurance premium.
Medicare Advantage Plans have a lot more customization options compared to what else might be available near you. With other insurance policies like Medigap, there's certain coverages you have to purchase separately from other providers. But with Medicare Advantage, you can put all of these coverages and more on to the same policy. Many seniors like this convenience, and some are fortunate enough that this is also the least expensive option in their area.
Some of these extra coverages include things like dental, vision, or prescription drug coverage. With Medicare Advantage, you can add all of these to your policy and enjoy the convenience of managing everything through one company. With something like a Medigap insurance policy, you would have to purchase these coverages separately from at least one if not multiple other providers. For some seniors, Medicare Advantage is the cheaper and more convenient option; for others, it can be more expensive, but the added convenience could be worth the price.
Medicare Supplement (Medigap) Savings in Chattanooga, TN
Medicare supplement insurance – Medigap – is your other option. Instead of replacing your federal Medicare benefits, it merely supplements the gaps in coverage. Whether it's an extended hospital stay or Medicare Part B coinsurance costs, your Medicare supplement policy will take care of it before you ever see a bill – if you see one at all.
If you want to save money by focusing on the most expensive coverage gaps, take a look at Medigap Plans A, D, K, or L. These plans deal with Medicare Part A coverage gaps from things like blood transfusions, longer hospital stays, or end-of-life care. Because seniors usually don't incur hospital expenses for many years, and since you likely won't need financial help from your Medigap policy unless you have a serious medical emergency, these policies tend to cost less in monthly premiums.
Medigap Plans B, C, F, G, M, and N, on the other hand, tend to cost a little more. But this is because they offer more in return. They offer varying degrees of coverage for the Medicare Part B coverage gaps, These gaps include costs like excess charges, coinsurance, co-pays, your Medicare Part B premium, and more. These expenses are typically associated with outpatient care, so you will run into them more frequently. And they may not seem very expensive at first, but small charges on a frequent basis can add up over time. The most comprehensive plan currently available is Plan F. But it will no longer be available for sale after the end of 2020. You can purchase the plan now and get grandfathered into those benefits for as long as you can afford to maintain your policy premiums; or you can look at a plan like Plan G or Plan C if you won't qualify for a Medicare supplement insurance plan until after the beginning of 2021.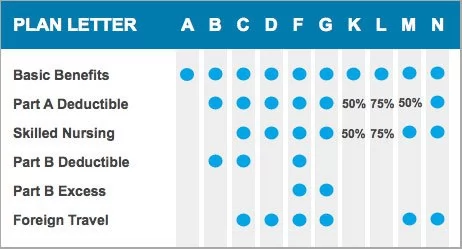 Medigap Insurance unfortunately doesn't leave room for you to add other coverage like dental, vision, or prescription drugs. You can get these coverages, but you'll have to purchase them separately. Private insurance companies near you are likely offering good vision and dental coverage for fairly reasonable prices – and may even offer senior discounts. Medicare Part D is the most common option four people on Medicare who need help with prescription drugs. Just be wary that there is a coverage gap associated with Medicare Part D known as the "donut hole" which Medigap Insurance cannot help you with.
Based on the information you've read so far, do you feel more confident that you can make a good decision about your future healthcare needs? Or are you even more confused than before? Either way, you're not alone. And you don't need to make such a big decision on your own, either. We will be more than happy to help you if you just reach out and contact us. The sooner you do so, the more money you will avoid wasting on costly Medicare coverage gaps!
| | | | |
| --- | --- | --- | --- |
| Medigap Plan | Minimum Monthly Premium | Maximum Monthly Premium | Average Estimated Monthly Premium (Part B Premium Included) |
| Plan A | $68 | $172 | $256 |
| Plan B | $91 | $214 | $288 |
| Plan C | $104 | $272 | $324 |
| Plan D | $95 | $263 | $315 |
| Plan F | $103 | $246 | $310 |
| Plan F (high deductible) | $29 | $92 | $196 |
| Plan G | $87 | $215 | $287 |
| Plan K | $44 | $114 | $215 |
| Plan L | $82 | $160 | $257 |
| Plan M | $86 | $152 | $255 |
| Plan N | $73 | $371 | $358 |