Gresham is one of those places that everybody who lives there loves. Unfortunately, not everybody who lives in Gresham loves their healthcare bills. If you're reliant on Original Medicare to meet your healthcare needs, you could quickly run into the Medicare coverage gaps, which are the thresholds between your effective benefits and the medical care which Medicare Parts A and B will not provide for. All it takes is one new symptom, one new prescription, or one new surgery to end up paying thousands of dollars in out-of-pocket expenses every year. Fortunately, there are a couple of ways that you can avoid these unwanted costs. First, you could enroll in a Medicare Advantage plan. Second, you could enroll in a Medicare Supplement (a.k.a. Medigap) plan.
Facts and Figures
There are 13,990 seniors living in Gresham right now.
There are 8 hospitals and medical centers in the Gresham area where seniors can get emergency and/or in-patient care.
44% of Oregon seniors have a Medicare Advantage plan.
16% of Oregon seniors have a Medicare Supplement (Medigap) plan.
Which leaves 40% of seniors potentially uninsured or underinsured against costly Medicare coverage gaps!
Out of the 13,990 seniors currently residing in Gresham, an estimated 5,596 of them cannot say that they have reliable access to affordable healthcare. That means that two out of every five seniors struggles to obtain the treatment that they both need and deserve. If you're one of those thousands of seniors, then there's some bittersweet news that you need to know. The sweet is that you're not alone. The bitter is that it's only going to get worse for you. As you age, your body's risk of developing additional age-related illnesses increases exponentially. As you develop new symptoms, your existing symptoms will continue to worsen in both frequency and severity. Eventually, even symptoms that you once considered new will also begin to worsen. The chart below showcases just how commonplace a few of the most notable age-related illnesses are in the Gresham area.
| | |
| --- | --- |
| Disease | Prevalence in Gresham, OR |
| Arthritis | 22% |
| High Blood Pressure | 22% |
| Coronary Heart Disease | 6% |
| Diabetes | 9% |
| Kidney Disease | 3% |
Healthcare Costs in Gresham, OR
Needless to say, the development or new or worsening symptoms tends to lead to the development of higher healthcare costs. To put it simply: when you're health worsens, you need to see the doctor more often to treat your symptoms. When you need to see the doctor more often to treat your symptoms, you need to pay your doctor for more work. When you rely on Original Medicare, every penny puts you closer toward the Medicare coverage gaps. As the chart below demonstrates, you will most likely get to a point where you are losing thousands of dollars every single year as a result of the Medicare coverage gaps. Even if your symptoms do not expand or worsen, you will likely pay more next year than you're paying this year. That's because medical costs are rising in just about every category due to a variety of economic factors. Since seniors are living longer lives than ever before, there is more time in your life for each of those economic factors to ruin your financial independence.
| | | |
| --- | --- | --- |
| Disease | Prevalence in Gresham, OR | Annual Cost of Treatment |
| Arthritis | 22% | $291 |
| High Blood Pressure | 22% | $354 |
| Coronary Heart Disease | 6% | $8,246 |
| Diabetes | 9% | $2,163 |
| Kidney Disease | 3% | $7,969 |
Medicare Advantage Savings in Gresham, OR
Just under half of all seniors in Gresham have decided to replace their Original Medicare plan with a Medicare Advantage plan provided by a private company rather than the government. Although you might think that switching from a government plan to a for-profit plan could result in you losing benefits, the opposite is actually the case. Not only does the government mandate that all Medicare Advantage plans provide the same level of coverage benefits as Original Medicare, many providers of Medicare Advantage plans also offer the ability to add additional coverage options directly to your plan. Of course, those additional options will cost extra, but they won't necessarily cost any extra for you, specifically. The government tends to pay all or most of your Medicare Advantage premiums, making it possible for you to enjoy these expanded coverage options without having to pay for them.
One of those additional coverage options includes prescription drug coverage. These plans tend to be so comprehensive as to be able to cover medical necessities like glucose monitors and testing strips. Since these plans can cover a large number of prescription medications without incurring any additional fees or costs, seniors with high amounts of prescription medications often find that these plans are best for meeting their needs. If you're suffering from arthritis, high blood pressure, and/or diabetes, Medicare Advantage prescription drug coverage can enable you to save thousands or even tens of thousands of dollars over a span of ten years.
Another additional coverage option is vision and dental care coverage. These plans are significantly more robust than those of Original Medicare or Medicare Supplement insurance because neither of those plans provide virtually any vision or dental care coverage options outside of emergency treatments. Even then, it can be a hassle to get your care covered when on either of those two other plans.
Medicare Supplement (Medigap) Savings in Gresham, OR
Medicare Supplement insurance is usually referred to as Medigap insurance, a name derived from the function of the insurance plan. These plans are designed to bridge the gaps between your effective benefits in a way that enables you to enjoy affordable access to healthcare without worrying about how you're going to pay for your Medicare coverage gaps. For example, every single one of the ten available plans (A, B, C, D, F, G, K, L, M, and N) provide coverage assistance for Medicare Part A coverage gaps, which tend to be ludicrously expensive for seniors suffering from age-related heart and/or kidney disease. Each of those ten plans can also be broken down into two individual categories, based on the particulars of each plan type.
The first category of plan types includes Medigap plans A, D, K, and L. These are the plans that only provide coverage for expenses related to Medicare Part A coverage gaps, including things like hospitalizations, blood transfusions, and skilled nursing care. If you have only fallen into the coverage gaps of Medicare Part A, then one of these plans could be great for you. However, if you also or only have been paying out-of-pocket expenses related to Medicare Part B coverage gaps, you're going to want to look into other plan types.
The second category of Medicare Supplement plan types includes Medigap plans B, C, F, G, M, and N. These are the plans that provide coverage options for the coverage gaps of both Medicare Part A as well as Medicare Part B. This means that you'll be protected from most (if not all) of the coverage gaps in Medicare Part B also, including emergency services and ambulance rides. Unfortunately, Medigap Plan F – which is the most comprehensive Medigap plan – is going to be discontinued in 2021. That means that the number of plans available for enrollment in the Medigap system are going to be decreasing after 2020.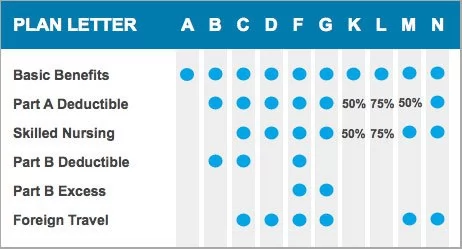 As mentioned earlier in this article, there is no way to add prescription drug coverage or dental and vision care coverage directly to your Medicare Supplement plan. That being said, you can easily – through a couple of steps – add these coverage options indirectly to your Medicare Supplement plan. Prescription drug coverage can be obtained through enrollment in Medicare Part D prescription drug coverage. The benefits therein tend to be enough for many seniors, although it is possible to encounter another coverage gap (known as the "donut hole") if you require a large number of prescription medications. For vision and dental coverage, you can easily pick up the phone or go online to a private insurer in the Gresham area to enroll in one of their plans. Since vision and dental insurance plans do not require you to go through an Open Enrollment Period, you can do this at any time of the year.
Whether you're looking for new insurance as a preventative measure or because you're already losing thousands of dollars each year as a result of costly Medicare coverage gaps, the fact that you've made it this far means that you're on the right track. As medical costs continue to rise and your health continues to worsen, you need to take action as soon as possible. That's why the experts at Medigap.com have created a website specifically designed to help you narrow down the choices and complete the enrollment process in a timely manner. So head over to Medigap.com today and start looking for the plan that is right for you.
| | | | |
| --- | --- | --- | --- |
| Medigap Plan | Minimum Monthly Premium | Maximum Monthly Premium | Average Estimated Monthly Premium (Part B Premium Included) |
| Plan A | $72 | $191 | $267 |
| Plan B | $96 | $217 | $292 |
| Plan C | $113 | $247 | $316 |
| Plan D | $105 | $154 | $265 |
| Plan F | $102 | $211 | $292 |
| Plan F (high deductible) | $27 | $83 | $191 |
| Plan G | $92 | $157 | $260 |
| Plan K | $40 | $92 | $202 |
| Plan L | $74 | $118 | $232 |
| Plan M | $95 | $139 | $253 |
| Plan N | $74 | $158 | $252 |