Health Net of California was founded in California over 40 years ago. In 2016, Centene bought Health Net. Centene is one of the largest insurance companies in the Medicare market.
Health Net Supplemental Medicare plans
Supplemental Medicare options include Medicare Supplement plans, Medicare Advantage, and Medicare Part D prescription drug plans.
You can't enroll in all of the options at the same time. Most Medicare beneficiaries either enroll in a Medicare Advantage plan with drug coverage or a Medigap plan with Part D prescription coverage.
This article will discuss Health Net's Medigap options and Medicare Advantage plans. Then we will cover Medicare Part D and Health Net's financial strength. Finally, we'll answer some frequently asked questions and how to get help enrolling in a Health Net supplemental plan.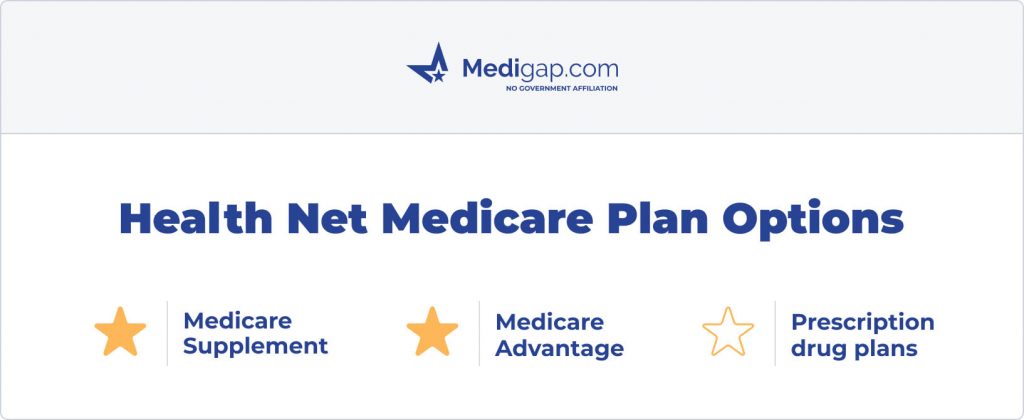 Medicare Supplement plans
The most comprehensive coverage you can purchase on Medicare is Medigap health insurance. Medicare Supplement plans are wrap-around coverage for Medicare Part A and Medicare Part B. There are ten standardized plans you can choose from. Since the benefits are standardized, the coverage must be the same regardless of the insurance company.
In addition to the Medicare Part B premium, Medigap plans have an additional monthly premium.
Medicare Supplemental insurance plans help cover the coinsurance, copays, and deductibles left for you after Medicare pays its portion. Health Net Medicare Supplement plans are only available in California. The following Medigap options are available.
Health Net's Innovative Plans F and G will include additional coverage for vision and hearing. Medicare Supplement plans don't have prescription drug coverage.
Medicare Advantage plans
The Medicare Advantage route is excellent for Medicare beneficiaries who want lower premiums and fixed out-of-pocket costs. Most Medicare Advantage options are network-based, including benefits not included with Original Medicare and prescription drug coverage. Some benefits that could be available in your Health Net Medicare Advantage plan include:
Gym Memberships
Dental plans
Vision Coverage
Hearing Aids
The majority of these plans are HMO or PPO plans. A Medicare Advantage plan focuses on preventative wellness and disease prevention. Medicare Advantage plans are designed to help keep you healthy and catch health-related issues early on. Health Net also provides special needs plans like D-SNPs for low-income beneficiaries with Medicare and Medicaid eligibility.
Health Net provides Medicare Advantage health plans in California, Washington, and Oregon. Medicare Advantage is Part C of Medicare, and they are required to cover the same benefits as Original Medicare.
The most significant difference is that they have a cap on how much you can spend out of pocket per year and more predictable costs. Medicare Advantage plans receive star ratings based on quality.
Prescription drug plans
Wellcare is a Health Net affiliate company that provides Medicare Part D programs that you'd use to pick up prescriptions from the pharmacy.
Part D prescription drug plans have four coverage phases. Every company that offers Medicare Prescription drug coverage must provide coverage that's as good or better than the Medicare Standard model. The Centers for Medicare and Medicaid Services set forth this model.
Financial strength ratings
Financial strength determines how well your insurance company will handle a few aspects. Generally, the stronger a company's financial strength ratings, the more likely they are to pay its claims promptly. They typically also have lower rate increases and maintain competitive premiums.
Am Best, Standard & Poors, and Moody's are the three companies that handle financial strength ratings.
AM Best – B++
Standard & Poors – BBB
Moody's – Baa2
Health Net reviews
Health Net is a solid company and part of the Centene Corporation. With sound financial strength and various supplemental Medicare options, they are an excellent choice for Medicare beneficiaries in California, Oregon, and Washington.
FAQs
Does Health Net have a Medicare plan?
Health Net offers supplemental Medicare options. They offer Medicare Supplements in CA. In Oregon, California, and Washington, Health Net provides Medicare Advantage coverage. Their Part D prescription plans by Wellcare and available in all 50 states.
Who owns Health Net Medicare?
Centene Corporation owns Health Net. Some of their affiliates include Wellcare and Ascension healthcare.
Is Wellcare the same as Health Net?
Wellcare and Health Net are both owned by the parent company Centene.
Is Health Net part of United Healthcare?
No! Health Net has no affiliation with UnitedHealthcare.
How to enroll in a Health Net Medicare plan
If you're a California, Oregon, or Washington resident, a Health Net plan is an option for supplemental Medicare plans. Choosing the right plan for you is an important decision. It's wise to speak with a licensed broker to ensure you select a plan that fits all your needs.
Our licensed agents specialize in Medicare and can help you through every step. Whether you're searching for a Medicare Supplement plan, Medicare Advantage option, or a prescription drug plan, we can help. Finding help is easy. Give us a call or fill out our online request form. We're here to help with all your Medicare needs.