Norman, Oklahoma, has plenty of amenities that every retired person needs and wants. From hospitals to health centers, parks to theaters, Norman has it all. But what the city seems to be lacking is affordable access to healthcare for more than half of its citizens. For those seniors, Medicare coverage gaps are an omnipresent fact of life, bringing with them financial struggle everywhere they go. Whether you're newly retired or have been for a while, the out-of-pocket expenses incurred as a result of Medicare coverage gaps can be disastrous for your health as well as your independence. Fortunately, there are two possible ways to avoid having to pay such high out-of-pocket costs: enroll in a Medicare Advantage plan or a Medicare Supplement (a.k.a. Medigap) Insurance plan.
Facts and Figures
There are 13,952 seniors living in Norman right now.
There are 7 hospitals in the Norman area where seniors can get emergency and/or in-patient care.
18% of Oklahoma seniors have a Medicare Advantage plan.
24% of Oklahoma seniors have a Medicare Supplement (Medigap) plan.
Which leaves 58% of seniors potentially uninsured or underinsured against costly Medicare coverage gaps!
More than half of all seniors in Norman lack the proper level of insurance that they need in order to maintain reliable and affordable access to healthcare that they both need and deserve. If you're one of the more than 8,000 seniors in this situation, then your problems are only going to worsen with time, unless you switch to Medicare Advantage or Medicare Supplement insurance. As you age, your risk of developing new or worsening symptoms increases as a result of the increased prevalence of age-related illnesses among older demographics. Not only does your risk of developing new symptoms increase, but so too do the frequency and severity of your existing symptoms. The chart below shows just how common a small handful of age-related illnesses are in the Normal area. For example, 4,185 seniors in Norman are currently suffering from high blood pressure.
| | |
| --- | --- |
| Disease | Prevalence in Norman, OK |
| Arthritis | 22% |
| High Blood Pressure | 30% |
| Coronary Heart Disease | 5% |
| Diabetes | 8% |
| Kidney Disease | 2% |
Healthcare Costs in Norman, OK
If you thought that developing new or worsening symptoms was bad enough, think again. As your health deteriorates, your need for healthcare increases; which, in turn, causes you to have to seek additional treatment. As you seek additional treatments, the amount that your insurance has to cover increases. However, with Original Medicare, the more your insurance pays, the more likely it is that you will run into the Medicare coverage gaps and have to pay thousands of dollars in out-of-pocket expenses each year. The chart below shows just how bad it can get. Even on the off-chance that your symptoms remain the same from year to year, your healthcare costs will be more expensive the following year. That's because medical costs are rising whether or not you need to access them. And since seniors are living longer lives than ever before, there is more time in your life for these costs to build up.
| | | |
| --- | --- | --- |
| Disease | Prevalence in Norman, OK | Annual Cost of Treatment |
| Arthritis | 22% | $291 |
| High Blood Pressure | 30% | $354 |
| Coronary Heart Disease | 5% | $9,108 |
| Diabetes | 8% | $2,163 |
| Kidney Disease | 2% | $8,106 |
Medicare Advantage Savings in Norman, OK
More than 2,500 seniors in the Norman area have already made the move to a Medicare Advantage plan. Although these plans share a similar name with Original Medicare, it is important to note that they are not provided by the federal government like Original Medicare is. Instead, they are provided entirely by private providers and the federal government simply regulates the coverage options. For example, the government requires that all Medicare Advantage plans have the same level of baseline coverage options as Original Medicare. Moreover, many Medicare Advantage providers also offer the option to pay a little more in exchange for additional coverage options. Once you factor in the fact that the government is willing to pay all or most of your Medicare Advantage premiums, you can end up adding substantial benefits while still paying little more than $0 per month.
Medicare Advantage plans tend to allow you to add prescription drug coverage that is so comprehensive that it also covers minor medical equipment such as glucose monitors and testing strips. Many of these plans provide enough help with prescription drug coverage to enable seniors of all walks of life to enjoy ample access to affordable prescription medications. If you suffer from arthritis, high blood pressure, and/or diabetes, you probably rely quite heavily on prescription medications. Through a Medicare Advantage plan with prescription drug coverage, you could save more than $20,000 over a ten-year period.
In order to save even more money, many seniors on Medicare Advantage plans will also add vision and dental care coverage directly to their plans. That can enable you to enjoy substantially improved coverage options relating to both vision and dental coverage in comparison to Original Medicare. In fact, neither Original Medicare nor Medicare Supplement Insurance provides many coverage options whatsoever related to vision or dental coverage.
Medicare Supplement (Medigap) Savings in Norman, OK
More commonly known as Medigap, Medicare Supplement insurance serves to supplement your Original Medicare plan. That means that you don't have to deal with the hassle of entirely replacing your existing Medicare plan; rather, you just have to add a few additional coverage benefits on top of your existing plan. Each of the ten plans available for you to choose from provide a wide array of benefits to seniors struggling with high out-of-pocket expenses as a result of the Medicare coverage gaps of Medicare Part A, which can be an otherwise insurmountable barrier for many seniors suffering from age-related heart or kidney disease.
The first group of Medicare Supplement plans that you should know about are Medigap plans A, D, K, and L. These four plans provide financial assistance to enable you to avoid the out-of-pocket costs associated with Medicare Part A coverage gaps. Unfortunately, neither of these plans provide much benefit related to Medicare Part B coverage gaps. If you need financial assistance paying for both Medicare Part A and Medicare Part B coverage gaps, then you'll need to look into the next batch of plan types.
The remaining Medicare Supplement plans are plans B, C, F, G, M, and N. Whereas the above Medicare Supplement plans only provide benefits related to Medicare Part A coverage gaps, these plans provide benefits related to both Medicare Part A coverage gaps as well as Medicare Part B coverage gaps. That means that you could enjoy worry-free access to affordable healthcare ranging from emergency services to hospitalizations. Unfortunately, Medigap Plan F is only going to be offered for sale to new enrollees (or enrollees who want to switch plans) through 2020. Beginning in 2021, Medigap type F will no longer be available for new enrollment.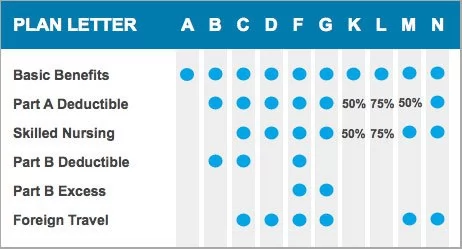 One of the most notable setbacks of Medigap plans is the fact the there is no way to add vision coverage, dental care coverage, or prescription drug coverage directly to your Medigap plan. Instead, you'll have to obtain those coverage benefits from elsewhere. That being said, the process of doing so is rather simple. For vision and dental care, simply enroll in a private insurance plan that covers vision and dental care in the Norman area. This can be done at any time, since neither vision nor dental care insurance requires you to wait for the open-enrollment period. For prescription drug coverage, you can enroll in Medicare Part D prescription drug coverage. Although this plan doesn't quite provide the level of coverage that seniors who rely on heavy amounts of prescriptions require, it can be more than enough for many others.
As healthcare costs continue to rise alongside your increasing risk of developing new or worsening symptoms, it is more important than ever for you to take proactive steps to protect your health as well as your financial independence. The last thing you want is to have to go back to work or fall back on your children for financial support. So don't wait! Log onto Medigap.com today and get started on the path to protecting your future health against any and all negative circumstances.
| | | | |
| --- | --- | --- | --- |
| Medigap Plan | Minimum Monthly Premium | Maximum Monthly Premium | Average Estimated Monthly Premium (Part B Premium Included) |
| Plan A | $70 | $214 | $278 |
| Plan B | $86 | $230 | $294 |
| Plan C | $104 | $261 | $318 |
| Plan D | $99 | $195 | $283 |
| Plan F | $101 | $218 | $295 |
| Plan F (high deductible) | $23 | $80 | $187 |
| Plan G | $72 | $192 | $268 |
| Plan K | $45 | $86 | $201 |
| Plan L | $66 | $121 | $229 |
| Plan M | $80 | $168 | $260 |
| Plan N | $71 | $153 | $248 |