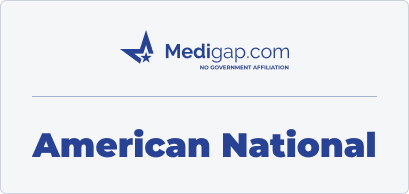 American National Life Insurance Company is one of the most reputable and established Medicare insurance providers in the United States, with a history of over 110 years.
The company continues to offer various insurance and financial products, including life insurance, homeowners insurance, annuities, and auto insurance plans.
They're committed to providing its customers with outstanding service, competitive pricing, and innovative products that meet their changing needs over time.
American National Life Insurance Company: Discontinued Medicare Supplement
American National decided to discontinue its Medicare Supplement plans. Current policyholders should review their options and consider switching to another provider or plan that better meets their needs.
Medicare Supplement plans help fill the gaps in Original Medicare coverage. When a carrier discontinues these plans, the rates increase more rapidly.
When did they discontinue Medicare Supplement plans?
American National Life recently decided to stop offering Medicare Supplement plans. They will focus on their other lines of insurance, including life, property, and casualty insurance.
Grandfathered in: Can current enrollees keep their plans?
You're in luck if you're a current Medicare beneficiary with an American National Medicare Supplement plan. American National will continue to service and support its existing policyholders.
As such, current clients are grandfathered in and can continue to receive the benefits and coverage they signed up for. Suppose you're happy with your current plan and don't want to make any changes.
In that case, you can keep it. Rest assured that American National will continue providing exceptional customer service and support.
What states were they offered in?
American National Life does business throughout the United States and has unique final expense and life insurance offerings.
Medicare insurance carrier options
Many insurance companies offer Medicare Supplement or Medigap plans to help fill the gaps in Original Medicare coverage. Some of the most popular companies include Aetna, Cigna, Humana, UnitedHealthcare, and Mutual of Omaha.
Each company may offer different plans, benefits, and pricing, so comparing options is vital to find the plan that best fits your needs and budget.
Additionally, some companies may have a stronger presence or reputation in certain areas, so regional factors are worth considering. Ultimately, your right Medicare Supplement plan will depend on your healthcare needs and preferences.
American National subsidies
American National Life insurance companies include the following:
American National Insurance Company
Standard Life and Accident Insurance Company
Garden State Life Insurance Company
American National Life Insurance Company of Texas
American National Life Insurance Company of New York
Farm Family Casualty Insurance Company
United Farm Family Insurance Company
American National Property And Casualty Company
Additional insurance companies no longer offer Medicare plans
Over the past several years, quite a few insurance companies have left the Medicare space. Some of the most notable companies include the following.
Get help finding Medicare plans in your area
If you want to maximize your Medicare coverage, now is the time to compare Medicare Supplement rates. Changing your plan could save you money.
With so many options available, exploring your choices and finding the plan that best fits your unique healthcare needs and budget is essential. Take advantage of potential savings and better coverage. Let us help you compare rates and find the right plan for you.