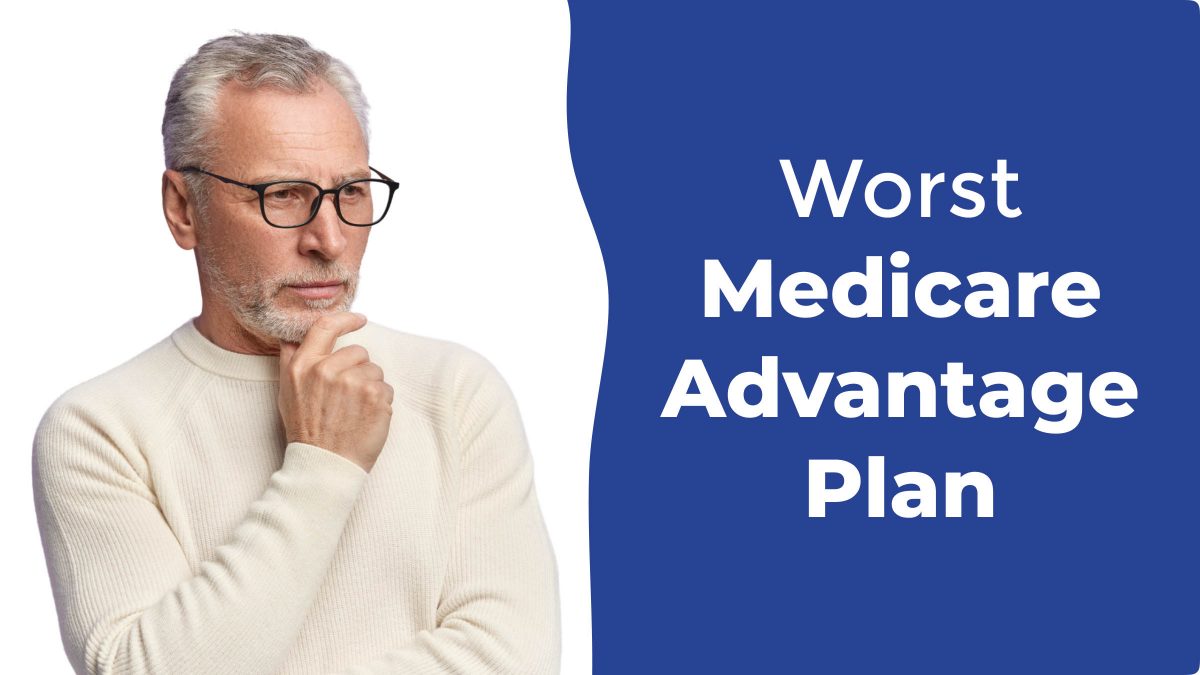 Medicare Advantage plans can offer varying coverage and services; some may be better. Unfortunately, some programs are not as beneficial for Medicare beneficiaries. Poor customer service, limited coverage, and high out-of-pocket costs can be standard with some of the worst Medicare Advantage plans.
Why Medicare Advantage plans are bad
Medicare Advantage plans are an increasingly popular option for seniors looking to supplement their traditional Medicare coverage. While these plans offer many benefits, there are potential issues that should be considered before enrolling.
Medicare Advantage plans often limit healthcare providers' choice and specialized services' availability. In addition, the plans may require preauthorization for specific treatments or services. They may also limit the coverage available for particular services or treatments. Furthermore, these plans can require higher out-of-pocket expenses for specific treatments or services than traditional Medicare.
Finally, Medicare Advantage plans are subject to change annually. Seniors should be aware of any changes in their coverage before re-enrolling for the year. Seniors must weigh all these potential issues before deciding if a Medicare Advantage plan is right.
Plans with high out-of-pocket expenses
Most importantly, you can view Medicare Advantage plans as give and take. MA plans that offer more freedom to choose how you want to handle your healthcare will typically contain higher copays and out-of-pocket maximums.
The Preferred Provider Organizations (PPOs) will have higher costs in most areas. PPO plans allow for both in-network and out-of-network doctor's visits. However, as mentioned above, the out-of-pocket limits will be higher for out-of-network items and services.
Plans with questionable provider networks
Likewise, plans with lower costs and more robust benefits will limit your providers. In addition, these plans will typically have more obstacles to seeing specialists and getting specific procedures.
Referrals are needed before scheduling appointments with specialists, and a non-medical plan administrator decides which procedures are approved. These health maintenance organizations (HMOs) will provide more benefits and lower costs. Still, you trade off freedom of healthcare decisions to a point.
With an HMO plan, you only have coverage in your service area. The only exception would be for an emergency. This can put you at risk when traveling. The benefit of HMO plans includes lower co-pays than the PPO plans and more plan extras such as dental care, vision, hearing coverage, and gym memberships.
Plans with low-quality ratings
While most advertisements will boast 5-star plans, there are arguably more plans with low ratings. Low-rated plans typically have complaints and issues ranging from not covering procedures to poor customer service. Some are even slow at paying claims.
This can put them at risk of doctors dropping out of the network. The Centers for Medicare & Medicaid Services uses star ratings to determine the quality of a Medicare Advantage plan.
Worst Medicare Advantage plan coverage gaps
Similar to Original Medicare, these Medicare Advantage plans also have gaps in coverage that can represent high costs to a Medicare beneficiary. While it's true that these plans limit the amount you can spend annually and have fixed co-pays for most services. Some expensive items and services have the same cost share as Original Medicare.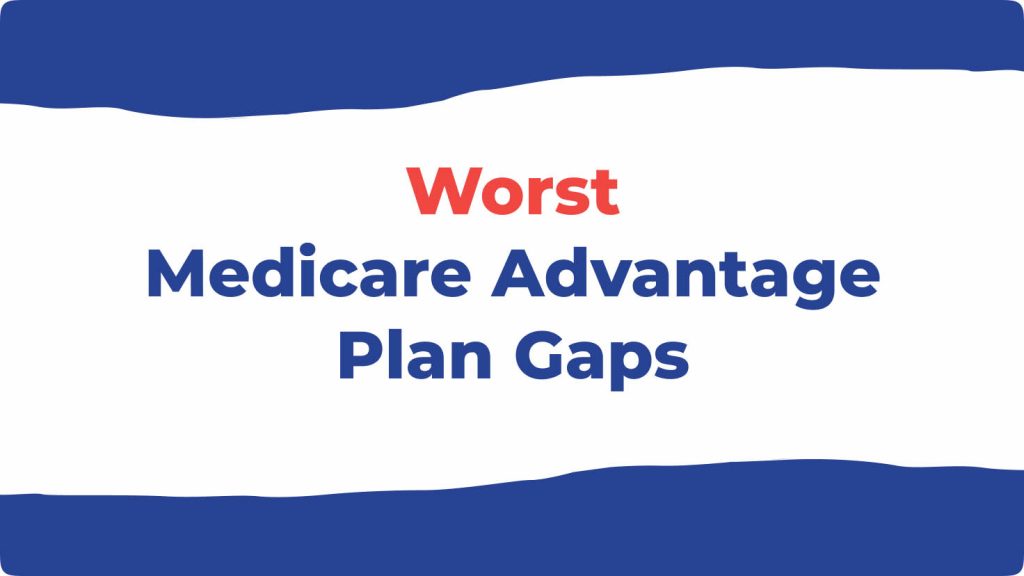 Durable medical equipment
Medical equipment is one of the most expensive items you can run into. Nearly every Medicare Advantage plan will have a cost share of 20% for most durable medical equipment. These costly items range from a CPAP or oxygen machine to wheelchairs and mobility devices.
Part B drugs
Another high cost can be drugs administered in the doctor's office. These medications are typically injections or infusion drugs for conditions such as rheumatoid arthritis or chemotherapy for cancer. Like DME, these costs will be 20% on nearly every Medicare Advantage program. Medicines filled at a pharmacy will be covered under Medicare Part D and your plan's prescription drug coverage.
Dialysis for end-stage renal disease
ESRD requires dialysis treatment to keep the kidneys functioning. Those beneficiaries needing this treatment can also expect a 20% coinsurance until they reach their plan maximum out of pocket. This makes treatment costs very high and difficult to pay for.
Hospital copays
With Original Medicare, a deductible must be met upon hospital admission. Once admitted, this deductible will cover 60 consecutive days. The per-day copay for Medicare Advantage plans will often exceed the Part A deductible for hospital admissions during your inpatient visit.
Ways to offset the gaps in Medicare Advantage plans
Original Medicare and a Medicare Supplement plan provide the most comprehensive coverage. They can eliminate all the concerns and costs above. However, not everyone can enroll in or afford a Medigap Plan. Below are a few ways for those for whom a Medicare Supplement plan isn't an option that can combat the disadvantages of Medicare Part C.
Cancer plans
While Part B drugs are not all cancer-related, the most expensive can be. Purchasing an inexpensive cancer plan will help pay you a lump sum if you're diagnosed with cancer. These funds can be used for anything you choose, including offsetting the costs of chemotherapy administered in the doctor's office.
Hospital indemnity plans
A hospital indemnity plan will pay you either a lump sum or per day amount for each day you are admitted. Many Medicare Advantage members will enroll in one of these plans to offset their per-day inpatient co-pay. Like the cancer plans, these plans are relatively low cost. They can really help beneficiaries to offset their inpatient hospital co-pays.
FAQs
What is the most accepted Medicare Advantage plan?
UnitedHealthcare is the most prevalent Medicare Advantage provider, with 28% of all sign-ups. Their plans are highly rated, featuring economical premiums with supplemental benefits, likely contributing to their sizable Medicare Advantage enrollment.
What is the biggest disadvantage of Medicare Advantage?
The most significant limitation of Medicare Advantage plans is the restriction of the providers one may use, thus limiting one's selection of physicians and medical facilities. Additionally, premiums are often determined by the level of medical care required, making budgeting for healthcare more complex.
Why do people dislike Medicare Advantage plans?
The misconception that a Medicare Advantage plan is free is a complaint that many policyholders express. Despite not requiring a monthly premium, most individuals find that their out-of-pocket expenses in a Medicare Advantage plan are higher than with Medicare Supplement insurance.
Can I drop my Medicare Advantage plan and go back to my Original Medicare?
You can switch from your Medicare Advantage plan to traditional Medicare during the Medicare Advantage Open Enrollment period or Annual Enrollment Period. Besides these two enrollment periods, you would need a qualifying situation to drop the MA plan and return to Traditional Medicare.
What are the best Medicare Advantage plans?
There really isn't a best Medicare Advantage plan. This is because everyone has different needs. The plan that's the best for your neighbor may not fit your needs at all.
What is the difference between Medicare Advantage and Original Medicare?
Original Medicare is Medicare Part A(Hospital Services) and Part B(Medical Services). Medicare Advantage is Part C and combines your Original Medicare benefits into an all-in-one plan. The private insurance company now takes over your Medicare health insurance administration from the federal government. Many Advantage plans include your prescription drug plan as well.
How to get help with deciding if Medicare Advantage is right for You?
While there are many disadvantages to Medicare Advantage health plans, they are growing in popularity each year. This is due to their additional benefits and low to no premiums in many areas. Deciding which Medicare insurance plan is best for you can be daunting.
It's best to consult with a licensed insurance agent to ensure you get any questions answered and understand how Medicare and its plan options work. Simply fill out our online request form to get rates and be connected with a licensed agent specializing in Medicare.
Related Articles