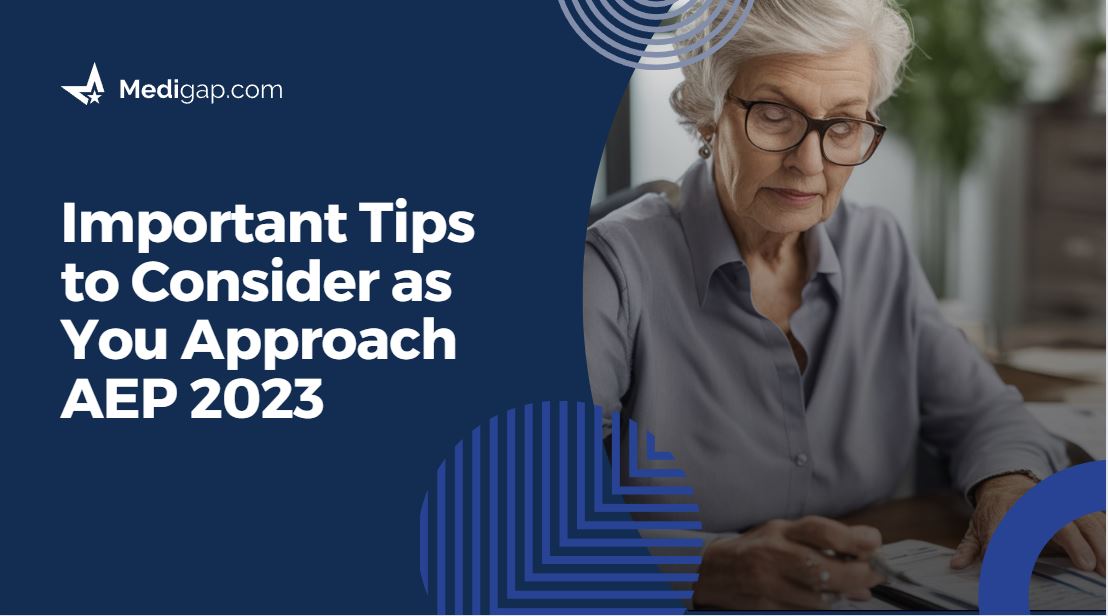 As we approach the 2024 AEP, we've put together some tips to help Medicare beneficiaries make informed decisions. This can be stressful with all the new options, plan changes, updates, and, in many cases, misinformation. The tips below will help make the 2024 AEP a simple and easy process while helping to ensure they're empowered to make the best decision for their healthcare needs.
Understanding AEP
The Annual Enrollment Period occurs in the fall and is the most well-known enrollment period for Medicare beneficiaries. From October 15 through December 7, individuals enrolled in Medicare can make any change to their Medicare coverage. Primarily, this coverage is for beneficiaries wanting to enroll, change, or drop their Medicare Advantage and Part D prescription drug plans.
AEP tip #1 Determine if your current plan still fits your needs
The first thing you should do is review the changes to your current plan. Just because you can change doesn't necessarily mean that you should. Each year beneficiaries will receive an annual notice of change. This notice highlights the changes in the plan, such as cost sharing, networks, prescription formularies, and more. The first tip is to verify if your plan still meets your needs.
AEP tip #2 Identifying coverage gaps
As you review the current plan, Identify items or services you need that the plan may not cover. Some examples are dental, vision, or hearing coverage. While reviewing gaps, also consider items that the plan covers, but the coverage is lacking. i.e., it has a food benefit but only provides $25 a month, and you could use more. Understanding the gaps in coverage and the items that aren't covered adequately will allow beneficiaries to hone in on needs that aren't being met.
AEP tip #3 Exploring Medicare plan options that help fill those coverage gaps
Now that you understand your needs, review the new plans for 2024 and see which ones meet your needs. Medicare Advantage and Part D plans all have updates to coverage and even sometimes new plans to replace others annually. Review the gaps identified vs. the additional plan options to narrow down the options.
AEP tip #4 Considering Medicare Advantage plan benefits
Not everyone on Medicare is enrolled in a Medicare Advantage plan. These Medicare Part C plans must cover everything under Medicare Parts A and B, can include Medicare drug coverage, and in many cases, have additional benefits not covered under Original Medicare. Keep in mind these plans vary depending on the zip code and carrier. These plans are a good way to limit insurance premiums and work similarly to group or individual plans for people that are not on Medicare.
AEP tip #5 Verifying your doctors are in the network
Most Medicare Advantage plans have a network of doctors to use. If the plan is an HMO, then you cant visit a dr that's not in the network unless it's an emergency. Whereas PPO plans allow out-of-network services, they generally have higher costs. Ensure you verify any doctors that you want or must keep are in the plan's network for the best experience.
AEP tip #6 Reviewing prescription drug plan (Part D) formularies
Review your Part D options if you decide a Medicare Advantage plan isn't right. These plans provide stand-alone Medicare drug coverage, and Original Medicare and/or Medicare Supplement plans. Regardless o comparing Medicare Advantage or Part D plans, review the plan formularies to ensure your needed prescriptions are covered under the plans you're considering. In many cases, the monthly premium isn't as important as the overall cost of your prescriptions for the years.
AEP tip #7 Evaluating Medicare Supplement plans
If enrolled in a Medicare Supplement or considering dropping the Medicare Advantage plan to choose a Medigap plan, there are a few things to consider. First, Medicare Supplement plans are devised into plan letter designations representing specific plan benefits. For example, a Plan G with carrier x has the same coverage as a Plan G with carrier y. The only difference is the quality of the company and the premium. Medigap plans align with Original Medicare and fill in the cost-sharing gaps.
These supplements only cover items and services that Original Medicare covers. Likewise, since Original Medicare is primary, you don't have to get referrals and can see any provider nationwide that accepts Medicare. Medicare Supplement plans don't include coverage for prescription medications, so you'll need to enroll in a Part D plan.
AEP tip #8 Assessing cost factors
When reviewing Medicare options, costs are top of mind—costs to consider when budgeting is the plan premium, copays, and projected costs of prescription refills annually. Sometimes a plan with a lower premium will cost more than another because of the costs you'll pay for services. Make sure you evaluate your projected costs based on your needs and consider all costs, not just the premium.
AEP tip #9 Being mindful of deadlines
Remember, the 2024 AEP will end on December 7. If you don't make a change, you'll remain on the current coverage you have. If you're currently on a Medicare Advantage plan, you would still be able to make a change in the Medicare Advantage Open Enrollment Period from January 1 to March 31. However, if you're on Original Medicare or only have a drug plan, you'll be locked in until the next Annual Enrollment Period.
AEP tip #10 Seeking professional assistance
Some individuals are wary about speaking with an insurance agent. However, most are knowledgeable and looking out for your best interest. For the best experience, find an agent that represents several companies. This will ensure someone is not trying to shoehorn you into the only plan they offer. In addition, they have access to tools and resources that can make narrowing down and selecting the plan that fits your needs a quick and easy process.
FAQs
What does AEP mean in healthcare?
The Annual Enrollment Period (AEP) is a specific time window when Medicare beneficiaries can adjust their coverage. This allows individuals to tailor their Medicare plans to their changing healthcare requirements.
What is the last day to submit an enrollment application to a plan during AEP?
The AEP for the 2024 plan year starts on October 15 and concludes on December 7. The changes made during this period will become effective on January 1, 2024. The last day to submit a change will be December 7.
How many changes can you make during AEP?
You can make multiple plan changes throughout the AEP without any restrictions. Just remember that the final plan selection you make will be the one in effect starting January 1.
Get help reviewing the new 2024 AEP Medicare plan options
Ready to find help reviewing your 2024 plan options? Simply fill out our online rate form to compare the top carriers in your area and even be connected with a licensed professional specializing in Medicare.
Related Content