Established in 1983 in Nashville, Tennessee, Continental Life Insurance Company of Brentwood is an excellent option for anyone seeking Medicare coverage. As of 2011, they became part of Aetna inc.
Enrolling in a Continental Life policy will give you personalized service with financial security. American Continental Insurance Company and Aetna Health and Life Insurance Company are additional Aetna subsidiaries along with CLI.
Continental Life Insurance Medicare plans
Supplemental Medicare plans include Medicare Supplement insurance, Medicare Advantage plans, and Part D Prescription drug plans. When choosing healthcare options to go along with Medicare, it's best to get help from a licensed insurance agent that works with multiple carriers.
Next, we will review Medicare Supplement insurance plans from Continental Life, followed by information on Medicare Advantage plans. Then, we will cover Medicare Part D and the company's financial strength. After that, we'll answer some questions and explain how to get help with a Continental Life supplemental Medicare plan.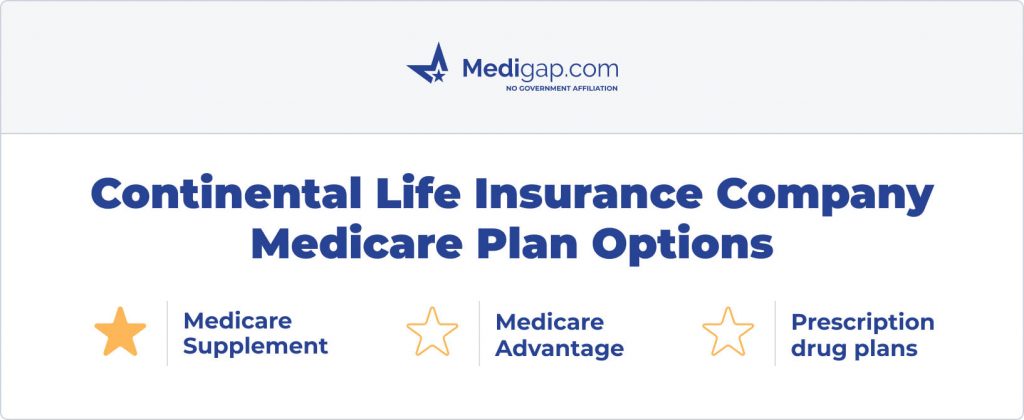 Continental Life Medicare Supplement plans
Medicare Supplement insurance plans are additional health insurance coverage you can purchase to offset the costs associated with the Federal Medicare program. These costs include the Medicare Part B deductible, coinsurance, copayments, and Part B excess charges.
Medigap plans are secondary coverage to Original Medicare. This allows you to use any healthcare provider nationwide that accepts Medicare. It also means that you'll never have to deal with referrals.
The Federal Government standardizes these insurance policies. Because of the standardization, the plans must offer the same coverage regardless of which insurance agency you decide to enroll with.
Most Medicare beneficiaries choose to enroll in Plan F, Plan G, or Plan N. These plans make up more than 70% of all Medicare Supplement enrollments. There are also a few higher deductible options, The High Deductible Plan F and HDG.
Continental Life Medicare Advantage plans
CLI doesn't offer Medicare Advantage plans. However, Aetna Medicare does. The programs combine your Medicare Part A and Medicare Part B benefits into a simple-to-use plan. These plans usually include your Medicare Prescription Drug coverage and benefits not covered by Medicare.
Continental Life Medicare prescription drug coverage
Like Medicare Advantage, CLI doesn't provide Medicare Part D insurance products. Those plans are also insured under Aetna Medicare. There are two ways to get Medicare drug coverage: a stand-alone Part D Prescription or a Medicare Advantage plan with pharmacy coverage.
Continental Life Medicare Supplement pros and cons
Pros
CLI is a CVS/Aetna company
Strong household discounts
Competitive rates
Conservative rate increases
Cons
Offshore customer service
Strict underwriting
CLI financial strength ratings
When we look at a company's financial strength, we are trying to gauge a few things. Generally, companies with higher ratings will pay claims quickly, have competitive rates, and take lower rate increases. AM Best issued a financial rating of "A- Excellent" to Continental Life.
| | |
| --- | --- |
| A.M. Best Rating | A- |
| Standard & Poor's Rating | n/a |
| Moody's Rating | n/a |
Reviews
Aetna and CVS back continental life. They are one of the largest Medicare Health Insurers in the nation. Their policyholders enjoy competitive rates, excellent customer service, and conservative rate increases.
FAQs
What's the average cost for a Continental Life Medicare Supplement?
The prices for a Continental Life Medicare Supplement plan will vary based on several factors, such as where you live, your plan letter, and your age. You can expect to pay between $80 and $250 for a Medigap plan.
Who bought Continental Life Insurance Company?
In 2011, Aetna purchased Continental Life Insurance Company.
Is Continental Life the same as Aetna?
Yes! Continental Life is a subsidiary of Aetna.
Is Aetna the same as American Continental?
Yes! American Continental is another subsidiary under the Aetna companies list.
How many states does Continental Life Insurance Company cover?
Aetna has plans in all 50 states. The number of US subsidiaries, such as CLI, cover fluctuates as they rotate their companies in and out of states to keep rates competitive.
How to enroll in a Continental Life Medicare plan
Continental Life is an excellent choice for Medicare beneficiaries. There are a few things to consider.
Give us a call, or fill out our online request form. We'll be glad to review the details and help you with anything you need to choose the best plan.