Medicare is a federal program that covers most of the hospital- and doctor-related healthcare costs of Americans over 65. Sadly, there are gaps in this coverage. These gaps create expenses that Medicare does not cover. If you're dependent on Original Medicare only, these can become very costly very quickly. Fortunately, Medicare Supplement in Florida is available for all seniors. Also called "Medigap" Insurance, it's a cost-effective way to cover these gaps so seniors can safeguard their finances.
Key Takeaways
There are 10 active Medicare Supplement plans in Florida.
Only 8 are available to seniors born after 1955.
Plan G provides the best value for most seniors and it's available for everyone.
The average monthly Florida premium for Plan G is $208.00.
You can try a new Medicare Supplement plan risk-free for 30 days before you buy it.
Federal Regulations for Medicare Supplement in Florida
The Centers for Medicare and Medicaid Services (CMS) regulate Medicare supplement plans that insurance companies offer. CMS rules guarantee that Plan F in Montana will give you the identical coverage as Plan F in Florida. There are only 2 variables which change from state to state:
The price of the plan,

The insurance firm offering the policy.
Right now, there are 10 active Medicare plans in Florida: Plans A, B, C, D, F, G, K, L M, and N. However, Plans C and F are only available for those born before 1955.
Medigap Enrollment In Florida
The 3 most popular plans in Florida — Plans F, J, and C — have been discontinued, but Plan G is on the rise. It's not popular yet, but it's rapidly picking up steam among Seniors too young to qualify for Plan F.
Most Popular Medicare Supplement Plans in Florida
The three most popular plans in Florida were discontinued, but another plan is rising to take their place.
Plan F

was discontinued

in 2020. It's still the most popular plan in Florida (and many other states). Seniors like Plan F because it covers all the known gaps in Medicare coverage. If you were born before 1955, you can still enroll in Plan F. However, premiums are on the rise. Value-conscious seniors might consider switching to Plan G.

Plan G

offers the best value of all Medicare plans. It's

rapidly

becoming popular with seniors who aren't eligible for Plan F or Plan J and seniors looking for a good deal. Plan G covers all the gaps in Medicare coverage except for one $203 deductible

. It has lower monthly premiums than Plan F, though — $50.00 lower per month in 2020. This adds up to increased savings under Plan G even after the cost of the deductible.

Plan J

is the second most popular supplement plan in Florida. This plan — along with Plans E, H, and I —

was discontinued

in 2010. Medicare Part D replaces this coverage for new seniors. These plans are not accepting new members.

However

, if you're already enrolled in any of these plans, you can stay on them.
Rates by Plan in Florida
| | | | | | | | | | |
| --- | --- | --- | --- | --- | --- | --- | --- | --- | --- |
| Plans | AVG MO Rate | AVG YR Rate | Plans Offered | Max AM Best Score | A++ Plans | Max HH Discount | Discount Plans | Policy Fee | Plans w/o Policy Fee |
| Plan A | $178 | $1,994 | 27 | A++ | 3 | 7% | 9 | $25 | 12 |
| Plan B | $198 | $2,317 | 7 | A+ | 0 | 0% | 0 | $20 | 6 |
| Plan C | $236 | $2,768 | 7 | A++ | 1 | 7% | 2 | $25 | 5 |
| Plan D | $212 | $2,502 | 4 | A++ | 1 | 0% | 0 | None | 4 |
| Plan F | $250 | $2,648 | 25 | A++ | 3 | 7% | 7 | $25 | 11 |
| Plan G | $208 | $2,299 | 27 | A++ | 3 | 7% | 9 | $25 | 12 |
| Plan K | $106 | $1,233 | 4 | A+ | 0 | 7% | 1 | None | 4 |
| Plan L | $158 | $1,839 | 5 | A+ | 0 | 7% | 1 | None | 5 |
| Plan M | $205 | $2,396 | 3 | A+ | 0 | 0% | 0 | None | 3 |
| Plan N | $163 | $1,795 | 25 | A++ | 3 | 7% | 8 | $25 | 12 |
All rate estimates are for a 65-year-old female non-smoker.
Plan Coverage & Cost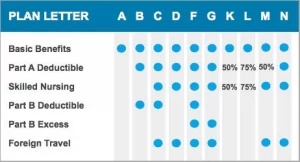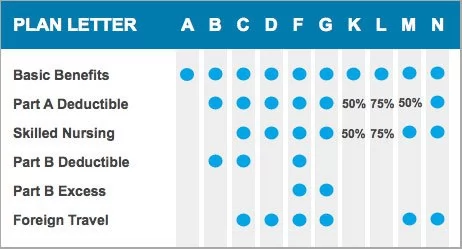 Many factors determine how much your insurance company might charge you for your Medigap policy. A 65-year-old, female non-smoker in Chicago won't pay the same premium as a 78-year-old man in Miami who frequently uses tobacco products.
Like most insurance products, Medigap plans in Florida have premiums. Rates for Medigap plans in Florida are calculated using various underwriting factors. Insurers consider your general health, health history, tobacco use, age, gender, and other factors. Where you live in Florida — down to your zip code — has an impact as well. This is due to differences in the cost of healthcare between communities. To give you an idea of what others near you are paying, we've provided a chart with estimated monthly rates.
Plan G Rates by City
All rate estimates are for a 65-year-old female non-smoker.
Florida Plan G
| | |
| --- | --- |
| Max AM Best Rating | Florida Plan G |
| Monthly Rate | $208 |
| Yearly Rate | $973 |
| Total Plan G offers | 27 |
| Max AM Best Rating | A++ |
| A++ Plans Available | 3 |
| Max HH Discount | 7% |
| Plans with a Discount | 9 |
| Max Policy Fee | $25 Fixed |
| Plans w/o Policy Fee | 12 |
All rate estimates are for a 65-year-old female non-smoker.
How do Medicare Plan Ratings Work?
Five-star rating systems are popular because they're easy to understand. Medicare's Overall Star Rating system for Medigap providers is no different. They gather data about these companies' financial activities, and feedback from customers about the quality of their service, healthcare management, and customer satisfaction. It's a great tool for evaluating the most popular Medicare supplement insurance companies. The more stars they earn, the more likely it is you will have a good experience.
Helpful Medigap Tips & Tricks
Doctor/Provider Network Restrictions
Medigap policies are one of the most flexible options for supplementing Medicare. Other types of coverage (like Medicare Advantage) usually come with restricted provider networks. These networks mean you can't simply choose what doctors you want to see – your plan does that for you. But with Medigap, you won't have to worry about such restrictions. You can visit any care center or see any doctor that accepts Medicare.
Doctors List
One of the main advantages of Medicare Supplement plans is the ability to use any health provider that accepts Medicare. If you have a family physician that accepts Medicare, you won't have to change doctors. Other plans use networks of providers that limit where you can go for care. Doctors who accept Medicare are basically agreeing to charge no more than 15% over Medicare's rates. Plus, they submit medical claims to Medicare on your behalf. If you're looking for a new plan, you can speak with one of our agents to confirm your preferred doctors will be covered.
Drug, Vision and Dental under Medicare Supplement in Florida
Prescription Drug Coverage
Prescription Drug coverage is now part of Medicare. In 2010, the government created Medicare Part D, which pays for prescription drugs. Medicare Supplement plans that duplicated this coverage — J, E, H, and I — are now being phased out.
Dental Coverage
On the other hand, Vision and Dental plans were never offered by Medicare or Medigap. You can still get coverage, though, if you buy Vision and Dental separately. Often, the same companies that offer Medigap plans can offer you this coverage. You may even be able to get a discount if you bundle it with your Medicare Supplement plan.
How and When To Enroll in Medicare Supplement in Florida
The enrollment process for Medicare Supplement Insurance can depend on several factors. Examples include:
How old you are

Your Medicare enrollment status

Which company issues your policy
Some providers have a hassle-free process for seniors who recently enrolled in Medicare Parts A & B. But if you delay your enrollment, or you have health problems, the process may get longer.
Initial Enrollment Period (IEP): Once you register for Original Medicare, you have 6 months to join a Medigap policy

. That 6-month window is your Initial Enrollment Period. Signing up during the IEP assures automatic approval and coverage.

Guaranteed Issue: This happens if you drop your employer or group plan.

During Guarantee Issue enrollment you can join a Medicare supplement policy regardless of your health status

.

Underwritten: If you miss the IEP and don't qualify for Guarantee Issue, you might have to go through the underwriting process

.

Insurers will ask questions about your health and may request a medical exam before offering coverage

.

Annual Enrollment Period (AEP): This is the window to renew your federal Medicare benefits

. It doesn't matter much for Medicare Supplement insurance.

However

, many seniors like to update their Medigap plan and Medicare benefits at the same time

.

After your initial enrollment period, you can change Medicare supplement plans whenever you want

. You don't have to wait for AEP.
Try A Florida Medicare Supplement Plan Before Buying It
Did you know you can try a Medigap plan before you buy it? It's called a "Free Look Period." All seniors have 30 days after buying a new Medicare Supplement policy to decide if they want to keep it. If you're not satisfied with your plan at any time in those 30 days, you can terminate it for a full refund. At that point, you can try a new plan or switch back to your old coverage.
What Medigap Plan Is Best For Me?
While most seniors will benefit from Plan G, it won't be the right plan for everyone. It can be hard to figure out on your own which Medigap plan has the best value. Each company offers its plans at a different price and not every company offers every plan. At Medigap.com, we're here to help.
After finishing this article, you'll want to check out what plans and rates are like in your city! Here are a few to get you started: Miami, Jacksonville, Tampa.
You can also check out our Frequently Asked Questions to learn more about coverage. Our Company Review Guide will help you scout out which companies to start with. You can also get matched with a Medigap insurance company in Florida by entering your zip code in the box. It's a fast, easy way to get a quote so you can start comparing prices.