Raise your hand if you assumed that Medicare would cover all of your medical needs before you retired. If you're on this page right now, it's probably because you've recently discovered that this isn't the case. Don't worry, though – there are affordable and easy solutions to the problem of Medicare coverage gaps. Most seniors choose between either Medicare Advantage or Medigap supplement; but the option that's right for you will largely depend on your own personal circumstances.
Facts and Figures
There are 26,902 senior citizens living in Vancouver right now
There are 5 hospitals in the Vancouver area where seniors can get emergency and/or in-patient care
30% of Washington seniors have a Medicare Advantage plan
21% of seniors have a Medicare Supplement (Medigap) plan
Which leaves 49% of seniors potentially uninsured or underinsured against costly Medicare coverage gaps!
What do you think is going to cost you the most in healthcare expenses over time? Most people think something like cancer, because getting rid of it involves invasive surgery, chemotherapy, radiation treatment, and expensive prescription drugs. Other seniors may worry about traumatic injuries from falling, or hospice care in their final years. All of these are valid concerns. But the one thing most people don't think about is chronic disease. Just look at how many seniors in the Vancouver area are suffering from a chronic disease right now. As you get older, the issue will only get worse.
| | |
| --- | --- |
| Disease | Prevalence in Vancouver |
| Arthritis | 25% |
| High Blood Pressure | 29% |
| Coronary Heart Disease | 6% |
| Diabetes | 10% |
| Kidney Disease | 3% |
Healthcare Costs in Vancouver, WA
If you don't think chronic disease will be an expensive issue for you, think again. Even something as seemingly simple as arthritis can cost you tens of thousands of dollars in medical bills or more before you know it. It may start with a little joint pain here and there – but for major joints like your knee, shoulder, or hip, the pain can eventually become so bad that it renders you immobile. When that happens, you might have to have joint replacement surgery, which not only requires an invasive and expensive surgical procedure, but weeks and months of physical rehabilitation afterward. If you get diagnosed with arthritis, this is basically inevitable. And you have to make sure you get your medical insurance needs taken care of before things get too expensive.
| | | |
| --- | --- | --- |
| Disease | Prevalence in Vancouver | Annual Cost of Treatment |
| Arthritis | 25% | $291 |
| High Blood Pressure | 29% | $354 |
| Coronary Heart Disease | 6% | $8,246 |
| Diabetes | 10% | $2,163 |
| Kidney Disease | 3% | $7,969 |
Medicare Advantage Savings in Vancouver, WA
If you don't want the government to manage your health care needs, you could opt out of Medicare and instead purchase a private alternative: Medicare Advantage. The federal government has approved these plans for sale by making sure they offer you at least the same benefits you would get with Medicare Parts A and B. From there, the federal government contributes toward your monthly premium for that policy based on what you paid over the years in taxes toward Medicare. For many seniors, this means that their monthly premiums for a Medicare Advantage policy end up being as little as $0 each month.
Why would anyone risk opting out of a single-payer healthcare system for a private health insurance policy? It depends on the individual. Some seniors like the convenience of having all of their medical needs taken care of under the same policy, instead of having to purchase separate coverage for vision, or dental, or prescription drugs from multiple different companies (because Medicare Parts A and B do not cover these, but Medicare Advantage policies can). Between the government subsidies and the customization options, these plans can be cost-effective as well as convenient compared to what else is available.
You can switch to Medicare Advantage during any Open Enrollment Period, and you can switch out of it and opt back into the federal Medicare program in the same way. Some seniors may need to take advantage of this flexibility as their medical needs change over time, and as the insurance options in their area change, too. While it's important to try and make the best decisions early in your retirement years, you should know that you won't have to feel trapped into any specific plan for the rest of your life.
Medicare Supplement (Medigap) Savings in Vancouver, WA
If Medicare Advantage isn't quite right for you, then you should take a closer look at a Medigap policy. These Medicare supplement insurance policies do exactly that: they supplement, but they do not replace, Original Medicare. Once Medicare pays for the vast majority of your medical expenses, your Medigap supplement will pay for whatever falls through the gaps. Whatever it doesn't pay for, you may receive a bill for. But these expenses will be few, far between, and much less costly with a Medigap supplement.
Let's start by talking about Plans A, D, K, and L. These are usually the least expensive of all the Medigap plans. They only cover gaps in Medicare Part A coverage, which include things like blood transfusions, lengthy hospital stays, and hospice care, among other things. It's uncommon for seniors to spend so much time in the hospital, and end-of-life care probably won't be a problem for you for many years down the road. That's why these policies tend to cost less than their more comprehensive counterparts.
And then you have Plans B, C, F, G, M, and N. These plans offer fairly comprehensive Part A gap coverage, as well as different levels of coverage for Part B coverage gaps. These gaps typically apply to your Part B monthly premium, your co-pays, your coinsurance, and your excess charges. Some plans also offer benefits for when you travel to foreign countries and require medical assistance while there. The plan that offers the most coverage is Medigap Plan F – which will no longer be available for purchase as of January 2021. If you want to get grandfathered into those benefits, you better act fast and purchase it now! Or else you'll lose out on that opportunity forever.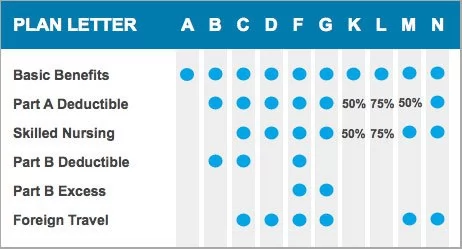 But what if you need something like vision insurance, or dental? Or prescription drugs? You won't be able to get those things from Medigap. But you will be able to get them from other providers. You'll most likely have to find private insurance coverage for vision and dental, but local providers tend to be fairly affordable and may even offer age-related discounts. Medicare Part D is a federal prescription drug coverage program, but it has a "donut hole" coverage gap which may cost you a pretty penny if your prescriptions get too pricey. So be careful with that while you are shopping around.
As far as our services go, we can only provide you with information; once you have that information, it's up to you to make the best decision possible. But you don't have to make it alone. We are here to help. You can contact us directly if you have questions, and one of our customer service agents will get back to you as soon as possible to help you sort things out. With our help, you can find the most affordable Medicare supplement insurance available in your area!
| | | | |
| --- | --- | --- | --- |
| Medigap Plan | Minimum Monthly Premium | Maximum Monthly Premium | Average Estimated Monthly Premium (Part B Premium Included) |
| Plan A | $96 | $221 | $294 |
| Plan B | $156 | $267 | $347 |
| Plan C | $180 | $313 | $382 |
| Plan D | $178 | $237 | $343 |
| Plan F | $182 | $314 | $384 |
| Plan F (high deductible) | $44 | $88 | $202 |
| Plan G | $171 | $273 | $358 |
| Plan K | $57 | $115 | $222 |
| Plan L | $124 | $177 | $286 |
| Plan M | $162 | $238 | $336 |
| Plan N | $134 | $198 | $302 |